New iPad Announced: Retina Display, 5MP Camera, 4G LTE
Apple just announce the third generation iPad. The new iPad has an enormously high-resolution Retina Display, the same camera found in your iPhone 4S, 4G LTE and a faster Apple A5X dual core processor with quad core graphics.
Apple has packed a lot of new technology into the iPad, but you can still count on 10 hours of battery life for the WiFi model and a starting price of $499 for the new iPad.
You don't have to wait long to get your hands on the iPad. Apple also announced the new iPad release date as March 16th at Apple Stores starting at 5PM.
The iPad comes in black and white, both of which are available on day one.
iPad A5X Processor
Apple says that the new Apple A5X processor is faster and delivers 4X better graphics performance than the iPad 2, providing the power needed to make beautiful graphics appear on the new Retina Display and power AirPlay to the Apple TV.
iPad Retina Display
The new Retina Display delivers a massive 2048 x 1536 resolution on the same 9.7 inch display, which delivers 263 pixels per inch, close to the iPhone 4S display's pixels per inch rating. This means you'll enjoy crisper graphics, higher resolution video and easier to read text.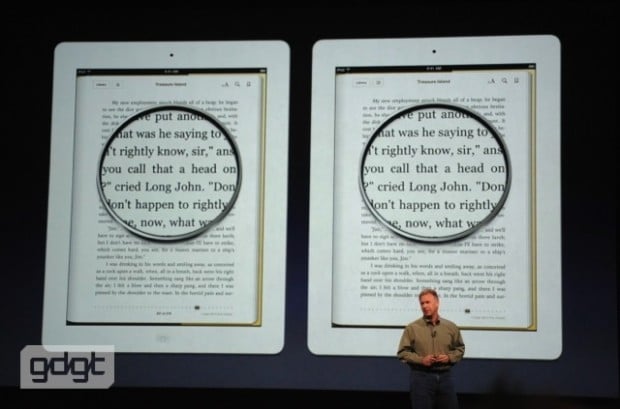 (Read: Resolution Explained: Why a Retina Display Matters)
iPad 4G LTE Connectivity
Apple also confirmed the availability of a 4G LTE iPad, with models on Verizon and AT&T. Sprint was left out in the cold this time around, likely due to the lack of a 4G LTE network that is up and running. The 4G LTE iPad also supports 3G on Verizon and AT&T.
The new iPad 4G LTE has a personal hotspot feature, a first for the iPad. No word on pricing but we expect that it will be similar to the iPhone 4S hotspot pricing.
iPad Cameras
Apple heard our complaints and has upgraded the iPad camera from trash to usable. Apple includes a webcam on the front for video chats. On the back you'll find an iSight 5MP camera which uses the same sensor as the iPhone 4S, so we should see some amazing photos. Stay tuned for iPad sample photos.
You can record in 1080P complete with image stabilization and noise reduction.
Thickness and Weight
The new iPad is slightly thicker than the iPad 2 at 9.4mm thick, and goes back to the 1.5 pound weight of the original iPad.
iPad Price
Apple didn't disappoint when it came down to the price of the new iPad. You can still buy the 16GB iPad for $499, with models ranging up to $829 with 4G LTE connectivity, no contract required.
iPad WiFi
16GB – $499
32GB – $599
64GB – $699
iPad WiFi + 4G LTE
16GB – $629
32GB – $729
64GB – $829
Stay tuned for more iPad coverage and announcements.

As an Amazon Associate I earn from qualifying purchases.