iPad HD Like Holding a 42″ LCD In Your Hands [Infographic]
The new iPad HD resolution will be so high that it will have the pixel density equivalency of holding a 42″ LCD HDTV in your hands.
The visual image of this had me laughing.It also had me cooing with delight as I look forward to reading or playing games on the new iPad when it finally ships, hopefully after this week's Apple announcement event or more likely next week.
Pixel density refers to how close together the individual dots are that make up the display in your computer, smartphone or tablet. The iPhone 4S has a retina display with a pixel density of 326 pixels per inch. That's more than your eye can perceive, according to Apple. The difference between the iPhone 3GS and iPhone 4/4s screens wowed users when it launched. The iPad HD will do the same if it has a Retina Display
Read: Resolution Explained – Why Retina Display Matters
The folks at Buzz Feed put together a nice infographic showing what this would be like with other tech toys with a display. John Sherman asked:
How big would the new iPad be, physically, if it were using the same screen technology as the gadgets people already own, like a laptop or a TV?
For example, if the iPad used the same pixel density of your old CRT computer monitor from 2000, it would be 101″ instead of 10″. The infographic Buzz Feed Amy Sly created illustrates how big your iPad would be if it had the same screen quality as a MacBook Air, a 2002 era iMac and other gadgets.
If it used the same pixel density of that 42″ Sharp display hanging on your wall, the iPad would be 49″ measured diagonally. Compared to the latest MacBook Air it would be 19″. It would be 30″ if it had the same 85ppi as the 2002 iMac.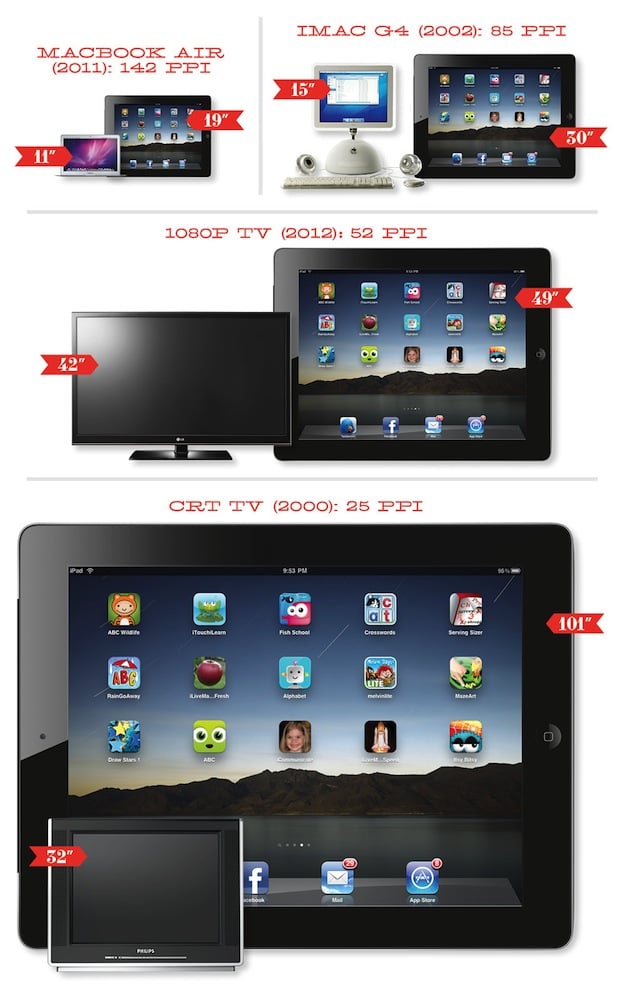 via CultOfMac