iPad helping folks go paperless (but other devices can help too)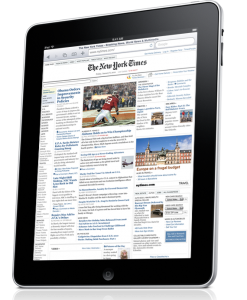 Environmentally-aware blog GreenerComputing has reported on a couple of companies saving trees and money by using iPads for printed material instead of paper. While the environmental savings can be debated, the monetary savings appear substantial. Sounds good, but I also see the iPad is stealing yet another device's thunder.
The first organization they profiled is TV station WXFL in Albany, GA. By using iPads instead of paper scripts, they calculate a savings of "$2,000 a month in printing, paper and repair costs". That sounds about right to me. Remember, it's not just the paper, but the costs to keep up those complicated printers. As for environment, a commercial copier/printer can easily weigh 500 pounds. Even a dozen iPads paired with a much smaller copier/printer would consume considerably fewer resources.
Next they looked at investment firm SageView:
SageView expects to save over 12,000 pages of paper per quarter through the use of the iPads. CEO Randall Long told me he expects that the company will eventually end up with 50 iPads or so (about $25,000 worth of iPads), but will recoup those costs within 3 months.
Presumably an investment firm can accurately calculate the return on an investment like this. Maybe they're padding it a bit to make themselves look good, but sounds like they could upgrade annually and still be saving money. I'm convinced, but maybe that's because I've already been convinced by a similar argument about the QUE ProReader, a business-centric eReader.
Yes, we've been talking for years about using tablets to go paperless, but the QUE ProReader took it to the next level at CES. Instead of printing documents, they asked us to "QUE" them to their ultra-light, touchscreen eReader. It's a pricey device, but I believe it offers a clear advantage in its niche, above the iPad in some ways. Lack of color on its e-ink display is a key drawback, as is its narrower set of functionality, but it's lighter and designed specifically for going paperless with document transfer and markup capabilities.
While I'm not suggesting they dump their iPads for the QUE (which is sold-out anyway), I do think these companies and others going paperless would benefit from looking into multiple and/or mixed solutions. Love that the iPad is getting people to go paperless, but depending on your needs, another option may be better.