iPad helps run Norway remotely, officially a productivity device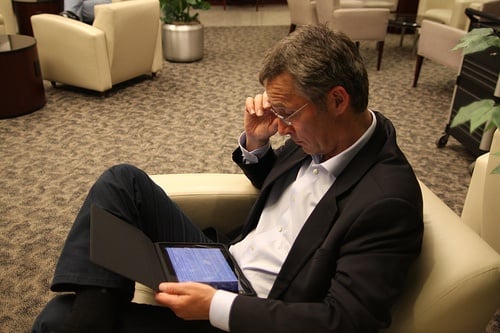 We've all read how the iPad is primarily a consumption device and that it's not good for productivity, blah, blah, blah. Well, one prime minister stranded in a foreign airport has killed that myth by using an iPad to help run his country remotely.
Unable to return home from the U.S. nuclear summit due to the massive volcanic eruption in Iceland, Norway's prime minister Jens Stoltenberg is making the best of the situation and relying on mobile technology to stay connected, including an iPad, which I assume he bought while here in New York. From CNN:
"It's very normal for a PM to travel abroad so this is not different from the other travels, it's just lasts some days more than expected. We have the internet, the mobile phone.

"I also use an iPad, which is excellent."
There you go. A sky filled with ash and molten chunks of earth keeping you from returning home to manage your national government? There's an app for that.
Hat tip to Gizmodo
Photo credit: https://www.flickr.com/photos/statsministerenskontor/ / CC BY-ND 2.0

As an Amazon Associate I earn from qualifying purchases.