iPad Inking App Penultimate Makes Some Important Additions in New Update
Penultimate is still my favorite iPad Inking App and I've given (and will continue to give) most of them a try. I like the way Digital Ink lays down on the screen and the wrist protection. Penultimate just works for me and how I take Digital Ink Notes. It looks like the developers of Penultimate have now upped the ante and made some important new additions in version 3.3 that will keep Penultimate as my preferred iPad Inking App for some time.
Among other new features, Penultimate now has what it calls "serious Dropbox integration" and Evernote support.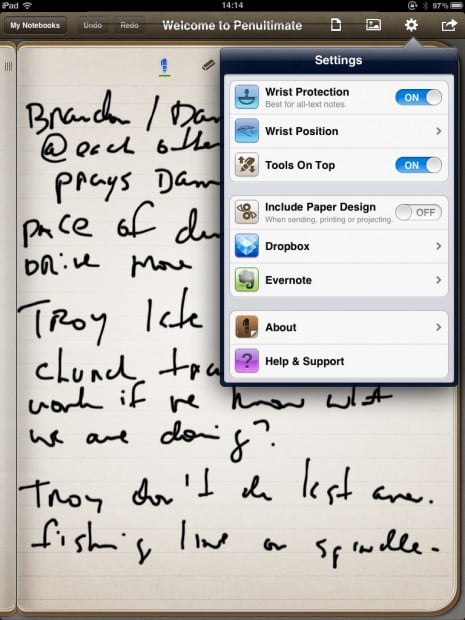 You can now link your Penultimate notebooks to Dropbox, which provide a good way to automatically back up your notebooks and digital notes and also send notebooks directly to your Dropbox account.
The Evernote integration will come in handy for those who might like to search their digital notes. Linking Penultimate to Evernote through the App allows you to send the notes or notebooks to Evernote. Once there, Evernotes OCR takes over and you can search through those digital notes in Evernote.
You can also start new "workflows" by opening pages or notebooks in other Apps in other Apps on your iPad, as well as paste copied images into a Penultimate page. Copied Ink can also be pasted in as well.
If you're a Penultimate user check out the update. If you haven't given Penultimate a try yet, the Apps is $.99 and worth the buck to check it out.

As an Amazon Associate I earn from qualifying purchases.