iPad mini 2 vs Amazon Kindle Fire HDX: 7 Key Differences
As expected, earlier this week Apple took the stage to announce the all new iPad Air, and iPad mini 2. Nearly a year to the day from when the first mini was announced, Apple's back with an all-new (inside) iPad mini 2 with Retina Display. While managing to keep the design exactly the same the new mini 2 is completely revamped from the inside. Below we'll take a look at how it compares to Amazon's option.
Both Google and Amazon beat Apple to market with a new 7-inch tablet this year, and they both offer something quite powerful and similar for a lower price. However, we all know Apple leads the pack when it comes to tablet apps, so that's certainly one point we'll be making below. For those interested in the new $399 iPad mini 2, or the $229 Kindle Fire HDX 7 read on for our thoughts and a few important differences.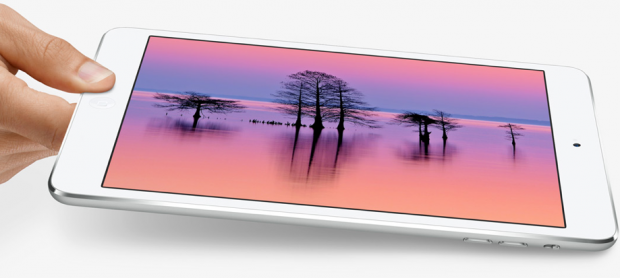 Display
Being one of the most important aspects of a device we'll be staring into for hours, the display received major improvements on both sides of the isle. Amazon's Kindle Fire HDX offered a 720p HD display last year, but to compete they've added the X, bringing it up to full 1080p HD. Offering a 7-inch IPS panel with a 1920 x 1200 resolution and 323 pixels per inch. Amazon's touting it as its best yet, and claims to have some new screen technologies that will keep the device charged longer, and sipping on battery.
The iPad mini 2 offers a slightly bigger 7.9-inch display with a higher 2048 x 1536 pixels, but the bigger size gives us a nearly identical 324 pixels per inch. On paper the displays are nearly the same, and should both be on par with each other. There's hardly any noticeable spec difference from all three major 7-inch slates this year, and any device you choose will look stunning. Last year the iPad mini had a lower resolution, so the upgrade to Retina Display this year surely makes it a much more compelling product, even if it's priced high.
We loved the Nexus 7, but will need to get our hands on the other two before we pass a final judgement on the actual display quality. That aside, expect excellent results from any choice.
Design
As far as design the new iPad mini 2 is nearly exactly the same as the original, so there isn't much difference to mention here. They've improved the device yet everything fits in the same aluminum chassis as before. Amazon on the other hand, completely redesigned the Kindle Fire HDX for comfort, and didn't worry at all when it comes to looks.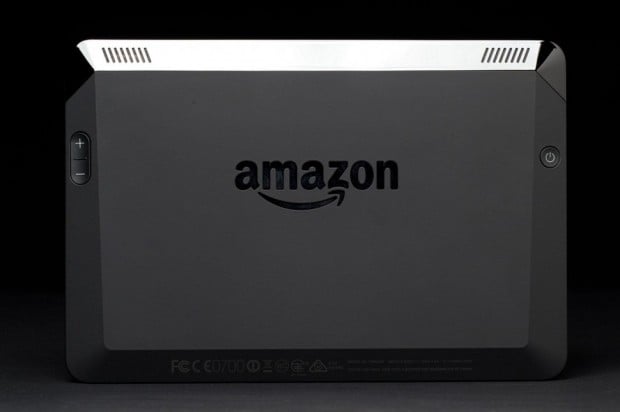 Compared to the iPad mini 2 at 200 x 134.7 x 7.5mm and 331 grams, the Kindle Fire's 186 x 128 x 9mm sounds nice as it's smaller in every aspect, but quite a bit thicker. The odd shape on back isn't the best, nor is the button placement and stereo speakers, but it's still extremely comfortable to hold. The iPad mini 2 will certainly be easier for longer sessions due to weight, but both are lightweight tablets.
The soft touch plastic on the Nexus 7 is extremely comfortable, and is much better than the Kindle Fire HDX. Overall the iPad mini 2 having a sleek aluminum design gives it a premium feel, but the Kindle Fire HDX certainly doesn't feel cheap. This will come down to preference, but the iPad mini 2 wins the award for good looks.
Specs
As expected Amazon updated the Kindle Fire HDX to match Google and Apple, and as a result we have probably the most powerful of all three with Amazon. Adding a quad-core Snapdragon 800 processor with 2GB of RAM under the hood, which will makes games a breeze, the UI fluid, and everything just as fast as can be. However, Apple also went big and we have its new processor platform with the mini 2.
Apple threw in the new A7 dual-core 64 bit processor from the iPhone 5S. It has the new M7 motion co-processor under the hood, and along with the newly optimized and redesigned iOS 7 it should be blazing fast. If our current iPad mini with iOS 7 is a sign of what to expect, the new mini 2 will be as fast and smooth as ever, even though it will be pushing more than double the pixels with a Retina Display.
One area the Kindle Fire HDX doesn't match up is the camera. And while this isn't a feature many are concerned about, it's worth mentioning. The Kindle Fire HDX has a single front shooter, and that is all. Apple's Mini has the same 5 megapixel iSight rear camera, as well as the Facetime HD front camera for video chatting and self portraits. This isn't a huge deal, but worth consideration when looking at the price.
Software
One of the most important things between both tablets is the operating system. The Kindle HDX has the new Android 4.2-powered (but you'd never tell) Fire OS 3.0 to make things snappy and look pretty. You don't have the latest version of Android, nor will it get it anytime soon, but Amazon's made huge changes for its own needs. The UI is completely different than anything from Apple or Google's Android, and as a result might underwhelm some. However, it's extremely simple to navigate with an array of carousals for apps. You'll never get lost.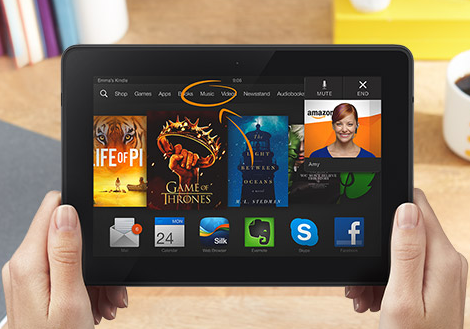 Swiping on the big or small tiles shown above will carousel through the array of apps found from the Amazon App Store, which is much smaller than both the Play Store for Google, or Apple's famed AppStore. However, you can usually find some sort of app alternative if you look hard enough.
Read; iOS 7 on iPad 3 Review
The iPad mini 2 has the brand new just released iOS 7.0.3 on board, Apple's first major redesign since the original iPhone. If you've ever used an iDevice in the past, this experience is completely new and different. Many elements are similar, but it'll take some getting use to. So if you're going to learn something new, it might be worth checking out the cheaper option from Amazon. Both have their advantages, but obviously the AppStore from Apple leads the industry in options, not to mention quality, when it comes to apps of any kind.
Last but not least is something called Mayday. Amazon's new 365 days a year 24/7 live video tech support. You'll tap that button and get instant help from a live person, see them right on the display, and they can remotely control the tablet for any questions, directions, problem solving and more. Apple on the other hand, it isn't so easy. You'll have to find an Apple Store and make an appointment with an iNerd, which isn't nearly as easy. The iPad mini 2 wins in the overall software department, but for customer service and troubleshooting, Amazon has this one 100%.
Storage
When you're going to be filling your tablet with eBooks, movies, games, and apps, storage is important. Especially consider neither have a micro-SD slot for expanding and adding more. This is valuable, and plays into purchase decisions. Apple one-upped everyone by offering four different models. We have 16, 32, 64, and even a 128GB option, something most other tablet manufacturers never offer. It's expensive, but available if needed.
Amazon on the other hand is also better than Google's Nexus 7, having three options. Giving users the choice of 16, 32, or 64GB of internal storage. While many will use Netflix for streaming, download a few games, or use Amazon instant video and just select the cheapest tablet, many will still go for the 64 and 128GB options, even if they're quite expensive. It's all about what you need, and Apple has more choices.
4G LTE
More and more these days we see people using tablets in public. Out at the park, Starbucks (when I have to go in one) and anywhere else you can imagine. Having a connected device makes it easy when no WiFi is available, so we have 4G LTE options from both parties involved. Here's where things get crazy, as LTE enabled tablets are super expensive, which is our last key difference.
Apple and the iPad mini 2 will be available late November on all major US carriers. Verizon, AT&T, T-Mobile and Sprint will all fully support the tablet with 4G LTE speeds. T-Mobile's free 200MB a month idea sure sounds nice right about now, right? Amazon isn't quite so lucky, doesn't have the pull Apple does with carriers, and as a result only offers Verizon and AT&T Kindle Fire HDX tablets. This is all about preference or current carrier plans, but Apple wins here for the sheer amount of choices.
Apple states late November for an iPad mini 2 release date, so that's something that could be a cause of concern if you need something now. However, Amazon isn't doing so well either, and its tablets with 4G LTE options aren't available to even start shipping until November 14th. So for now you either get a Nexus 7, or wait for one of these two sometime next month.
Price
The final and most important difference for most, is price. As you all know, Apple's known for offering devices for a rather high price, usually much higher than equal competition. As usual this is no different. You'll be able to buy almost two Amazon Kindle Fire HDX 7-inch quad-core tablets with 16GB of storage for the price of a single iPad mini 2. The price of having luxurious aluminum and Apple's AppStore. Right?
Without trying to explain all the crazy prices for both WiFi or LTE options, the grid below courtesy of Apple will explain everything. A 16GB WiFi iPad mini 2 is $399, while the same option from Amazon is just $229. You do the math.
Adding more storage to the iPad mini 2 will increase the price $100 each time. So a 32GB mini 2 will run you $499, while Amazon's Kindle Fire HDX with 32GB of storage is still only $269. In fact, we can get the 64GB Verizon 4G LTE enabled Fire HDX for just $9 more than the base WiFi model iPad mini 2. There is just no way to spin it, you'll be paying a heck of a lot more for anything iPad. Is it worth it? That's up to you.
One last point with the Amazon prices is they are quite low due to Amazon throwing "recommendations" or ads in your face. The lockscreen will have quick little ads for books, videos, and other Amazon items for sale, and the only way around it is to buy an "ad-free" version of your tablet for $15 more. So add $15 to each price and that's your new total. It isn't a big deal, but is a hassle for some.
Final Thoughts
With the biggest argument as of late with mobile being Android or iOS, the Kindle Fire sits in an odd place. It's not quite an Android tablet, and certainly no iOS device. While some might love the pricing and simplicity of the Kindle Fire HDX, the iPad mini and iOS 7 is just as simple, and polished. Those looking for a do-it-all device with multiple options, the Nexus 7 is probably better suited since it won't be a part of the walled-garden of either of these tablets.
It's hard to recommended the stripped down and skinned Android OS, Fire 3.0, over iOS 7 at this point, but they both have their benefits. The key factor will end up being how much you're already into the Apple ecosystem, and if not, the lower price of the Kindle Fire HDX will probably decide this purchase for you.

This article may contain affiliate links. Click here for more details.