iPad mini 2 vs. iPad 5 (Rumored)
After months of waiting, consumers are gearing up for Apple's second major launch of the year which is rumored to be taking place at an event on October 22nd. There, the company is expected to follow up last months iPhone launch with new iPads, including an iPad mini 2 and a new iPad 5. Here, we take a look at how those devices currently stack up against each other and what we expect from their battle later this year.
In March of 2012, Apple held its usual iPad launch event and announced an iPad 2 successor in the form of the iPad 3, also known as the iPad third-generation. The third-generation iPad offered some significant improvements over the iPad 2, namely, a Retina Display that arrived touting higher resolution, something that made the on board software, games, the web, everything, look crisper. It also boasted 4G LTE data speeds, the first Apple product to do so.
Later in the year, Apple announced a brand new iPhone, the iPhone 5, which brought 4G LTE data speeds and the Lightning Dock standard to the iPhone for the first time. Then, a month later, as expected, Apple hosted an iPad event wherein the company announced not one, but two brand new iPads, including the iPad mini and the iPad 4.
The iPad mini didn't come as much of a surprise as the device was rumored for months. However, the iPad 4 was a bit of a surprise considering the iPad 3 had arrived in the same year. Apple typically sticks to year cycles with its products. Also surprising was the fact that the iPad mini 2 did not have a Retina Display like the iPad 4 or the iPad 3.
In just a few weeks, Apple is rumored to be replacing both of those iPads. Rumors suggest the iPad 4 will be cast aside after a year and replaced with a revamped iPad 5. The iPad mini is thought to be getting replaced by a new, powerful iPad mini 2 that could finally deliver what consumers have wanted for close to a year. A new display.
October 22nd appears to be the date that Apple has set for the iPad mini 2 and iPad 5 launch and here, ahead of the event, we take a look at how the devices currently stack up and how we expect them to stack up when they arrive on shelves.
Release Date
With October 22nd all but confirmed to be the iPad mini 2 and iPad 5 launch date, it's pretty clear that we're extremely close to a release date for both of Apple's new tablets. At its launch events, Apple typically announces release dates so that consumers can prepare and so that they have peace of mind and don't have to scramble around digging for information.
The company historically has released its products in and around two weeks after an announcement which means that late October and early November is looking pretty good for an iPad 5 and iPad mini 2 release date. Yes, they will likely be released on the same day, just like the iPhone 5s and iPhone 5c and the iPad mini and iPad 4.
While we haven't seen any rumors emerge just yet, we wouldn't be surprised to see them land as soon as November 1st. It's exactly 10 days after the company's supposed event and it lands on a Friday. Apple released the new iPhones 10 days after their event and it also released them on a Friday. So it's possible that it could do the same with both iPads. It's not clear just yet but we expect these devices to be on shelves in just a few weeks.
Design
Leaks suggest that the iPad mini 2 design will remain unchanged from the iPad mini. That's not confirmed, but it's looking more and more like Apple will keep the design the same for its first two versions of the iPad mini. This isn't surprising as it has done the same exact thing with its larger iPad. What this means is that buyers should expect an iPad mini 2 with thin bezels in the front, anodized aluminum in the back, and a form factor that is in and around 7.2mm thin and weighs around 308 grams.
The iPad 5 however looks like it will receive a major design change from the iPad 4. Leaks point to a design that takes after the iPad mini with an anodized aluminum back and thin bezels up front. Overall, the design looks to be smaller than the iPad 4's which means that the iPad 5 should be more portable than the previous model. Whispers hint at a design that is thinner and lighter than the iPad 4.
Thanks to schematics, the device a apparently will get 15 millimeters taken off of the width of the iPad. Furthermore, it appears that the device will measure in at, or around, 7.5mm thin, a far cry from the 9.5mm iPad 4. So, this should mean a lighter, thinner and smaller iPad mini 2 but the iPad 5 will definitely much more comparable than the iPad 4 to the iPad mini.
Display
There is nothing to suggest that the iPad mini 2 and iPad 5 will feature different size screens than their predecessors. No, the iPad 5 should retain the same 9.7-inch display while the iPad mini 2 will likely keep the same 7.9-inch screen size. The iPad 5 should also keep the same screen resolution that the iPad 4 has which means 2048 x 1536 resolution at 264 pixels per inch (ppi).
It's the iPad mini 2 and its smaller display that should see a drastic change. The original iPad mini did not come with a Retina Display, something that disappointed many consumers who were hoping for a high resolution display. The iPad mini 2 should change that, despite what analysts might be saying. There is simply no way that Apple releases a new iPad mini without its most sought after feature.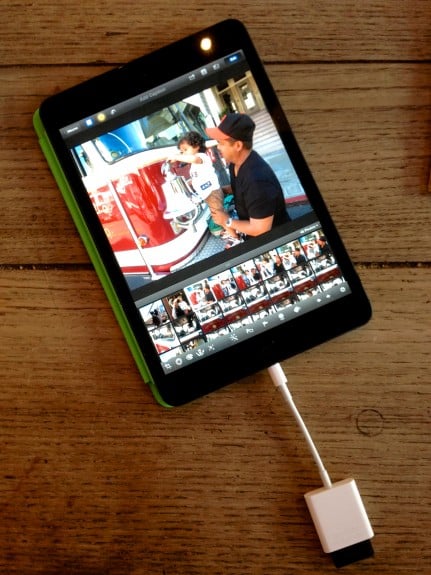 So, we expect a screen that offers 2048 x 1536 resolution with a pixel-per-inch count around 324, a huge improvement over the 1024 x 768 resolution with 163 pixels per inch found on the current iPad mini. This should mean better looking content, on par with the content found on the larger screen of the iPad 5.
The comparable screens are going to put a huge emphasis on size which means that consumers are going to have to think about which screen will better suit their needs.
Specs
History says that the iPad 5 and the iPad mini 2 will both receive significant hardware upgrades. Apple always outfits its latest devices with new and improved hardware and there is no reason to think that these devices will be any different. Rumors suggest that both of them will come with brand new cameras that will put them on par with the iPhone.
Rumors suggest that they will be moving from 5MP to 8MP camera sensors, something that would improve photos and video shot with the iPad mini 2 and iPad 5. The camera upgrade would better position the devices against devices like Samsung's Galaxy Note 10.1 2014 Edition that arrived with a good camera, especially for a tablet.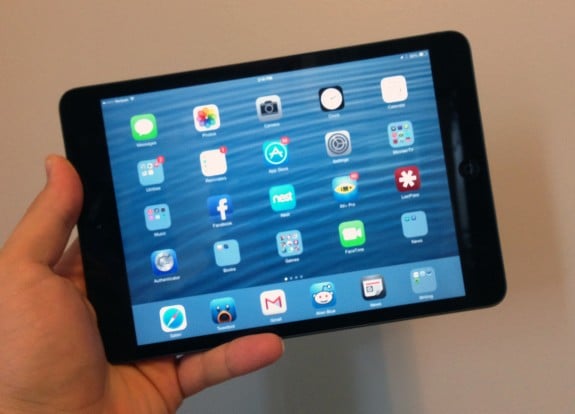 iPad 5 rumors suggest that it will have at least an A7 chip with 64-bit support on board, something that isn't surprising, given that it's Apple's most powerful mobile machine. The processor would not only help with things like gaming but it would also allow for many of the iPhone 5s' camera features to be on board, features like faster focusing and burst mode.
It's not clear if the iPad mini 2 will get an A7 chip or an A6 chip. The iPad mini used the aging A5 processor so it's possible that Apple will outfit it with something older. We expect the A7 to be on board so that the company can unify its products.
As for storage space and battery life, we expect more of the same. Storage options for the new tablets should range from 16GB to 128GB for the iPad 5 and 16GB to 64GB for the iPad mini 2. Battery life, which was stellar on both the iPad 4 and the iPad mini, should remain close to the same as we haven't seen or heard anything to suggest a major upgrade. Not that that's a bad thing.
Software
Both the iPad 5 and the iPad mini 2 will come with Apple's iOS 7 software. All new Apple products arrive with its latest software on board, out of the box, so it's safe to assume that these won't be running iOS 6. What isn't clear though is whether they will have any unique properties on board.
With the iPhone 5s, we saw the inclusion of software relating to the device's fingerprint reader. TouchID is a feature that is a rumor that has been rumored to be coming to the iPad 5 and iPad mini 2 as well though it's still not confirmed. Their upgraded cameras could also afford users the same features that came along with the iPhone 5s, provided they also have the same processor and sensors. So things like slow motion video are definitely possibilities given the rumors.
At most, expect the iPad 5 and the iPad mini 2 to offer the same version of iOS 7 that is available on board the iPhone 5s. At the very least, expect the trimmed down version that is currently available to iPhone 5 users.
Carriers
Apple products don't reveal themselves to the world through the FCC ahead of launch which means that it's often tough to nail down the carriers that its mobile devices will be heading to. Neither the iPad 5 or iPad mini 2 have been discovered lurking there so at this point, their carriers remain a mystery. However, we can make an educated guess.
Last year's iPad 4 and iPad mini launched on the LTE networks of AT&T, Sprint and Verizon. The iPhone 5s is currently available on all four major carriers in the United States including AT&T, T-Mobile, Sprint and Verizon. So, we would not be surprised to see Apple offer support for the 4G LTE networks for all four of those carriers.
The iPad hasn't arrived on carriers outside of the major ones so it's unlikely that we'll see an iPad 5 and iPad mini 2 arrive on smaller regional carriers like C Spire Wireless.
Price
We haven't seen any pricing information for either device leak just yet but that doesn't mean that we don't have any idea about the cost of these two new iPads. Year after year, Apple has shown a willingness to keep its price points intact, even as it offers significant upgrades to the hardware and software that power its devices.
While rumored hardware upgrades on both the iPad 5 and iPad mini 2 could potentially drive up the prices a bit, we sincerely doubt that Apple will make a change. Instead, it's likely that the company will keep the iPad mini and iPad price points the same with the new models meaning the iPad mini 2 should start at $330 while the iPad 5 should start at $499.
It's not clear how Apple will adjust the price points of the rest of its iPad lineup. The iPad mini was the first of its kind so we can't draw from history and Apple decided to kill of the iPhone 5 with the introduction of the iPhone 5s which means that the iPad 4 isn't guaranteed to stick around.
As we've said numerous times, we wouldn't be surprised to see the iPad 4 drop down $100 to take the place of the non-Retina iPad 2 and the current iPad mini drop in price to better compete with the Nexus 7 and the Amazon Kindle Fire HDX. It's possible that we could see Apple do away with the iPad mini completely but at this point, there is nothing that suggests that.

As an Amazon Associate I earn from qualifying purchases.