iPad Mini 4 Rumor Roundup
The iPad mini 4 is expected to arrive later this year. Here's what we know so far about the upcoming tablet based on rumors.
iPad mini 4 rumors have slowly been trickling in over the last few months, which isn't too surprising, as speculation usually gets hyped up as we get closer to the release of new Apple products. Plus, consumers are no doubt antsy to get an updated iPad mini, especially since Apple didn't do a whole lot with the iPad mini 3 last year.
The iPad mini 3 only received Touch ID and a new gold color option when it was released last year alongside the iPad Air 2, keeping the same processor, memory, etc. Essentially, it was hardly an upgrade, and it got many people wondering if Apple was close to giving up on the iPad mini completely.
However, it seems that the company may still be committed to the smaller tablet, as plenty of rumors are going around about the iPad mini 4, hinting at what the new tablet will be all about when it will supposedly release later in the fall.
Here's an overview of some of the major rumors on the iPad mini 4 and what you should expect out of the tablet when it releases later this year.
iPad Mini 4 Features
Perhaps one of the biggest rumors that we've heard recently comes from Mac Otakara, which suggests that the iPad mini 4 will essentially just be a smaller iPad Air 2, coming with an A8X processor and 2GB of memory. The smaller tablet could also take on the iPad Air 2's thinner frame, possibly sporting a 6.1mm-thick design.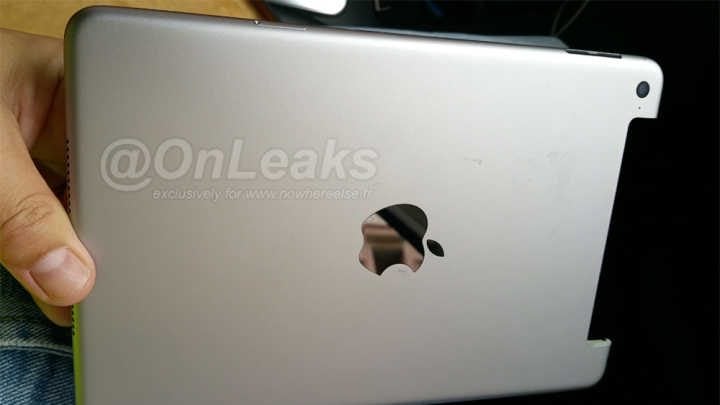 Photos of what is said to be the iPad mini 4's outer shell were leaked back in April suggesting that the updated tablet will sport a design similar to the iPad Air 2, especially with the thinner frame thanks to the fused-together display where the glass and the touch screen are pressed together to make the whole package thinner.
The new shell looks a lot like the existing shell for the iPad mini, but there are a few design changes that are notable. First off, there's no longer a mute/rotate lock switch on the side of the tablet and the speaker grille holes on the bottom have been reduced to a single row on either side of the Lightning connector.
Overall, it's difficult to get a sense of the thinness of the leaked aluminum shell from these photos alone, but it would be no surprise to see the iPad mini get sliced to a thinner cut with the iPad mini 4.
The iPad Air 2 is the best tablet on the market right now, and even when new iPads release later this year, the iPad Air 2 will still be a monster of a tablet. However, it is a bit disconcerting that Apple seems to be moving toward a path that will see the iPad mini sporting last-generation hardware with every new refresh, since the iPad Air 3 will mostly get the newer A9 processor later this fall.
Of course, if rumors aren't enough to convince you that a new iPad mini is coming, Apple recently discontinued the original iPad mini a couple of months ago, which could just be a housekeeping task that Apple has been wanting to get to, or it could also be for making room for the iPad mini 4, moving down the iPad mini 2 into the vacant slot that the original tablet occupied.
iPad Mini 4 Release Date
Apple has been pretty consistent with their release cycles over the last few years, and as far as the iPad releases are concerned, we usually see them in October of every year.
This means that the iPad mini 4 will most likely release in October, just like last year. As for an exact release date, that's still something unknown at this point, but we wouldn't be surprised to hear rumors and reports of a possible launch date for the new tablet.
Something to be aware of, though, is that the iPad mini 2 had a unique launch, where it was announced in October, but wasn't released until the next month. It's unlikely that Apple will do this for the iPad mini 4, as they didn't do it for the last iPad mini launch, but that's something to at least consider when you're thinking about buying a new tablet.
Right now, though, there's no reason not to wait for the iPad mini 4 to release, especially if you already have an older iPad that will hold you over for a few more months.
iPad Mini 4 Price
As far as price goes, the iPad mini will most likely keep the same pricing structure as before.
The iPad mini 4 is likely to release with a $399 starting price tag, with that price increasing for every storage tier you tack on. From there, the iPad mini 3 will most likely drop to $299, while the iPad mini 2 could drop to a tempting $249.
However, we wouldn't be surprised to see Apple discontinue the iPad mini 2 right then and there, but that's something we'll have to wait and see on, as it's also very likely that Apple will keep it around as a budget tablet for those who don't want to spend a lot of money.

This article may contain affiliate links. Click here for more details.