iPad Mini Design Could Be Slicker Than the New iPad
While Apple's new iPad Mini may be smaller and cheaper than Apple's currently third-generation iPad, it may blow away the larger iPad in terms of how it feels in the hands of a consumer.
Topeka analyst Brian White, according to All Things D, is saying that the iPad Mini's design may actually "outshine" the new third-generation iPad when it comes to the two devices designs. White is apparently traveling around Asia speaking to component suppliers and it seems, from he's heard, Apple won't be skimping customers when it comes to the build quality of the iPad Mini.
Apple made a fairly big jump in terms of design from the iPhone 4S to the new iPhone 5 and it's possible that it might do something similar with the iPad Mini. The new iPad's design was fairly similar to the iPad 2 and if this design truly does outshine the new iPad as rumored, it could be that we'll see something much different than previous models.
In addition, White is hearing that the new iPad Mini is a challenge to build and because of that, the device may be hard to find when and if it launches later on this year.
Read: iPad Mini Rumor Roundup.
This comes on the heels of an earlier report which claimed that Apple had put in an order of 10 million iPad Minis ahead of the device's release date which is rumored to be in early November. That number is double the number of Kindle Fire's that Amazon is expected to manufacture in the same period.
Apple is rumored to be sending out iPad Mini event invites on October 10th, just a couple of days from now, with a full-fledged launch rumored for October 17th. If those pan out, then it may be that Apple releases the iPad Mini on November 3rd or on some date around that day.
And if that supply rumor holds true, finding one of these devices prior to launch day may become an issue. The new iPad, which launched in March, was fairly scarce after pre-order day and many consumers had to wait for weeks after its initial release date to acquire one and if the iPad Mini is indeed harder to build, customers may be looking at lengthy waits.
Read: If You Want an iPad Mini, Be Prepared to Preorder Else Expect Delays.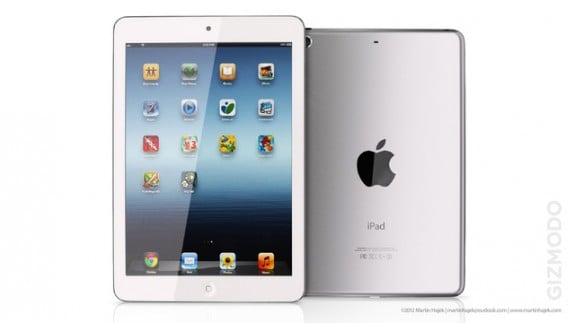 The iPad Mini is rumored as a smaller iPad with a 7.85-inch display, which would take almost 2 inches off the screen size of the New iPad's 9.7-inch display. It may use an aspect ratio of 16:9, same as the iPhone 5, for widescreen content.
It's also rumored to have cellular connectivity, 16GB of storage space and a price that rivals the Nexus 7 and the Kindle Fire which could mean a starting price between $200 and $300.

As an Amazon Associate I earn from qualifying purchases.