iPad Mini Expected to Compete in Same Price Range as Amazon Kindle Fire, Barnes & Noble Nook
There are now more speculations behind Apple's rumored sub-9.7-inch iPad tablet, which may be called the iPad Mini with a 7.85-inch display and a slimmer bezel, which would help Apple deliver a larger viewing area than a traditional 7-inch Android slates typically sold by Samsung, Amazon, and Barnes & Noble. The slimmer bezel would allow the iPad Mini to be portable, but offer a larger display area for users. And the latest report from DigiTimes gives mention of a potential price range for the tablet, which is believed to retail in the sub-$300 range.
According to sources from the publication, the 7.85-inch iOS slate will have a targeted launch price of $249-$300. Currently, the Amazon Kindle Fire and Barnes & Noble's low-end Nook Tablet cost $200 at launch, which the 7-inch Galaxy Tab 7 Plus from Samsung retails for $350. By pricing an 7.85-inch tablet in the $300 category, Apple may steer users who may be eyeing Amazon's tablet due to its low-cost pricing back to the iPad and help stem off some market share loss experienced by the iPad ever since the Kindle Fire launched.
The 7.85-inch iPads will target the sub-US$300 segment and are likely to be priced US$249-299, the sources estimated.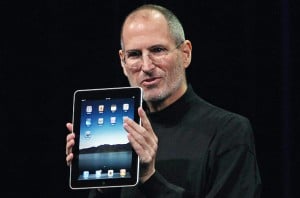 Pricing an iOS tablet that low may make the already competitive Android tablet market harder for hardware-makers to compete in, as tablet-makers are already having a hard time competing on price. Apple, with control of a large digital ecosystem from apps to books to music and movies to TV shows and podcasts, could still make money even if it sold its hardware as a loss leader in the market. Such a strategy would help to price competitors out of the market, especially those who don't control or command a large digital storefront, as Amazon has done in the Android space.
The 7.85-inch iPad reportedly is designed to take on comparable models from Amazon and Samsung Electronics in order to maintain Apple's leadership position, said the sources, adding that Samsung seems is expected to launch its next generation 7- and 10.1-inch Galaxy Tab tablet PCs soon.
It's unclear if a 7.85-inch tablet would meet Apple's user experience requirements. In the past, both late Apple CEO Steve Jobs and current CEO Tim Cook had commented that a 7-inch tablet would not offer a good user experience, noting a cramped on-screen keyboard and other sacrifices that the form factor would have to make. Samsung had used the form factor to promote portability in the past, noting that the 7-inch size would make it easy for users to tote the tablet around with them, highlighting that it could fit in a coat pocket.
Apple, which had historically priced all iPads at the base price of $500, recently lowered the iPad 2's starting price by $100. Yesteryear's tablet model is now priced at $400 for the 16 GB WiFi-only model, suggesting that Apple is trying to squeeze out competition and regain some market share from Amazon. The iPad is still the tablet leader today in terms of market share and Apple announced the new iPad, which it did not name as the iPad 3, with by adding 4G LTE networking support, enhanced graphics, and a Retina Display.

This article may contain affiliate links. Click here for more details.