iPad Mini Launches Tomorrow: Everything We Think We Know
Tomorrow, Apple it will likely announce a new smaller iPad which at the moment is being called the iPad Mini. And while we still don't have any official details regarding the iPhone 5 and its release date, we think we have a good idea about what to expect from both.
If and when Apple does launch the iPad Mini tomorrow, it will be the first time that the larger 9.7-inch iPad has been joined by a counter-part running the same iOS operating system. The iPad Mini is expected to offer a smaller screen and cheaper price tag to customers looking to pick up an Apple-designed tablet during the holiday season and beyond.
And, in typical Apple fashion, we also expect the iPad Mini release date to come soon after the announcement.
Here we take a final look at everything we think we know about the new iPad Mini itself including its features, its launch date, its pre-order and the upcoming iPad Mini release date.
iPad Mini Release Date
Apple has yet disclose an iPad Mini release date because it hasn't launched the device yet. However, several reports claim that the iPad Mini release date will land on November 2nd, a date that falls just over a week after the announcement.
This is a date that falls in line with previous Apple launches in that it tends to release its products less than two weeks after announcing them. It also likes to release its iOS hardware on Friday and November 2nd lines up with both of those sentiments.
Read: iPad Mini Release Date: What to Expect.
With the iPhone 5, Apple announced the device on September 12th and released it on September 21st, a Friday. With the iPad that launched in March, it announced it March 7th and released it on March 16th, a Friday.
We expect to see something similar done with the iPad Mini release date.
iPad Mini Launch Date
Tomorrow, at the California Theater in San Jose, California, Apple will likely announce the new iPad Mini along with its pricing and release date. Apple has not yet said what the event revolves around but it's clear that it will likely be for the new smaller tablet, the iPad Mini, which is a device that has been rumored for quite some time.
We don't expect that to be the only device announced at the event however.
In addition, Apple is rumored to be revealing several other products including a 13-inch MacBook Pro with Retina Display, a new version of the current 9.7 iPad with a new Lightning Dock – same as the iPhone 5, a new Mac Mini lineup and quite possibly new iMacs.
We should also hear something about iBooks 3.0, Apple's e-books service that will be key for a tablet of the iPad Mini's size.
iPad Mini Pre-Order – Two Possible Dates
An iPad Mini pre-order date remains unclear. With the iPhone 5, Apple launched a pre-order for the smartphone two days after announcing it. But with the new iPad that launched in March, Apple announced a pre-order that took place that very day.
So at this point, smart bets would be on a pre-order starting that very day for a release that will come on November 2nd. However, it also wouldn't be surprising to see the device go up for pre-order on October 25th, this Friday.
Both dates are credible and those are the dates that prospective buyers should mark on the calendar.
iPad Mini Features
As for the iPad Mini itself, there have been rumors swirling about for the past few months, all of which have seemingly painted a fairly vivid picture of what to expect from the iPad Mini hardware. However, unlike the iPhone 5 launch, Apple has managed to keep many of the features under wraps.
Design
The design of the iPad Mini will be smaller than the current iPad given the size of its display. Our exclusive engineering samples revealed that it will probably be about two-thirds the size of the current iPad and thus far, it appears that that will ring true.
As for the design, which is said to possibly be slicker than the original iPad, it will likely feature thin bezels on the side for an easier grip, a home button, a headphone jack and likely a volume rocker as well.
Display
The display of the iPad Mini is rumored to be 7.85-inches in size, smaller than the current iPad's 9.7-inch display. However, rumors has it, that it won't be of Retina Display quality.
A recent leak indicates that Apple might be putting a display with 1024 x 768 resolution display and a 4:3 aspect ratio on the iPad Mini. If true, that would mean that it would feature the same qualities as the iPad 2.
Processor
The iPad Mini may sport an older processor like Apple's A5 or Apple A5X chip instead of the A6 chip found in Apple's new iPhone 5. If true, it would mean the device would be less powerful than the larger iPad which sports an A5X chip.
It's also rumored to feature 512MB of RAM.
Cameras
We've seen several leaks that indicate that Apple will be including two cameras on the iPad Mini, front and rear, but if there are cameras on the device, neither quality has been confirmed yet.
Keep in mind, Google and Asus cut a rear camera out of the Nexus 7 to keep costs low and it could be that Apple does the same.
So at the very least expect a front-facing camera for use with iOS 6's new FaceTime over Cellular feature.
Dock Connector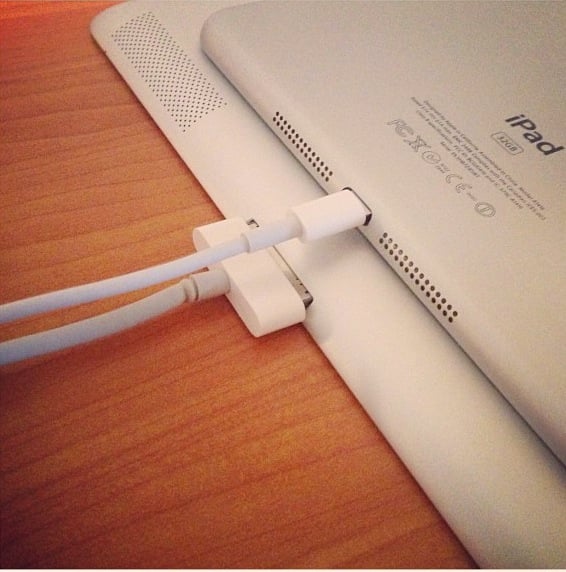 The iPad Mini will almost certainly have the new Lightning dock connector which will bring it up to speed with the iPhone 5 which features the same capability. It's Apple's new standard and we'd doubt that a new product wouldn't have it.
Battery
The iPad Mini battery size has been rumored to be in between that of the new iPad and the iPhone 5. The iPad Mini battery will supposedly have a 16.7 watt-hour capacity (4490 mAh) which sits in between the watt-hour capacities of both the iPhone 5 and the regular 9.7-inch new iPad.

The iPhone 5 boasts a battery that sits at 5.45 watt-hours while the regular iPad sports a 42.5 watt-hour capacity.
Software
Without a doubt, the iPad Mini will offer iOS 6, Apple's new operating system that brings over 200 new features to the table including Facebook integration, better sharing and of course, the new Maps application, amongst others.
With rumors about iOS 6.0.1 swirling, it could possibly launch with that.
iPad Mini Carriers
There has been quite a bit of back and forth about whether or not the iPad Mini will feature cellular capabilities like the regular iPad. If it does, expect it to offer 4G LTE data speeds like the iPad and iPhone 5.
And if it offers 4G LTE data speeds, expect it to arrive for AT&T and Verizon at the very least and possibly Sprint as well.
iPad Mini Price
There had been all sorts of rumors floating around about the price of the iPad Mini but today, finally, we may have gotten our answer as far as its official pricing is concerned.
It looks like the iPad Mini will be price at $329 for the lowest end 16GB Wi-Fi only model. Assuming that Apple sticks to its typical pricing methods, and assuming that this pricing is the real deal, and also assuming that there are three storage options, that could mean that pricing will look like this:
iPad Mini 16GB – $329
iPad Mini 32GB – $429
iPad Mini 64GB – $529
That would mean that the cheapest iPad Mini would be $129 more expensive than the starting price of Google's Nexus 7 tablet which retails for $199 for a 8GB model and $249 for a 16GB (soon to be replaced by 32GB) model.
If Apple does indeed launch the iPad Mini will cellular support, it will charge a premium, just like it has with the larger iPad. Should the pricing prove correct here, that should mean that the iPad Mini 3G/4G pricing would look like this:
iPad Mini 16GB 3G/4G LTE – $459
iPad Mini 32GB 3G/4G LTE – $559
iPad Mini 64GB 3G/4G LTE – $659
Google's Nexus 7 and Amazon's Kindle Fire HD, at the moment, don't feature cellular data. However, Amazon will be releasing a 4G LTE enabled Kindle Fire HD for $499 in November while Google's 3G Nexus 7 is still without a price.

As an Amazon Associate I earn from qualifying purchases.