iPad Mini Mockup Reveals Slim Pixel-Packing Frame
A recently leaked image shows what appears to be a prototype shell of Apple's unannounced 7.85-inch iPad Mini tablet placed next to Amazon's newest Kindle Fire HD tablet and Google's Asus-made Nexus 7 slate. The image reveals that though the iPad Mini is slightly taller than these competing devices in the 7-inch space, the tablet is noticeably thinner and the device is even thinner than the latest third-generation iPad with Retina Display.
The iPad Mini prototype mockup is shown with a thickness of 7.69 mm compared to the 9.91 mm thickness of the iPad 3 according to AppleInsider.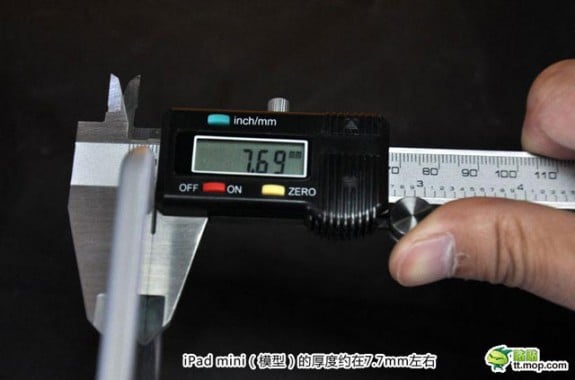 The slightly taller frame of the iPad Mini is probably attributed to the slightly larger display size of the iPad Mini. While both Amazon's and Google's tablets measure in at 7-inch even when the display is measured diagonally, Apple's screen is 7.85 inches.
Additionally, it is reported that the despite having a smaller footprint than Apple's larger iPad, which has a display size of 9.7 inches, the iPad Mini will sport the same resolution as the original iPad and the iPad 2 with 1024 X 768 pixels. This would allow standard iPad apps–those that aren't designed specific for Retina Display–to be able to run natively on the iPad Mini without issues such as letterboxing. As such, the iPad Mini would be able to launch with a complete library of iPad apps that would display properly if this rumor is in fact accurate. Compared to the iPhone 5, which could run apps designed for the iPhone 4S and earlier, the iPad Mini will offer more compatibility with apps despite a change in screen size as the iPhone 5 displays non-iPhone 5 apps in letterbox.
At one point, the iPad Mini was rumored to share the stage with Apple's iPhone 5 announcement. However, as we have found out, that did not happen and it is now believed that the iPad Mini will have its own launch event this month. The tablet could go on sale as early as by the end of October.

As an Amazon Associate I earn from qualifying purchases.