iPad Mini Rumors: Production Begins Ahead of Launch Date
The iPad Mini, Apple's oft-rumored 7-inch tablet device, has reportedly entered mass production at Chinese manufacturer Pegatron ahead of its presumed October launch date.
According to Chinese publication Economic Daily News, courtesy of Engadget, the iPad Mini entered mass production at Pegatron which has reportedly managed to take 50 to 60 percent of iPad Mini orders. If true, it would mean that Apple may have shifted away from Foxconn as the only manufacturer of the iPad.
By shifting complete dependence away from Foxconn, Apple will not only be able to churn out more iPads but it will likely be able to shore up some of the supply issues that have come with recent iPad launches including the new third-generation iPad.
Read: New iPhone 5 and iPad Mini Pictures Leak.
In addition, the report claims that 53 million iPhone 5 device are expected to ship out to regions across the globe this year and because of that, Apple may use Pegatron to ensure its supply meets demand.
The news comes shortly after Apple's iPhone 5 launch event which revealed the new iPhone and new iPods, but as expected, no 7-inch iPad Mini tablet.
Read: Apple to Host iPhone Event in September, iPod and iPad Mini Event October.
Speculation suggests that Apple will announce the new iPad Mini at unannounced event in October. Historically, Apple holds its music event in early October and because Apple introduced iPods at the iPhone 5 event, this year's event may be centered around Apple's new tablet device.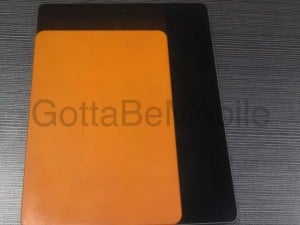 Thus far, the iPad Mini still rests firmly in the shadows. We've seen a number of photos that purportedly show the device's design but thus far, many of specifications remain unclear.
The iPad Mini is rumored to have a 7.85-inch display, an iPod touch style design with minimal side bezels, 16GB of storage and quite possibly a 4G LTE variant. It's also said to cost somewhere between $200 and $300 dollars.
As for its design, it's said to resemble a larger iPod touch with thin bezels on the sides. If and when Apple decides to announce and release the iPad Mini, it will be faced with growing competition.
Earlier this year, Google released the Nexus 7 tablet and just recently Amazon released its new Kindle Fire HD slate.

As an Amazon Associate I earn from qualifying purchases.