iPad Mini Release Date, Specs, News and Rumors
Apple is heavily rumored to be announcing and releasing a new, smaller 7.85-inch iPad in 2012 to go along with the third-generation new iPad that is already on shelves.
Apple's tablet releases thus far have been in one flavor only, the 9.7-inch flavor. The iPad, iPad 2, and the new iPad all sported large displays and thus, large footprints.
However, as has been seen with the Amazon Kindle Fire and Nexus 7, there is demand for smaller tablets and it appears that Apple might finally be trying its luck.
Thus far, Apple has not revealed its hand. The iPad Mini still exists in the shadows. It has been rumored numerous times in the past and even now, it's release is uncertain. Maybe it's just smoke and mirrors from Apple to drive down sales of the Kindle Fire and Nexus 7 and the device will never leave Apple's labs.
Or maybe, Apple might actually have something real up its sleeve.
Whatever the case may be, we want to roundup everything there is to be known about Apple's rumored iPad Mini.
iPad Mini Release Date
Clearly, because the iPad Mini is still a rumored device, it does not have a release date. That doesn't mean we're short on speculation though.
Thus far, we've heard a bit about the iPad Mini launch date but nothing specific for its release date. One report, from iMore, pegged the iPad Mini as coming alongside the iPhone 5 at Apple's rumored September 12th launch event.
However, they aren't sure if Apple will be releasing the iPad Mini on the same day as the iPhone 5. The iPhone 5 release date is rumored for September 21st.
Another report from iLounge claims that the iPad Mini will not be released alongside the iPhone 5, at least if it launches in September, and may not be ready to ship until November.
Apple is known to announce devices and ship them out shortly after but it could be that it announces the iPad Mini and tacks on a November launch date at the event in September.
Other outlets that reported on the iPhone 5's September 12th launch date did not have any dates for the iPad Mini.
So, those hoping for a launch in the near future probably shouldn't be holding their breath.
iPad Mini Form Factor
As is implied by its name, the iPad Mini is a smaller version of the regular old 9.7-inch iPad. Of course, exact dimensions of the iPad Mini form factor are impossible to know at this point, several leaks have given us some possibilities.
Our exclusive iPad Mini engineering samples seemed to point to the iPad Mini being a little bit thinner than the current iPad, but only about two-thirds the size.
Shortly after we presented our leaked images, schematics for the purported iPad Mini surfaced giving us some detailed measurements.
If the schematics are to be believed, the iPad Mini will check in at 7.3mm thick and will come with a form factor that is 200.13mm tall and 134.73mm wide.
Those measurements are only slightly different from the calculations we pulled from the leaked engineering photos.
iPad Mini Screen
The biggest difference between the 9.7-inch iPad that's currently on the market and the iPad Mini is likely to be the difference in screen size. While the current iPad employs a massive display, the iPad Mini is rumored to have a screen that measures in at 7.85-inches in size.
Apple's iPad Mini display is also rumored to have a 4:3 aspect ratio and 1024  by  768 pixel resolution. While it's not confirmed, we assume that Apple will be tacking on a Retina Display.
The display on the iPad Mini is rumored to the have a IGZO display from Sharp. IGZO stands for indium gallium zinc oxide and it should allow Apple to offer an iPad with a thinner screen featuring better brightness.
Sharp's IGZO technology is also said to be able to support 330 pixels per inch (PPI) which means that the iPad Mini could indeed have a Retina Display.
iPad Mini Specs
As for the rest of the specifications, most remain unclear. We have heard that the device might come with at least 16GB on board though we imagine Apple will offer the device with several storage options.
Google's Nexus 7 is available in both 8GB and 16GB.
The device is also rumored to have the new 19-pin dock connector on board, something that seems to have been confirmed by our engineering samples.
There is also speculation out there that Apple might actually be introducing an 8-pin dock connector instead of a 19-pin, which, if true, might also end up on the iPad Mini.
Those samples also revealed that the iPad Mini has two speakers on either side of the dock connector, where current iPads have only one speaker.
Other than those tidbits and the information on the display and form factor, the iPad Mini remains mysterious.
iPad Mini Camera
Again, nothing is known about the iPad Mini's camera though we imagine Apple will outfit it with cameras comparable to the cameras found on the new iPad.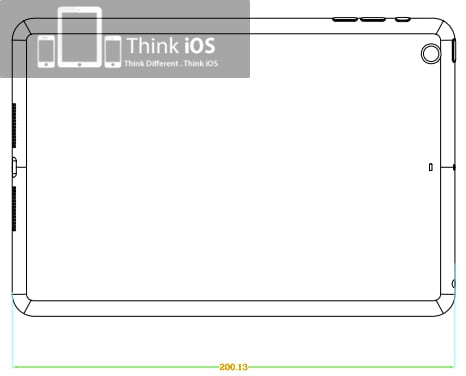 That could mean an iSight rear camera and a serviceable front-facing camera. Apple is said to be upgrading the FaceTime camera on the iPhone 5 to HD quality so it's possible that we could see that with the iPad Mini as well.
iPad Mini Price
One of the biggest question marks, besides the specs, that consumers have is about how much Apple is going to be charging for the iPad Mini.
The New York Times claims that the iPad Mini will be sold for significantly less than the $499 new iPad model though it provides no specific price.
Thus far, the consensus is that Apple is going to sell it for under $300 in an effort to compete against the Nexus 7 and the Kindle Fire, both of which are its fiercest competitors at sub-8-inches.
Analysts have been predicting a price of $299 which would allow Apple to reportedly make a 31% profit on each tablet sold. That $299 price tag likely would represent the cheapest model with a the 16GB model possibly costing $399.
iPad Mini Carriers
It's unclear if Apple plans to launch 4G LTE versions of the iPad Mini or if it's going to keep it Wi-Fi only at the start.
If it does launch a cellular capable iPad Mini, the likely suspects to carry it would obviously be AT&T and Verizon who currently carry the 9.7-inch new iPad on their 4G LTE networks.
Sprint, which just launched its 4G LTE network, and hosts the iPhone 4S, is a possibility as well.

As an Amazon Associate I earn from qualifying purchases.