iPad Mini Release Date: What Not to Expect
Apple is widely expected to deliver a new 7.85-inch iPad Mini along with a host of other products at an event set to take place on October 23rd. We've already taken a look at what to expect and what not to expect from the event itself and now it's time to dive into expectations regarding the iPad Mini release date.
Earlier this week, Apple sent out invites for an event set to take place at the California Theater in San Jose, California on October 23rd. The company did not elaborate on what it will announce at the show but it's expected to announce a new tablet, the 7.85-inch iPad Mini, which will join the new iPad on shelves for the first time.
If the device is real, and this point it appears that it is, it will compete with the Nexus 7 and Kindle Fire HD this holiday shopping season.
Read: iPad Mini Release Date: What to Expect.
The iPad Mini is expected to feature a smaller design in comparison to the current iPad and rumors state that it will possess thinner bezels, similar to the design found on the iPod touch. The display is rumored to sport lesser resolution than the current iPad though it may wind up having a 16:9 aspect ratio, same as the iPhone 5, for widescreen content.
Other rumors include several storage options, 3G or 4G LTE connectivity, a camera or two, and a battery size that rests in between the sizes of the iPhone 5 and the current iPad model.
And while we have a pretty good bead about what to expect from the iPad Mini itself, one item will remain a complete mystery up until October 23rd. That of course is the iPad Mini release date. Based on previous Apple launches and rumors, we already took a look at what to expect from it. Now, it's time to reverse gears and take a look at what not to expect from the iPad Mini release date.
Anything Beyond Early November
Apple won't announce an iPad Mini release date until October 23rd but we already have a good idea about what not to expect from the release date. Apple generally releases its products less than two weeks after announcing them and in the case of the iPad Mini, due to its October 23rd launch date, we don't expect the release date to fall anywhere other than early November.
Based on what Apple usually does, November 1st and November 2nd are both possibilities though November 2nd appears to be more likely as it's a Friday and Apple loves to release products on Friday.
November 2nd is also the only date, thus far, to be rumored. So while we still don't know the exact release date, don't expect anything other than a release date at the very beginning of November.
One Release Date
The iPad Mini release date may be November 2nd but that doesn't mean every region around the world will be getting Apple's smaller tablet on that date. The United States is all but certain to get it that date and there will likely be others. However, other regions will likely have to wait weeks or maybe even months before the iPad Mini arrives.
Apple generally staggers its regional launches and at this point there is no reason to expect anything different.
Something to keep in mind though is the fact that this is the first holiday iPad launch. That could mean that Apple will launch in an abnormally large number of countries due to the close proximity of the holiday shopping season but that remains to be seen.
A Predictable Pre-Order Date
Pre-orders are reportedly set to begin on October 26th but that's not a concrete date. Apple doesn't seem to have a set formula when it comes to pre-order dates. With the iPhone 5, it launched pre-orders several days after the announcement. With the new iPad, back in March, it started taking pre-orders almost immediately.
So until Apple announces a firm pre-order date, it's hard to say when the pre-order date might be. Instead, just assume that pre-orders will likely begin anywhere between October 23rd and a week afterwards.
To Get an iPad Mini Without a Pre-Order
If the iPhone 5 and new iPad releases are any indication, getting an iPad Mini on its release date may be difficult. Both the iPhone 5 and new iPad stock sold out soon after pre-orders went live and we expect the same thing to happen with the iPad Mini.
This means that those who don't pre-order will be risking a long wait for the device, something that could be extremely troubling for those looking to pick one up as a gift for the holidays.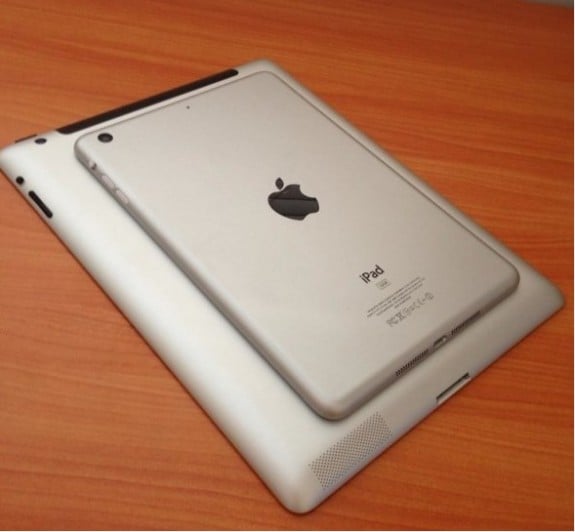 Apple supposedly placed an order for 10 million iPad Minis but there is no telling how long the initial stock will last beyond the first pre-order date. We don't expect it to, and neither should those looking to snag one for release day.