iPad mini with Retina Display Buyers Tips
Yesterday, signs pointed to a possible iPad mini with Retina Display release happening today in several countries around the world. At the time, the rumor seemed odd given that most people expected a heads up from Apple ahead of the release date. As it turns out, the iPad mini with Retina Display release date is here and we want to offer some tips to those thinking about picking up Apple's brand new tablet.
In late October, Apple took the stage in San Francisco and debuted a host of new products including OS X Mavericks and its release date, the new Mac Pro, a brand new MacBook Pro with a Haswell processor, and two new iPads in the iPad Air and the iPad mini with Retina Display. The iPad Air, originally known as the iPad 5, would take the place of the iPad 4 while the iPad mini with Retina Display would replace the original iPad mini as Apple's flagship 7.9-inch model.
At the time, Apple announced that the iPad Air would be heading to shelves in early November while the iPad mini with Retina Display would emerge sometime later in November, something that many interpreted to mean in late November. The iPad Air arrived on schedule earlier this month, leaving iPad mini with Retina Display buyers looking for their release date.
Yesterday, evidence surfaced, evidence that suggested that Apple was preparing an iPad mini with Retina Display release for today. To many, that seemed unlikely given that today is a Tuesday and given that the company, carriers or retailers hadn't announced anything prior. Oddly enough, Apple did, in fact, release the iPad mini with Retina Display on the Apple Store at midnight and it currently sits on the Apple Store next to the iPad Air.
The iPad mini with Retina Display release isn't your typical Apple release date though and here, we take a look at some things that should help buyers along during today's release date and beyond.
Think About Ordering Now
Many people have already pulled the trigger on the iPad mini with Retina Display. We're seeing shipping times get pushed back already and we expect to see them get worse before they get better. That said, maybe the best advice that we can offer is to order the iPad mini with Retina Display now, especially if the device is shipping out with a relatively reasonable shipping time.
We don't expect shipping times to ease any time soon. While some models are reasonable right now, we should see their shipping times get worse as more and more people find out about this quiet launch and as we get closer to Black Friday and the start of the shopping season. Those who have already decided on a model would be wise to order one this moment as waiting a few days could potentially wreck havoc on timing.
LTE Model is Scarce, Order Then Cancel if Found Earlier
Already, the iPad mini with Retina Display with LTE is scarce and we anticipate shipping times getting worse. So, we highly suggest ordering one now, with shipping times at their lowest point and then canceling the order if one is found either in store or from a retail location ahead of the shipment date.
Those who do do this will want to be careful and track the order throughout the order process. There is a point when the order can no longer be cancelled so buyers who do find an LTE model for AT&T, Sprint, T-Mobile or Verizon ahead of their current shipping times, will want to ensure that they follow along in order to cancel.
LTE Worth the Wait
We highly suggest taking a long hard look at the iPad mini with Retina Display before making a final decision today or within the next few days. While a device like the iPad Air may not necessarily need 4G LTE data speeds equipped, LTE makes a whole lot of sense for a portable device like the iPad mini with Retina, a device that is designed to be taken out of the house.
AT&T, Sprint, T-Mobile and Verizon all offer 4G LTE data for the iPad mini with Retina Display and they don't require users to sign a contract in order to use data on their networks. Of course, there is a premium on the 4G LTE models but in our opinion, the extra money is worth the investment thanks to how portable of a device this is. There is a reason that the 4G LTE models are hard to find at this point.
So, while the shipping times may be worse than the Wi-Fi only models, the wait is going to be worth it for a lot of people due to LTE almost being a necessity with a device like the iPad mini.
Survey the Landscape, But Do It Quickly
Those who haven't placed an order yet would be wise to survey the tablet landscape right now, just in case there is another device, or price tag, that catches the eye. Remember, the iPad mini with Retina Display is an expensive endeavor, particularly the LTE model, and there are some solid, more budget-friendly options on the table at the moment.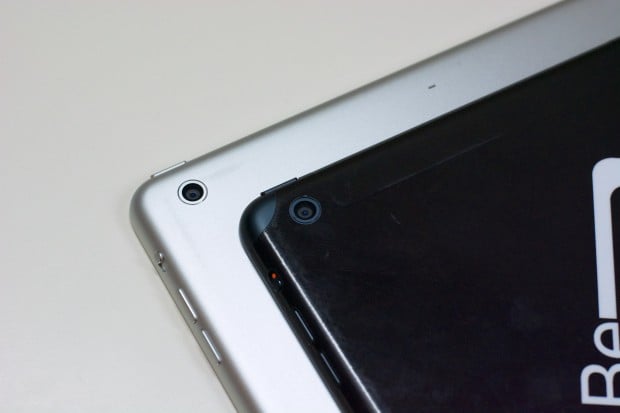 Of course, those who still need to do their research should do it quickly because the iPad mini with Retina Display stock is likely going to be uneven throughout the holidays. So, the sooner a decision is made, the better.
We also suggest that those on the fence take a look at current Black Friday deals as they apply to devices like the original iPad mini, a device that could certainly pan out as a gift during the holidays.
Stores Will Have Stock, For Now
In-store stock is scarce at the moment though we anticipate that Apple Stores in the United States will get their fair of stock in soon. Retailers like Best Buy should have stock today, and if not today, soon. We highly suggest going to their respective web sites to check for stock, prior to going down to a store and leaving empty handed.
A word of caution. We expect in-store stock to be uneven, as it always is, and some retailers may only have a few units on hand. So there is a very good chance that stock will be sold out through physical retail locations in the coming days as online shipping times get pushed back even further. For those that want peace of mind, it's worth taking a look at a retailer or an Apple Store but the safest, most convenient place to buy is online.
We should also note that carriers remain silent about whether or not they will be selling the iPad mini with Retina Display. Sources familiar with Verizon's plans have told Gotta Be Mobile that they are unsure about when stock might arrive in-stores. We do expect carriers to offer the iPad mini with Retina, we just don't know when just yet.
Look Into Selling Your Current iPad
Right now is a great time to start seriously looking at either handing down or selling a current iPad or iPad mini that will be getting replaced by the new iPad mini with Retina Display. As we've pointed out, pricing for older devices will start dropping a bit as the weeks go on so right now is a great time to start doing heavy research.
Three great places to start are Gazelle, NextWorth and Amazon. These are places that we trust and that we recommend iPad mini with Retina Display buyers look at when selling a device. There are also places like Craigslist and eBay but they are a little more unpredictable.

This article may contain affiliate links. Click here for more details.