Size Matters: iPad mini vs iPad vs iPhone 5
The iPad mini sits well between the full-sized iPad and iPhone 5, fitting in as Apple's first truly mobile tablet. Some Apple customers have held off buying the iPad mini because they think that it's too similar to their current iOS devices.The spec sheets and bullet points don't do the iPad mini justice. It is a device that users need to hold in their hands to understand why they might want a second or third Apple mobile device.
The iPad is an incredibly popular device, but it's big enough to make a lot of people think twice about lugging their iPads around, especially if a notebook is a requisite for school or work. This leaves too many iPads underutilized, relegating them to stay-at-home tablets. The reason that AT&T and Verizon charge customers on shared data plans just $10 per month for tablets, compared to $30-$45 per smartphone and $20 per laptop, is because people simply don't use their iPads' mobile data capabilities all that often.

The iPad mini is a different story however. It's small enough to jam in a coat pocket and light enough to carry around without thinking twice. iPad mini users are going to take these things everywhere, even when they have smartphones and laptops in tow.
As you can see in the above photo, the iPad and 11″ MacBook Air have similar footprints and dwarf the iPad mini.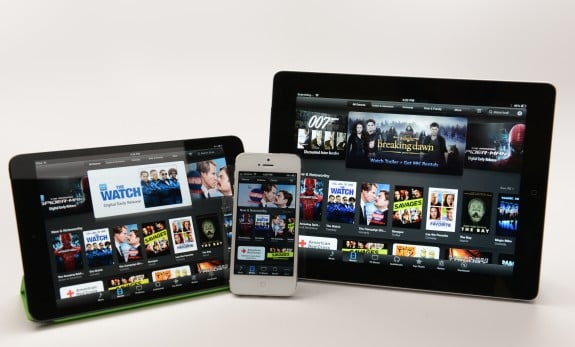 The iPad mini's 7.9″ display is gargantuan compared to the iPhone 5's and can fit the same amount of content on it as the larger iPad. The iPad mini runs full-fledged iPad apps, including the expanded version of iTunes, making it easier to browse through content compared to the iPhone 5's tiny display.
The iPad mini's display is too small to server as a laptop replacement however. The full-sized iPad is the way to go if you need to get real work done.
The iPad mini display is just fine for watching movies at arm's length. In fact, the iPad mini is preferable compared to the standard iPad if you have to hold the device while you watch since it's so much thinner and lighter. While watching Moneyball on the iPad mini I didn't yearn for a bigger screen as I do when I watch video on the iPhone 5.
The above photo illustrates how different in size iPhone 5, iPad mini and iPad (3rd and 4th Generation) are. Screen size is one way to measure devices, but what matters most in terms of portability is their footprints. Since the iPad mini is much narrower than the standard iPad, it can fit in many pockets and purses.
Users can definitely feel the weight of the standard iPad and it often requires lugging a dedicated bag. The iPad mini weighs just 10.88 ounces, light enough to forget that it's even in your bag. In fact, I forgot that I left the iPad mini in my sweater pocket overnight and walked around with it in my pocket all morning before realizing I had the device with me.
iPad mini is Thin
The iPad mini is just 7.2 mm thick, which is .4 mm thinner than the iPhone 5 and 2.2 mm thinner than the standard iPad (9.4 mm). The 11″ MacBook Air measures 3 mm (front edge) to 17mm (rear edge) thick, which is much thicker than either iPad model.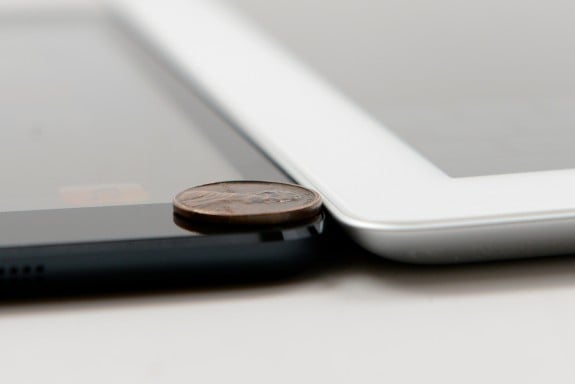 Many lamented the New iPad's (3rd generation) extra thickness when it launched as they'd grown accustomed to the relatively thin iPad 2. The iPad mini is thinner than the iPad 2, with a penny separating them in terms of thickness.
Size always matters when it comes to mobility and Apple appears to have struck an excellent balance here. It has about the same footprint as other 7″ tablets, but its 7.9″ display and thin bezels make it more usable.
There's a lot of things that can't be done on the iPhone, such as importing photos from a camera's SD card, that can be done on the iPad mini. I sometimes hesitate to take my iPad with me when I go out shooting with my Nikon D800 or other DSLRs, but the iPad mini is tiny enough to stuff in a camera bag or sling without thinking twice.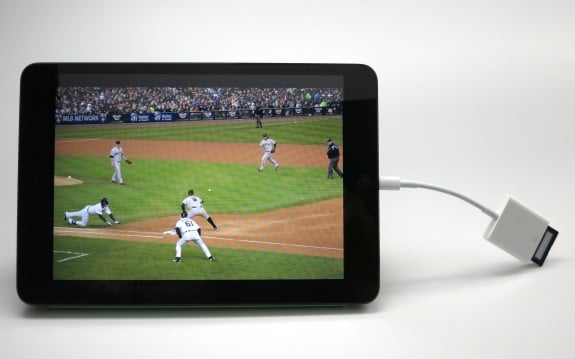 Here's a photo I imported from the World Series in Detroit onto the iPad mini using the Lightning SD card adapter. The display's big enough for light photo editing and the iPad mini can run more robust photo apps than the iPhone.
What do you think about the iPad mini's size and weight? Did Apple get it right or is the standard iPad and iPhone mix good enough for you?

As an Amazon Associate I earn from qualifying purchases.