iPad mini: A Great Travel Companion
People often ask the question: Can an iPad replace a laptop? That always depends on what the person plans to do with said laptop or iPad, but for simple travel it definitely can.
But what of the iPad mini? Can it replace a laptop or even the larger 10-inch iPad for a long trip?
In a word, yes!
For the first time, since I got my first laptop in 1991, I took a trip without a laptop thanks to my iPad. I brought both an iPad third gen and an iPad mini.
The only reason the larger iPad came along was a fear that the mini wasn't enough. First, it's Wi-Fi only and second I feared the smaller size might not hold up well as a video streaming device. I seldom watch hotel room TV anymore, so I like the larger screen for streaming video.
However, the larger iPad remained on the night stand of the hotel or the coffee table at the in-laws nearly 100% of the time. From Wednesday to Saturday night the iPad battery depleted only about 10% due to lack of use.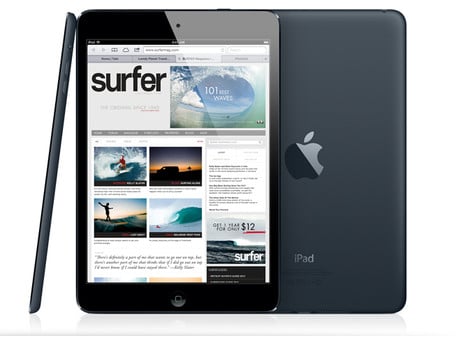 Taking a leisure trip means no writing or research for either tech articles or my day job. I'd hate to do either for any length of time with just the iPad mini. The larger iPad can function as a productivity device for short stints or pure writing when paired with a keyboard, The iPad mini's screen make doing that kind of work almost unbearable, especially for those of us who post to a blog.
The iPad mini shines in the following situations:
mobile surfing
email triage so it doesn't backup while way
casual gaming
entertainment and streaming video
reading books and magazines
limiting typing with a Bluetooth keyboard for things like email or social networking
field edits of vacation snapshots with the Lightning-based camera connection kit
The next short leisure trip I take I will really go light bringing only my iPad mini, a Bluetooth keyboard just in case, and my phone for an Internet connection while on the go. It felt weird to leave the computer bag home this time. It won't the next time.

This article may contain affiliate links. Click here for more details.