iPad mini with Retina Display Review: Almost Perfect
Good things come in small packages. And that's what the iPad mini with Retina Display delivers. The new iPad mini is a 7 inch Tablet packed with almost all of the power of its larger sibling, the iPad Air, and now equipped with a Retina Display. It quickly takes the lead in the small form factor Tablet race. Unlike the first iPad mini, this is not a step down in performance from its contemporary generation iOS siblings. For those considering which iPad to buy the choice is now solely about which size device you prefer.
This second generation smaller iPad sets a new bar in performance for the pocketable Tablet crowd, although it comes at a steeper price than the first generation. Those prices begin at $399, $70 more than the first generation iPad mini, still on sale for a reduced $299. To call the iPad mini with Retina Display a premium purchase is accurate. The price may be high, but it offers a superb premium Tablet experience for those who prefer their Tablets in a smaller form factor. To call it too expensive depends on a mix of your budget and your needs.
Similarly to the the release of the first retina iPad this new edition is slightly larger than it predecessor weighing in at 0.75 lb. That difference is noticeable in side by side comparisons with the first iPad mini, but should not be an issue for those purchasing their first 7 inch iPad. One of the few drawbacks  is another similarity. Occasionally it is tough to hit touch targets on the smaller display.
Released in a sneak launch by Apple, the iPad mini with Retina Display may be tough to get this holiday season because of supply issues with its major new feature, the Retina Display. Supplies are tight and as of the writing of this review, customers still can't stroll into an Apple Store and purchase one. Finding one in another retailer is hit and miss, although that could change as stock ramps up for the holiday season. Ordering online is the best option at the moment.
The smaller form factor Tablet is a competitive marketplace. Choices range from The Nexus 7, Amazon's Kindle Fire line of Tablets, Windows Tablets from Dell and others, and Android Tablets of many makes. They are typically priced lower than the iPad mini with Retina Display and are all generally available.  The iPad mini with Retina Display will also have to compete with the excellent new, larger, and easier to obtain iPad Air. Prices for the iPad Air start at $499, and while it is a larger form factor, the reduction in its size and weight has made many consider it a more than suitable mobile choice. Unless supplies improve, Apple may have a hard time competing with its rivals on price and with itself on availability this holiday season, predicted by Apple CEO Tim Cook to be an iPad Christmas.
From design to performance the iPad mini with Retina Display raises the expectation bar for small Tablets. Like the iPad Air, it is a winning package even with a higher price. That's why, even with a few issues, we are more than comfortable giving it a Gotta Be Mobile Editor's Choice Award. 
For more on how the iPad mini with Retina Display compares with its predecessor here's a look at the iPad mini vs. iPad mini with Retina Display.
Pros

Amazing performance with no compromises
Great battery life
Great looking Retina Display
Power in a small package

Cons

Pricey
Some touch targets not always easy to hit
No Touch ID
Screen image ghosting on some models
iPad mini with Retina Display | $399 and up

Review Guide

Related Review Articles

Buy the iPad mini with Retina Display

Starting at $399 at Apple with Personal Pickup at stores or Online

Available at Best Buy and carriers as constrained stock allows
Check out the specifics:
Hands On/Video Review
This is a quick look at the iPad mini with Retina Display showing how easy it is to hold and manipulate in one hand while accessing Apps.
Design
With the original iPad mini Apple changed the design language for the iPad line.  We saw those changes reflected earlier this year in the design of the iPad Air. The side bezels are narrower and the device is sleeker. The iPad mini with Retina Display adheres to that same form factor design language. Out of the box the design of this new mini is indistinguishable from its predecessor, with the exception of a small weight and depth increase
The iPad mini with Retina Display comes in Silver or Space Gray with the latter replacing the black back of its predecessor.
The device's aluminum back meets the display with the same chamfered edges we've seen before and the design is so  similar that the original Smart Covers and Smart Cases released for the first iPad mini will work with the newer model.
Two speakers flank the Lightning Connection on the bottom of the device. Sound through speakers on a Tablet has never been an audiophile's preferred way of listening to music. The iPad mini with Retina Display won't change that.
Sound levels are basically on par with the iPad Air. In comparison with the iPad Air, the speakers on the iPad mini with Retina Display do not have as rich a sound when playing music as the iPad Air. When playing back the spoken word (audiobooks and podcasts) there is slightly better sound level and quality on the iPad mini with Retina Display than the iPad Air.
The familiar two button volume control sits on the left side of the device just below the mute switch which can  alternatively be used to lock or unlock screen rotation.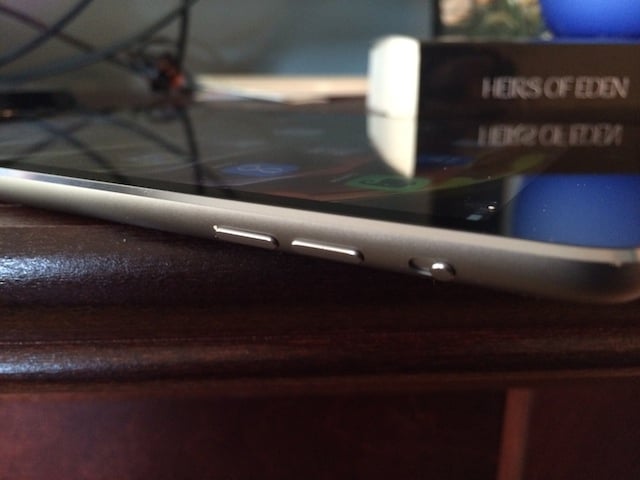 The top of the device contains the power button and a headphone jack.
The 7 inch form Tablet form factor is well suited to reading and watching on the go, on the couch, in bed, or stall surfing.
The iPad mini with Retina Display is very comfortable to hold either in one hand or two, although smaller hands might prefer two. But one handers can easily hold the device and flip pages with a thumb. Can it fit in a pocket? For some this is a key decision point.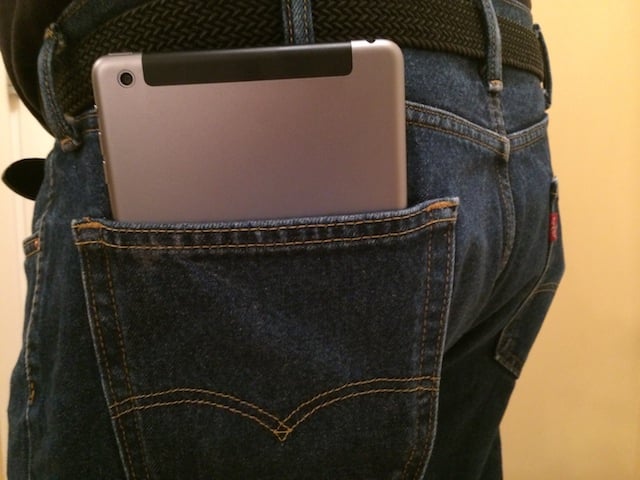 The answer is yes if that's the way you roll and your jeans aren't too tight. The device is sturdily constructed, but I wouldn't forget that it was in a back pocket before sitting down.
Like the new iPad Air, the iPad mini with Retina Display does not include Touch ID, introduced with the iPhone 5s. Maybe next year. The dimensions of the iPad mini with Retina Display make it quite easy to grasp it on both sides and enter a numeric password with two thumbs. The same is true of entering text with the virtual keyboard. It is quite easy to use both thumbs for keyboard entry without feeling like you are stretching to reach across the keyboard.
 Display
The Retina Display is the key new feature of the second generation iPad mini. As on the iPhone and the 1o inch iPad before it, the Retina Display does indeed offer crisper text and better looking photos. Games and video look great. The 2048 x 1536 resolution is the same as the iPad Air, but those pixels are squeezed into much less screen real estate, which gives the iPad mini with Retina Display a higher pixel density. At 324ppi the density is double that of the original iPad mini. Some say the screen is sharper than the iPad Air because of this. This reviewer's eyes can not tell the difference, but yours might.
The glossy display is still not the best for use outdoors in bright sunlight, but neither are those of most Tablet screens that perform multiple tasks compared to a reading only device like the Kindle Paperwhite. As with the iPad mini, sometimes touch targets are still difficult to hit on the smaller screen compared to larger iPads.
Note that due to issues relating to the Retina display, Apple has needed to use multiple suppliers for the display panel on the iPad mini with Retina Display as it has done with other devices. An issue has been noted with some of those display panels that leads to screen image retention sometimes referred to as ghosting or burn-in. Marco Arment developed a test that can show if your iPad has one of the screens suffering from this ghosting.  Unfortunately there is no way to know when purchasing if your device has the problem or not.
A second issue to be noted is that the display for the iPad mini with Retina Display may show the same color gamut as its predecessor. The same? So what? This means some colors may not look as saturated on the new mini as they do on its larger sibling, the iPad Air.  Again, this is an issue you may only notice in comparison, but if you're a photographer it might have some effect.
Performance
Retina Displays are pretty to look at but they take power to push all of those pixels across the screen. The iPad 3, the first iPad equipped with a Retina Display, had some difficulties keeping up. This year's Apple iPad releases both feature the new A7 64 bit processor which is described by Apple as a "desktop level" processor. There's no skimping on power and plenty to light up the Retina Display with no lag or slowdown on graphics heavy games. Processing video is much quicker.
Apple's A7 64 bit processor is accompanied by the same M7 coprocessor that is included with the iPhone 5s and the iPad Air. The M7 reads data from sensors saving the A7 from that type of continual monitoring and processing, thus helping battery life. The M7 then reports data back to the system when needed. This year's theme from Apple for all of its iOS devices is "forward-looking." Essentially that means users won't know what the 64 bit jump and the M7 can offer until developers begin taking advantage of it. Examples of what we could be seeing include Apple's Pages, Numbers, Keynote, GarageBand, iPhoto, and iMovie Apps, as well as games like Infinity Blade 3, all of which have been coded for the 64 bit architecture. The following videos show off the difference in processing speed compared to the original iPad mini.
Comparing two Apps running side by side with the iPad mini.
Comparing Infinity Blade 3, coded for the 64 bit architecture
Comparing Bards Tale, an asset heavy game not coded for 64 bit architecture
Apple's platform architecture design means that current applications that haven't been updated to take advantage of the 64 bit construction set run just fine on the newer devices.
Anecdotally, and coincidentally while preparing this review severe weather was passing through the Chicago area. If you're familiar with Weather Radar Maps you're also familiar with the sometimes herky-jerky action as radar animation loads in.
As this reviewer watched radar on the iPad mini with Retina Display, the loading of that video displayed much smoother than I've seen on other devices in the past.
While, the iPad mini with Retina Display bests the previous iPad mini in performance and brings Apple's smaller Tablet form factor to the front of the pack, there are some slight differences in processor clock speeds among the A7 generation of iOS devices. The iPad mini with Retina Display is running at 1.29GHz while the iPad Air is running at 1.39GHz. The iPhone 5s clocks in at 1.30GHz. Are these differences discernible in real world application? Not really.
 Battery Life
Apple's designers and engineers work hand in hand to create new devices. No where is this more apparent than with the iPad mini with Retina Display and battery life. Since the launch of the first iPad, Apple has delivered 10 hour battery life with each generation, including the first iPad mini. The iPad mini with Retina Display continues that and perhaps offers a little improvement. Three days of testing is not really enough to gauge the accuracy of manufacturer battery life claims. In that context, we can say that it looks like the iPad mini with Retina Display lives up to Apple's claims of 10 hours and maybe bests it by a little. This reviewer had to work to discharge the battery to less than 10%.
The fact that Apple can squeeze enough battery juice into such a small form factor capable of powering a Retina Display and maintain battery life, with only a negligible increase in weight and size, is remarkable. The iPad mini battery was rated at 16.3Wh. The iPad mini with Retina Display's bigger battery rates 23.8Wh.
Cameras
The iPad mini with Retina Display front and back cameras are the same as in the iPad mini with one exception for taking video. If taking pictures with a Tablet is your thing, the pictures are of good, not great quality. Those in the gallery below show low light conditions.
For 1080p HD video recording the iPad mini with Retina Display now has 3X zoom. In the video below you can see the zoom but also see how quickly this is done with the new processing power.
Software and Apps
The iPad mini with Retina Display comes with iOS 7 installed and there are still some rough edges that many users of other iOS devices are waiting for Apple to smooth over. That said, Apple's signature meld of hardware and software is so complete it is difficult to think of the two as separate. The ecosystem surrounding all devices iOS is large and continually growing, from Apps to accessories. So much so that you can make your iPad mini with Retina Display be what you want it to be. It is beyond safe to say that there is very little you can't do on an iPad of any size when it comes to mobile computing.
Apple has made a number of its signature Apps free so you can get started right away with the Apps that are preinstalled and then load up on free Apps from Apple. After getting your iPad mini with Retina Display set up, you will be presented with this screen when you first visit the App Store.
Apple gives you 5GB of free iCloud storage should you choose to use it. Apps like Pages, Numbers, Keynote, iMovie, and iPhoto among others can all take advantage of iCloud. In addition iCloud users can set up iCloud Keychain to sync passwords, credit cards, and address information across Apple devices. iCloud is also where your backups for your iOS device can reside.
Is the iPad mini with Retina Display Worth It?
In a competitive 7 inch Tablet market where price points are key differentiators for many consumers, is a premium iPad mini with Retina Display starting at $399 worth the extra cash? That certainly depends on your budget. $399 is a starting price for a WiFi only 16GB version, but adding storage capacity and LTE options increase the price dramatically. Looking at value over time it is a reasonable assumption that the purchase of an iPad mini with Retina Display will last you at least a couple of years if not longer given the hardware advances, solid construction, and large and expanding ecosystem of Apps and accessories.
There's also the fact that it will be at least a few months before we start seeing Apps that take advantage of the 64 bit architecture, just about the time we start hearing about Apple and other manufacturer's next Tablet models. If you're just interested in running Netflix or Hulu to watch video or use a Tablet for reading there are less expensive options. If you're interested in a powerhouse 7 inch Tablet that can play games almost, if not on par with, console games, and deliver plenty of other options, the higher price of the iPad mini with Retina Display should be worth some serious budget examination. Keep in mind that stock is limited. At the moment you can only use the Personal Pickup option at Apple or order online for delivery. Carriers and other retailers depend on stock they receive on any given day.
7 or 10 inch iPad: Which way to go?
The iPad mini with Retina Display is on par with the larger and also new iPad Air in terms of performance, display, and ecosystem advantages. Unlike last year when the first iPad mini debuted as less powerful comparatively, this makes the choice of choosing an iPad all about how the size relates to your use case.
There are no compromises here only choices. And those usually revolve around personal preference and personal use cases.
When the first iPad mini emerged many claimed its only deficiency was the lack of a Retina Display, but even so it had replaced the larger 10 inch iPad as their main Tablet. Now, those who only need or want one Tablet in their life will have some tough choices to make. Obviously if you are traveling a great deal or have a long commute, the iPad mini with Retina Display is worth a look for its compact size. If you're not that mobile and thinking of an iPad as a companion device to use mostly around the house, the choice is more complicated.
Gallery

As an Amazon Associate I earn from qualifying purchases.