iPad Newspaper The Daily Comes to iPhone
News Corp's The Daily newspaper is finally available on the iPhone and iPod touch with a small selection of free articles and a lower subscription price.
The Daily for iPhone is a separate app from the iPad version with a layout that takes cues from Facebook and Sparrow. The digital paper offer seven sections with new stories every day. Those sections include news, apps & games, arts & life, business, gossip, opinion, and sports.
Unlike The Daily for iPad the iPhone app lets users read a small selection of articles for free every day. Free articles have ads running along the bottom. To get rid of the ads and get more stories users can pay up $1.99 a month or $19.99 a year for a subscription.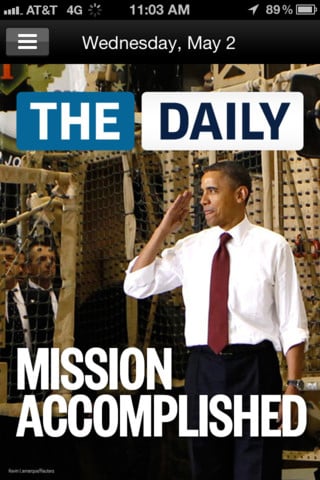 The iPhone app's subscription is much lower than the iPad's $0.99 a week or $39.99 per year subscription. However, users that are willing to pay the iPad's subscription price can access all content on both versions. Paying for the subscription on the iPhone will only grant users access to the iPhone version of the digital newspaper.
The price for The Daily seems steep, but compared to other papers like The New York Times it's not that expensive. The New York Times charges $15 a month for access to the iPhone app along with its website, and $35 to include the iPad app as well. Just $5 more on either plan will give users a full year of The Daily.
The Daily also has a nicer app than The New York Times, which is basically just the day's paper put onto a smartphone with some ads. The Daily is a digital-only paper, which makes for a nicer app experience and less obtrusive ads.

As an Amazon Associate I earn from qualifying purchases.