iPad Pro 9.7-inch Vs. Surface 3: Which Should You Buy?
Microsoft's reign at the top of productivity tablets appears to be at an end. Apple, long the undisputed king of mobile devices, isn't leaving the Surface 3 to dominate the productivity landscape any further. Last year, Apple introduced the iPad Pro, a 12-inch iPad with better internals than any other tablet the company had shipped up until that point.
Today, Apple announced a brother to that original iPad Pro. The iPad Pro 9.7-inch addresses the key complaint leveled at the earlier device. Smartly, this device has a smaller footprint, making it resemble a lunch tray a lot less. With the iPad Pro 9.7-inch, Apple finally has a productivity tablet for mainstream users who aren't comfortable with the original iPad Pro's price tag and girth. That's the same market that Microsoft hopes its Surface 3 appeals to.
Here's how the iPad Pro 9.7-inch compares to Microsoft's Surface 3.
iPad Pro 9.7-inch vs Surface 3: Design & Features
The iPad Pro 9.7-inch's best feature might just be its size. Measuring 9.4-inches from top bezel to bottom bezel and 6.6-inches from left bezel to write bezel, its significantly smaller than the 12-inch iPad Pro that Apple made available last year. Also, it's thinner and lighter, measuring 0.24 inches from top to bottom and weighing less than a pound.
Read: Surface 3 First Impressions – Possible iPad Killer?
Apple is sticking to its coloring decisions with the iPad Pro 9.7-inch, giving users the option to purchase models in Silver, Gold, Space Gray and Rose Gold. Rose Gold isn't one of the colors the larger iPad Pro comes in.
The front of the iPad Pro 9.7-inch is dominated by the display, with only a TouchID home button and a web camera flanking it. The colored aluminum shells of the device are tapered to help the device feel thinner than it is. There's physical volume buttons, a 3.5-inch headphone jack, dual microphones and the Smart Connector for quickly pairing the tablet with accessories.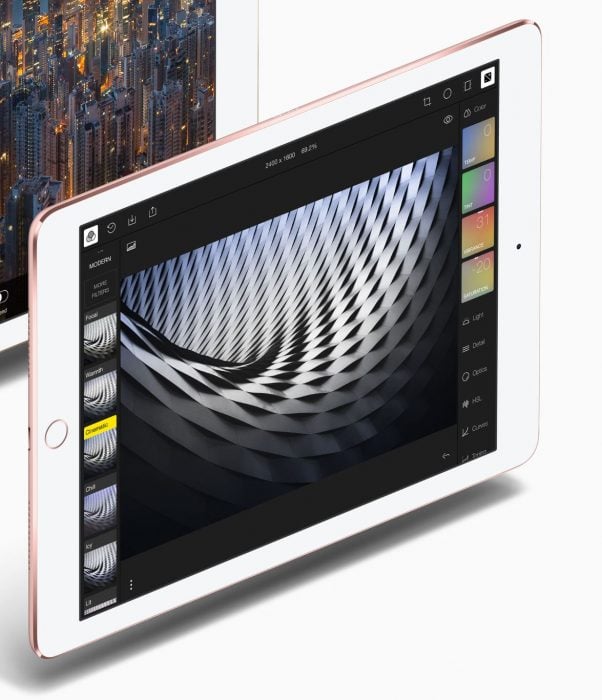 By comparison, the Surface 3 is heftier and larger. It has a 10.8-inch display, with a full-size USB port that forces it to be 0.34-inches thick. A three-step kickstand folds out from the back of the Surface 3. Also, Microsoft also focuses on letting users add color with the detachable Surface 3 Type Covers. The Surface 3 only comes in a single color, unpainted silver to match its Magnesium case. The bigger screen translates into more than just a larger footprint. The Surface 3 weighs 1.37 pounds, a lot more than the iPad Pro 9.7-inch.
Read: Microsoft Surface 3 Review
Design-wise, there's not clear a winner. That is, unless you're worried about heft and footprint. In that regard, the iPad Pro 9.7-inch comes out on top. Having a smaller display, and different aspect ratio makes it the thinnest of the two notebook replacements.
iPad Pro 9.7-inch vs Surface 3: Internals
The Surface 3 is clearly in need of a refresh. Comparing it to the iPad Pro 9.7-inch proves that. Microsoft's 64GB and 128GB storage options were great. So was the 1920 x 1280 high-definition display and 10 hours of battery life that the device touted. The iPad Pro 9.7-inch benefits from being of a new era in mobile computing. It's 9.7-inch display has a maximum resolution of 2048 x 1536 pixels, meaning pictures and video are crisper than on the Surface. True Tone technology allows the iPad Pro to better adjust against ambient light conditions for a better reading experience.
Things get worse when you consider just how outclassed the Surface 3 is in imaging and apps. The front-facing camera on the iPad Pro 9.7-inch has a maximum resolution of 5 megapixels. The rear-facing camera has a maximum resolution of 12 megapixels, with auto focus and flash. You can record 4K video with Apple's newest iPad.
The Surface 3 has a 3.5 megapixel front-facing camera and 8 megapixel rear-facing camera. There's auto-focus, but no flash. An Ambient light sensor, proximity sensor, accelerometer, gyroscope and magnetometer are built. Also, every Surface 3 comes with at least 64GB of storage. The cheapest iPad Pro 9.7-inch comes with only 32GB of storage.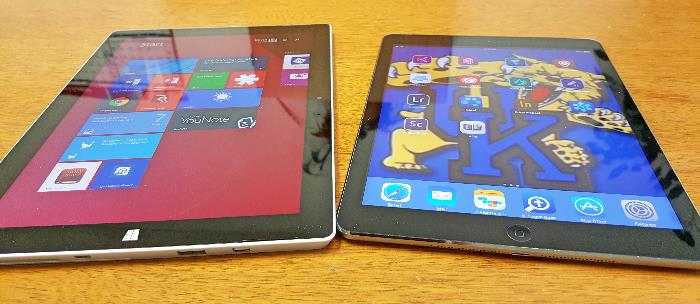 Two speakers on either side of the Surface 3 display attempt to fill a room with sound and succeed. Even though it was working to make a smaller iPad Pro, Apple was smart enough to keep the dual-speakers from the bigger device around. One is positioned on each side. We don't know how good they are yet, but it's okay to bet that the iPad Pro 9.7-inch will be able to deliver better sound than the Surface 3.
The Surface 3 requires that users type in a password or PIN code to login to their device, but the iPad Pro has that TouchID fingerprint reader.
Surface 3 does have some things working in its favor. Microsoft aimed to create a true notebook replacement. That required them to supply some essential ports. Besides the port that the owners use to connect to keyboards, there's the full-size USB port for connecting to printers and extras without a dongle. There's also built-in support for expandable storage and a Mini-Display Port socket that works with external displays. The iPad Pro 9.7-inch, despite Apple positioning it as a notebook alternative, doesn't have any of these things.
Depending on which side of the aisle you are on, there's also desktop apps to consider. Apple iPads are locked to the iTunes Store. Users can only get apps from there. The Surface 3 has access to Microsoft's Windows Store and whatever users can download over the web because of its Intel Atom X7 processors. If the Windows Store was the only place Surface users could download apps, Microsoft would be in some serious trouble. Its selection is improving, but the iPad boasts 1 Million apps, according to Apple. Apps downloaded outside the Windows Store aren't necessarily great for interacting with on a touch display.
iPad Pro 9.7-inch vs Surface 3: Extras
Both the iPad Pro 9.7-inch and Surface 3 only become notebook replacements and productivity powerhouses after you've invested some money in their accessory ecosystem. The Surface 3 includes a kickstand, add the $129 Surface 3 Type Cover and you've got all you need. The $59.99 Surface Pen offers note-taking and art creation at an added cost.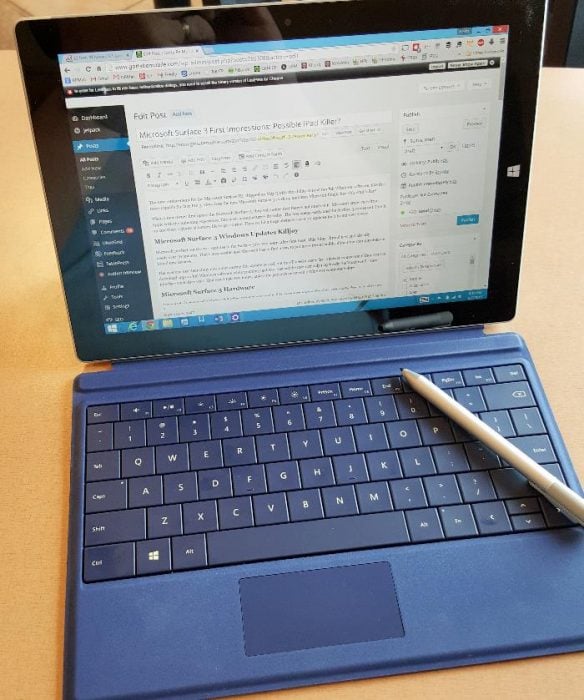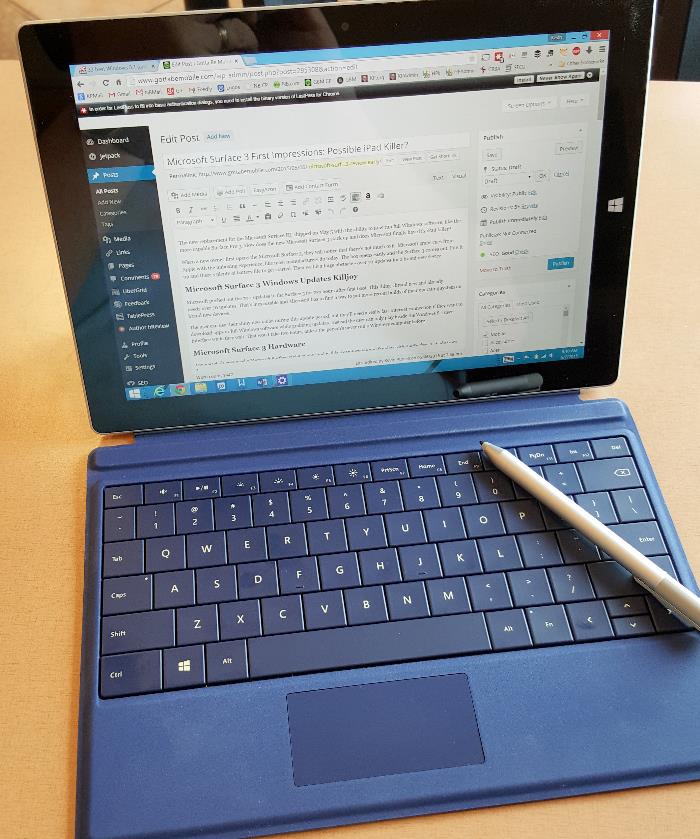 Apple's alternatives for both accessories are more expensive. The Apple Pencil is $99, but is rechargeable. Users can just connect it to their iPad Pro for a quick charge. The Surface Pen requires a battery replacement. The Smart Keyboard for iPad Pro $149, a bit more than the Surface 3's keyboard. The keyboard is essential for propping up the iPad Pro as it doesn't include a kickstand of its own. It does include a touchpad because iOS doesn't support a mouse, forcing you to only interact with everything use touch. That can get a bit tiresome when you're in something like Microsoft Word or Excel.
Both devices get 10 hours of video playback. Both have versions that rely on mobile data too. One plus side of getting the Surface 3 is the free year of Office 365 that comes with the tablet. That's a $69 add-on normally that unlocks Microsoft Word, PowerPoint, Excel and OneNote.
iPad Pro 9.7-inch vs Surface 3: Which Should You Buy?
Naturally, fans of Windows or Mac OS are going to pick their next tablet based on their already established preferences. That's as it should be. As for a head-to-head comparison, I'd say the iPad Pro 9.7-inch wins out on most things.
Price and expandability are in the Surface's corner. The iPad Pro starts at a whopping $599 without the keyboard or Apple Pencil. Buyers of this version only get 32GB of storage, with no chance at upgrading without another purchase. The Surface 3 starts at $499, has double the storage that its rival does. Better, it has the option to add more, or connect whatever accessory you want.
As for general internals and hardware, the iPad Pro 9.7-inch sweeps the floor with the Surface 3. If taking pictures, sound and weight are important to you, the Surface 3 doesn't stand a chance.
Apple plans to begin taking iPad Pro 9.7-inch pre-orders on March 24th.

As an Amazon Associate I earn from qualifying purchases.