iPad Pro Release Rumor Suggests 2016 Launch
Plenty of rumors have so far suggested that we'll see the iPad Pro release at some point this year, but new report suggests otherwise.
According to Korea IT News, the iPad Pro won't be released next year, which has us raising eye brows since other rumors have suggested otherwise. However, it's possible that Apple could be planning on a 2015 announcement and unveiling, but will hold off releasing the larger iPad until 2016, which Apple has done several times already with some of its products, namely the Mac Pro and the Apple Watch.
The report also provides some alleged new features of the iPad Pro, including silver nanowire touch panel technology, which is more flexible than current touchscreen technologies and it allows for pressure sensitivity, which could point to the possibility of Apple implementing Force Touch into the iPad Pro.
The alleged iPad Pro has been heavily rumored over the last several months, and we've heard a lot of details about what the device could bring to the table when it eventually releases. In fact, last week a report unleashed a handful of new details about the iPad Pro, which states that the new tablet will apparently come with all sorts of goodies, including NFC capabilities, a Force Touch display, USB-C connectivity, and an included Bluetooth stylus.
The report says that the NFC chip won't necessarily be for buying stuff on the iPad using Apple Pay, but more likely to act as a payment terminal for receiving payments, which might make the tablet very useful at small businesses. NFC could also be used in the iPad Pro to easily pair accessories, like the rumored stylus that Apple is said to be making.
Specifically, the stylus would be able to recognize touch gestures, and would also come with numerous smart sensors in order to be able to perform "hover" gestures, similar to that of many Samsung devices. This would allow you to hover the stylus above the display in order to perform certain tasks without tapping on the screen with the stylus.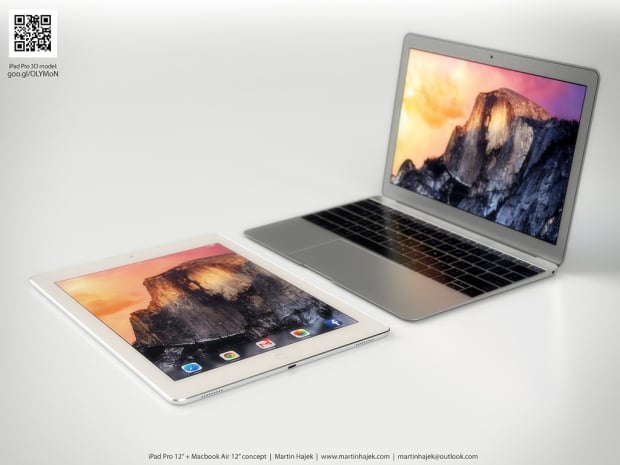 The screen on the iPad Pro is said to come with Force Touch technology, which essentially makes the screen pressure sensitive to fingertips. The pressure sensitivity is used for what Apple is calling "force clicks," which will allows you to press hard on the screen to do one thing, but you can also also just tap on the screen to do something else, similar to how left-click and right-click work on a mouse.
As for the USB-C port, specifics on that are rather scarce at this point, as the sources didn't say if it would be a second port option alongside a Lightning connector, or if the iPad Pro would feature a lone USB-C port that would replace the Lightning connector. It would be hard to believe that Apple would get rid of its Lightning connector on the iPad, so we're expecting the iPad Pro to come with two ports, but we'll have to wait and see what Apple officially decides to do.
The price of the iPad Pro is something that remains up in the air as to this day, as recent rumors have not focused on the cost of what a larger tablet like this could cost to consumers.
However, the iPad Pro will undoubtedly be a step up from the iPad Air 2, which is currently priced at $500 for the entry-level model. From that, we can take a guess that the entry-level iPad Pro will cost a bit more than $500, but an exact price is up in the air still.

This article may contain affiliate links. Click here for more details.