iPad Pro vs MacBook Air: Which One Should You Buy?
The iPad Pro is officially available to purchase on Apple's website, but if you're not sure if you should get an iPad Pro or a MacBook Air, here are some things you should know about both devices when deciding on which one to buy.
The iPad Pro looks rather similar to the other iPad models available, but the one big difference is the larger screen. The new tablet boasts a 12.9-inch display that makes it just as big as a 13-inch MacBook display, making it the largest iPad yet.
The new tablet also comes with a serious performance boost under the hood compared to the iPad Air 2. An A9X processor sits underneath the display, along with 4GB of memory. The iPad Air 2 only sports an A8X chip and 2GB of memory, so there's definitely a nice difference between the two tablets as far as performance is concerned.
The iPad Pro also comes with a stereo speaker setup, a dock connector on the bottom to attach third-party keyboards, and a new display technology that works with Apple's new Pencil stylus.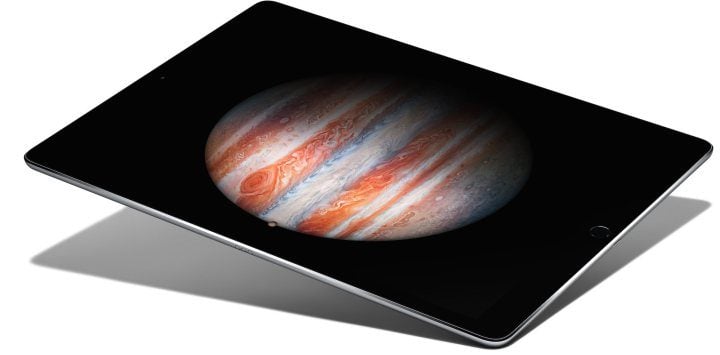 However, if you're in the market for a new laptop, you might be pondering the implications of replacing a laptop with the iPad Pro, so when it comes down to the MacBook Air and the iPad Pro, which one should you buy?
Laptop vs Tablet
Both a laptop and tablet are portable devices, with tablets having the slight advantage. They're also usually cheaper than laptops, which is why many users wonder about replacing their laptop with a tablet.
It's not something everyone should do, but for super casual users who just need a device to browse on and check email, a tablet can be a decent laptop replacement.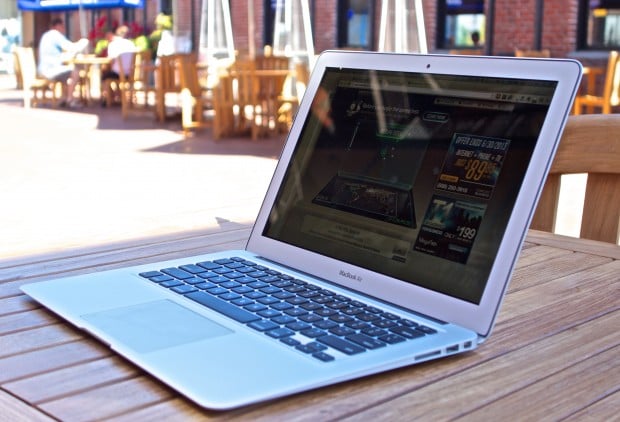 However, some areas where a tablet is a bit inferior is in the performance department. Most tablets don't have the components good enough to keep up with a laptop. Plus, you can't get a full desktop experience on a tablet, so there are many features that are left out from that aspect alone.
Read: Can an iPad Replace a Laptop (2015 Edition)
There are still many users, though, who wouldn't mind sacrificing those features in order to get a more portable experience that a tablet would offer, which is why some users may be thinking about getting an iPad Pro instead of a MacBook Air or other laptop.
iPad Pro vs MacBook Air
The iPad has always been a bit inferior to the MacBooks as far as performance and screen size, but the iPad Pro is a different story.
In fact, benchmarks from Ars Technica reveal that the iPad Pro isn't that far behind from the 2015 MacBook Air and actually performs slightly better than the new 12-inch MacBook, so if it's performance that you're worried about, the iPad Pro should certainly hold up its own against entry-level MacBooks.
Tablet processors are certainly getting better and better, but it's also thanks to the streamlined mobile operating system. iOS is optimized to run on such components, so even if the iPad Pro might be slower than a MacBook numbers-wise, the lightweight OS makes the tablet mighty speedy.
And that's another thing to keep in mind when replacing a laptop with a tablet. It's iOS vs OS X when it comes to functionality. With the iPad Pro, you won't have the full desktop experience with files and folders, but rather just a wall of apps that you'll do all of your work in.
There are some cool features like Split View for multitasking and the touch screen itself if you feel like getting creative and want to do some drawing or doodling. You certainly wouldn't be able to do that on a MacBook Air.
Of course, price is another factor. While most tablets are cheaper than most laptops, that's not really the case for the iPad Pro and the MacBook Air. The iPad Pro starts at $799, which makes it cheaper than the entry-level MacBook Air, which is priced at $899. However, tack on the Smart Keyboard that you'll definitely want if you're wanting to replace your laptop and suddenly you're paying $960 for the iPad Pro, and if you want the Pencil stylus, that will be another $100.
Furthermore, if you're going to use the iPad Pro as your main computing device, you'll probably want the 128GB model instead of just the 32GB version, which costs $1,079 without the Smart Keyboard and $1,240 with it. Suddenly, you're paying $340 more for a tablet than a MacBook Air.
In the end, it comes down to how portable you want your main device to be. If you want something with a big screen, but still portable enough to tote around, the iPad Pro might be a good option for you, but if you're looking for something with full functionality that's still rather portable, a MacBook Air is a good choice.
When it comes down to it, though, I personally can't see myself spending more money to get something that won't give me a full computer experience, especially if it's my main device, and if you're a really casual user who doesn't need a full computer experience, you probably don't need the iPad Pro anyway, and the iPad Air 2 would probably suit you better.
8 Exciting iPad Pro Accessories
Apple Smart Cover
Just like with all of the other iPads, the iPad Pro will have its own Smart Cover made by Apple.
The Smart Cover is a detachable cover that you can get for the iPad Pro that attaches using magnets and covers your iPad's screen when you're not using it. When you do want to use it, simply fold back the Smart Cover and it will automatically turn the screen on.
The Smart Cover can also double as an iPad stand at two different angles, although we wish there were more angles that you can adjust it to, since the two different angles aren't ideal for every situation.

As an Amazon Associate I earn from qualifying purchases.