iPad Pro vs Surface Pro 4: Which is Better?
It's hard to remember a time when a device Apple released wasn't reactionary. This week's Surface Pro 4 reveal gives us that rare opportunity. Collectively, technology buyers think of the company as forward thinking and innovative. Truthfully, Apple products are both of those things. They're also mostly derivative. Apple doesn't necessarily invent new product categories, it comes in and improves the categories that others have created.
The iPad Pro is a great example of Apple's strategy. The iPad Pro has a big display and support for new accessories because Apple feels that the time is right to make productivity a priority. Microsoft created the original tablet that can be a PC. It did so because Apple had already conquered the entertainment tablet space. Microsoft too, didn't event the tablet itself, but did set the stage for tablets built specifically for productivity. That's what makes this week's Surface Pro 4 reveal a big deal.
The Surface Pro 4 is a device that further evolves what a PC can be. Here's how Microsoft's Surface Pro 4 compares to the iPad Pro, Apple's attempt making a splash in the productivity category.
iPad Pro vs Surface Pro 4: Design & Internals
The iPad Pro is dominated by a 12.9-inch display with a resolution of 2732 by 2048 pixels. It's the biggest, most powerful iPad Apple has ever produced. An A9X processor inside lets the iPad Pro handle a new generation of resource intensive applications downloaded from the iTunes Store. By default, users get 32GB of 128GB of storage. Users who purchase the most expensive iPad Pro at $1079 get access to mobile data records.
An 8 megapixel rear-facing camera, barometer, gyroscope, dual-microphone and ambient light sensor are inside. Four different speakers pump out sound in all directions. Touch ID lets users login to the iPad Pro without using a passcode. All of this technology is packed into svelte gold, silver or Space Gray metal body that weighs 1.57 pounds.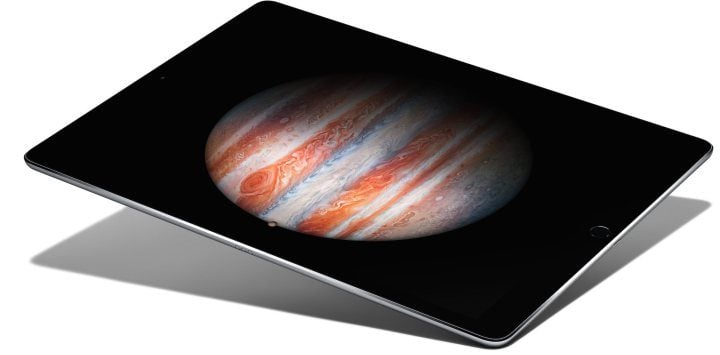 Read: Microsoft Surface Pro 4 Impressions
Covered in gray Magnesium is the Surface Pro 4. The Surface Pro 4 is mostly hard edges, just like the models that came before it. It weighs 1.69 pounds, but even manages to fit a 12.3-inch display into the same space that the Surface Pro 3's display fit into. To pull this off, Microsoft didn't include a hardware Windows button below or to the right of its display. The Surface Pro 4 only comes in one color: silver.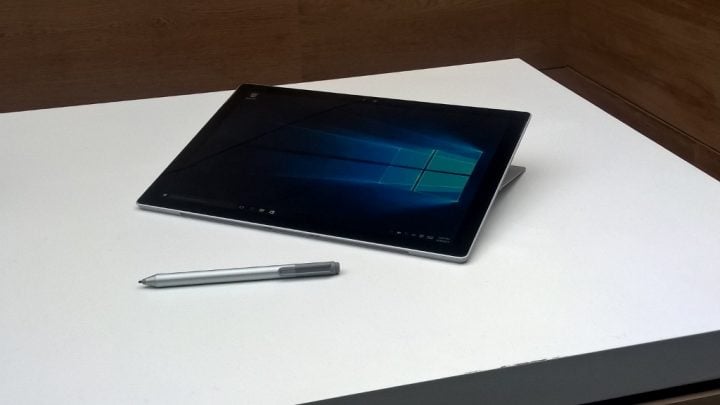 Every user who buys a Surface Pro 4 gets the 12.3-inch display with a resolution of 1736 x 1824 pixels. Every Surface Pro 4 has a rear-facing 8 megapixel camera and a front-facing five megapixel camera. Choice is a big thing with this device though. There are Surface Pro 4 configurations with an Intel Core m3 processor, Intel Core i5 processor and Intel Core i7 processor. To be clear, these are processors from Intel's 6th generation in the series of chips. RAM starts at 4GB and go up to 16GB. Storage starts at 128GB and expands to 1TB for the right price.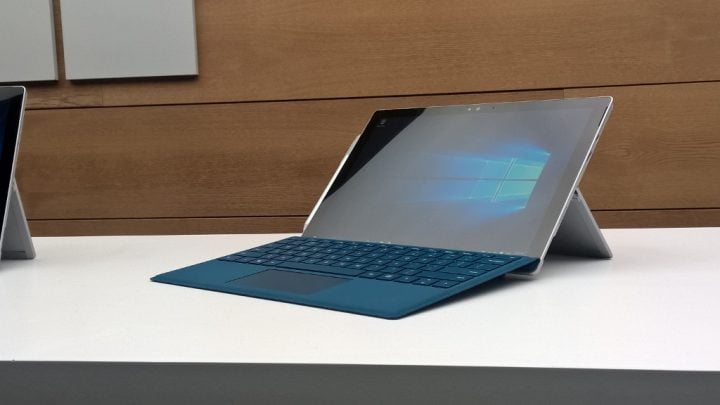 The Surface Pro 4 has a sensor that identifies users and logs them in securely. This feature is part of Windows Hello in Windows 10. It's aimed at users comfortable with the TouchID in iPads and iPhones. A kickstand still folds out from the back of the Surface Pro 4, letting users prop up the tablet when they're watching videos or ready to get work done. Microsoft designed the Surface line with productivity in mind. A full-size USB 3.0 port, microSD card reader and Mini Display Port lets users connect the devices they need without special adapters and expensive, but essential add-on purchases.
iPad Pro vs Surface Pro 4: Extras & Pricing
I'm in no way saying that the Surface doesn't have expensive options for those who want them. Microsoft shows every Surface device it has ever made with a Type or Touch Cover. Bluetooth and USB keyboards work on the Surface Pro 4, but Microsoft makes a $129 Surface Pro Type Cover that connects to the Surface Pro's bottom. To get the best out of the Surface Pro it's heavily suggested that you purchase this cover, even with the Surface Pro 4. The cover draws battery from the Surface Pro 4 itself and acts as a stabilizer when used in a lap. Microsoft tweaked this year's cover, adding a bit more space in between the keys.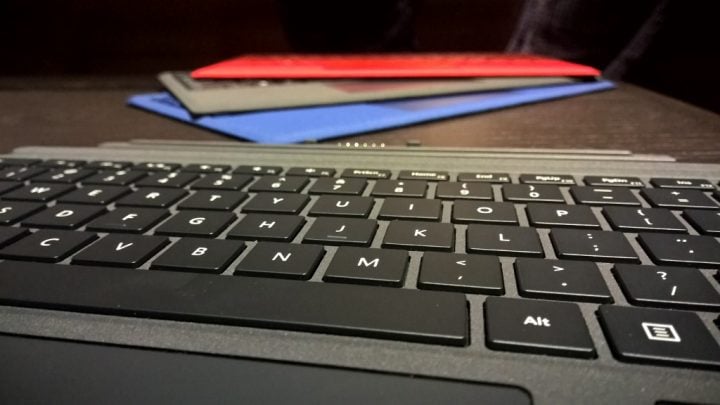 Users don't have to pay for a huge part of the Surface Pro 4 experience: the upgraded Surface Pen. The pressure sensitive stylus lets users open up OneNote for note taking or activate Windows 10's Cortana personal assistant. Magnets in this year's model let users secure the pen to the left of their display in portrait mode. Shoppers can purchase the new Surface Pen separately for $59.99, but it comes with the device too.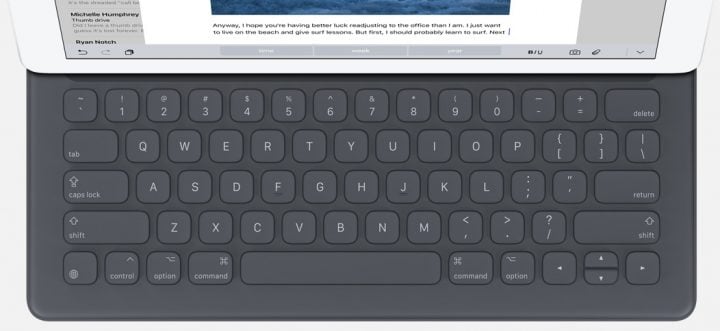 The Apple Pencil is the iPad Pro's answer to the Surface Pen, only it doesn't come included with the device. It's directly rechargeable from the iPad Pro's Lightning Port. It's pressure sensitive, but doesn't include an eraser cap or shortcuts to commonly used apps or experiences. Worse, it costs $99 on top of the base cost of the iPad Pro. The iPad Pro also has a keyboard that doubles as a cover and stand. This cover only has one position for propping up the iPad Pro and doesn't include a touchpad like the iPad Pro. The Smart Cover costs $169.
Read: Surface Pro 3 vs iPad Pro: Which is Better?
The Smart Keyboard doesn't need a trackpad because iOS 9, the operating system that powers it, doesn't support mouse pointers. It's touch-centric and forces users to adapt to iPad apps for every activity. That's not all bad as Apple introduced app multitasking with this fall's iOS 9 release. It doesn't hurt that the iPad Pro has thousands of touch apps available either.
The Surface Pro 4 gives users access to Windows Store apps that are comfortable with touch and a mouse. What's more, the Surface Pro 4 has notebook internals, letting buyers use the millions of Desktop apps they're already used to. Sure, there's no iTunes app in the Windows Store, but there is an iTunes app for notebooks and desktops. The same is true of millions of other pieces of software.
iPad Pro vs Surface Pro 4: What Should You Buy?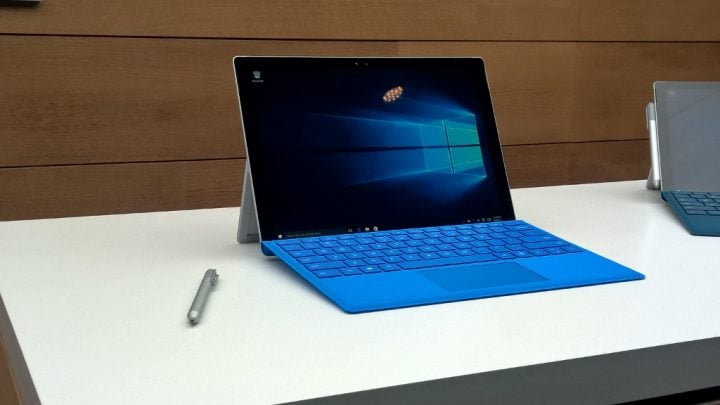 It's rare that Apple makes a misstep as it's building on the momentum of a potential market. That's exactly what's happened with the iPad Pro. Having a bigger screen and app multitasking only fixes part of the Tablet-as-PC problem.
The iPad Pro starts at $799, $100 less than the $899 Surface Pro 4. Surface Pro 4 are getting more power, more options for software, more storage and more value because of the included Surface Pen. The iPad is great if users want to do what they already can on their smaller iPad. If that's not you; if you'd really like once device for everything you should buy the Surface Pro 4 instead.