iPad Reading Shootout: iBooks vs Kindle App
"It doesn't matter how good or bad the product is, the fact is that people don't read anymore… The whole conception is flawed at the top because people don't read anymore." Steve Jobs.
I guess that's why everybody in the book business is chasing each other helter-skelter in a race to see who can deliver the best experience with digital book platforms. There's competition in the eBook business my friends and while it may seem like things are a bit unsettled at the moment, that competition is sure to heat up as the time passes, even if nothing ever gets settled in the end.
Amazon kicked things into high gear with its Kindle and while Barnes & Noble, Sony, and others have tried and are continuing to try to grab a piece of the market, Apple's iPad is the pretender to Amazon's throne that has gotten the most attention. But then the iPad has snuffed out the oxygen on so many fronts lately that this certainly isn't surprising. Since the iPad has been released (and even before) we've seen posts and tweets from folks who are selling their Kindles, and in fact on the price on the Kindle in the used market has apparently dropped a bit.
Apple has jumped into the eBook biz with both feet with its iBooks platform, creating an iBooks Store, which at the moment lags behind Amazon's library of books in quantity of titles by quite a bit. I'm not sure if that will last long term or not, but Apple's entry has certainly rocked Amazon's world by shifting pricing and business models from under Amazon's feet. Once feared, Amazon has seen some of its leverage taken away when it comes to negotiating. On a 30,000 foot level that's probably a good thing, but it has seen some price hikes that consumers used to the $9.99 price are complaining about down on the ground.
But that's all background and much of it is old news. This post is about the reading and shopping experience on the iPad comparing Amazon's Kindle App and Apple's iBooks App. It is not about comparing the two devices. Surprisingly to many, Amazon quickly updated its app for the iPad and Apple approved it just as quickly. This gave those who have an investment in Kindle books a chance to read their libraries on the iPad. I said in an earlier post that if anything was going to be a Kindle killer, it was going to be Amazon's Kindle App for the iPad and not just Apple's iBook on the iPad package. But on to the review.
Fundamentally reading and shopping for books on the iPad share many similarities. There are distinctions but in most cases that will boil down to personal preferences and which store you want to lock yourself into. Keep in mind both Amazon and Apple lock you into their own proprietary format on most books that you purchase. Although at the moment, Amazon has the edge because you can read your Kindle books on multiple platforms, a feat you can't accomplish with an iBook currently. Heck, you can't even read one on an iPhone until the 4.0 OS comes out this fall.  So, on that front Apple has some catching up to do. But then this review in a number of areas is probably a work in progress just like both Apps are.
Reading
Both apps let you adjust the text size and the brightness of the screen to your liking. Apple gives you 10 font sizes and five font choices. The Kindle App gives you five font sizes and one font. Just like on the Kindle device spacing of words is sometimes haphazard. The Kindle lets you adjust the page color (white, black with white text, sepia). It's a black text on white pages in iBooks. Both apps make it simple to turn pages and advance through a book. By default iBooks uses a clever (to some) animation that gives you the sense that you are actually turning a page. You can achieve the same thing in the Kindle App by turning off the Basic Reading Mode (the default) in settings. The animation is smoother in iBooks, and in fact, after awhile it becomes tiresome in both apps. In landscape mode Apple gives you two pages to read, much like a real book. The Kindle App gives you one page. Apple offers full color illustrations and this is shown off by the Winnie the Pooh book that comes included with the app. I've heard, but haven't seen that there are some books with color illustrations that display in color in the Kindle App. I just don't have any in my library and sorry, I didn't go looking for one to review. If true, that mutes Apple's benefit somewhat. All in all, as I said earlier, the difference here to me is all about personal preference. I've read bits of books in both apps and have no decided preference in reading.
Bookmarking
Both Apps allow you to create bookmarks but the process is different. In the Kindle App on the iPad, you simply hit the bookmark tab at the top of the page or the + button on the menu at the bottom if that menu is visible. Voila. Bookmark done. In the iBooks App you need to do a bit more. You first need to select a word by pressing and holding on the word of your choice and then selecting bookmark. This process isn't overly cumbersome, but it does take a few extras steps. I give the Kindle App the edge here.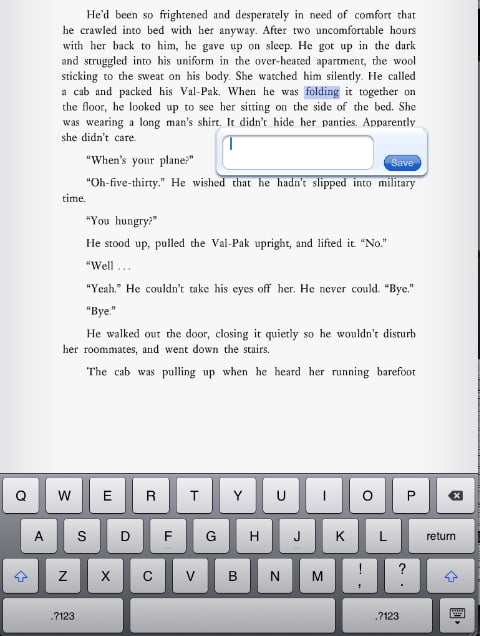 Notes and Annotations
Forget about doing this in the iBooks App. You just can't presently. You can however create notes in the Kindle App. Pressing and holding on a word gives you the choice of making a note or creating a highlight. Choosing to make a note pops up a small window and the iPad's native keyboard. Curious that the iBooks App doesn't have this, but I would imagine it will in the future. Edge to the Kindle App for the time being.
Search
iBooks has it. The Kindle App doesn't at the moment. It is promised in a future update. Edge to iBooks.

Dictionary
iBooks has it. The Kindle App doesn't at present. Again, promised for a future update. Edge currently to iBooks.
Shopping for Books
Both allow you to do it in different ways. iBooks has it's own store and you can shop right from the App. Amazon takes a different approach, tossing you into a web browser for the Kindle Store. You can choose to purchase a book and have it sent to the iPad or to another device. Of course Amazon at the moment has many more titles and in some cases lower prices. I'm guessing we're going to see this change and see competition play out between Apple and Amazon and with the publishers. At the moment the edge goes to the Kindle App because of the larger library but the iBooks app is the cleaner shopping experience when it comes to purchasing. That said, searching in the iBooks Store is not a great browsing experience, much like browsing for apps. If there is any future comparison to be made between shopping Amazon's Kindle Store and Apple's iBooks Store here's hoping it comes down to how Amazon and iTunes deal with digital music. Most times Amazon's MP3 store is cheaper on something I'm looking to purchase and I go that route the majority of the time. It isn't necessarily as convenient as iTunes, but it saves some cash.
Summing it all up
Again the reality here is that this is going to be a heated race between Apple and Amazon and other companies as well. Barnes & Noble doesn't have its iPad app ready to go. Stanza (also owned by Amazon) doesn't have its iPad app ready to go. There are other apps as well that I don't use. Not only that, but there seems to be momentum gathering for authors and publishers to create books as stand alone apps and move away from Amazon and Apple's iBook store altogether. Of course Apple still gets a share of the revenue on that front as well.
Although this review focused on the reading and shopping experience on the iPad and not the devices, keep in mind that both Apple and Amazon, as well as others, have a lot at stake here, as do others. There is certainly going to be a new Kindle device and other devices. There are certainly going to be new features offered by all of these companies. But the real battle when it comes down to it, is who is going to have the books you want to buy when you want to buy them. That battle is really just beginning and promises to be a real doozy.
Other Posts in This Series

As an Amazon Associate I earn from qualifying purchases.