iPad Smart Cover May Get Even Smarter with Notifications
Apple's Smart Cover for the iPad is pretty smart, although it really only locks and unlocks your iPad when you cover/uncover it, so it's not that smart. However, a new patent filed by Apple suggests that the company is working on adding illuminated notification alerts to the Smart Cover.
The official name of the patent is "integrated visual notification system in an accessory device" and from the images provided, the accessory device looks a lot like an iPad Smart Cover. Honestly, it reminds us a lot of the Dot View case for the HTC One. However, this illuminated Smart Cover would work a bit differently.
This new Smart Cover would work just like the current Smart Cover, but it would include low-power LEDs or some other lighting source to provide illuminated notification alerts when the iPad is closed. The cover would be connected to the iPad via a magnetic connection on the side, which would provide power and data transmission for the LED notifications, similar to how the keyboard connection works on Microsoft's Surface tablet.
Part of the Smart Cover would also be transparent, and portions of the iPad's display could light up and shine through the cover to show notifications. It's not exactly said whether or not these two types of notifications will be split into two different Smart Covers, or just combined into one product, but it would certainly be nice to have multiple options to choose from, especially for frugal users.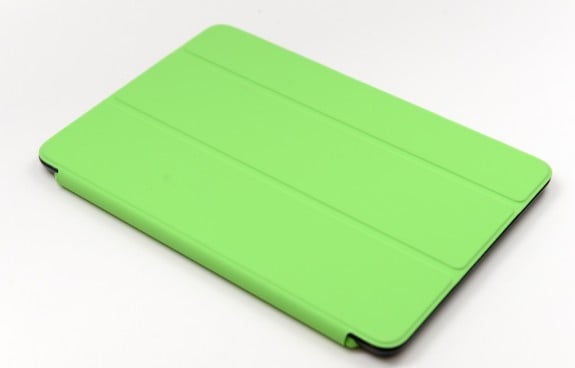 Of course, as with any patent, we'd cross our fingers as far as whether or not something like this will hit the market. We've seen a lot of Apple patents that have never seen the light of day so far, and they're usually just experiments that engineers and designers come up with. We've seen plenty of Smart Cover patents in the past, but whether or not we'll actually see them in action is yet to be seen.
However, something like this would be really useful for die-hard iPad owners, especially if they get a lot of notifications throughout the day.
It's possible we could see a new Smart Cover get announced alongside a new iPad later this year at some point during the fall, but it's something that we haven't really heard rumors about just yet. However, it's said that new iPads will get Apple's Touch ID fingerprint sensor that's currently exclusive to the iPhone 5s.
It's already been rumored a couple times this year that the iPad would get Touch ID fingerprint sensor capabilities, and this is the second time that Kuo is counting on it. We even saw hints of Touch ID capabilities in the code of iOS 7.1 back in April, and a few days later we heard that one of Apple's part suppliers were cranking out Touch ID fingerprint sensors in large quantities.
Touch ID was definitely one of the features that users were looking forward to ahead of the iPad Air event back in October, especially after it was introduced on the new iPhone 5s just a month earlier, but Apple sadly did not deliver such a feature.
One of the biggest reasons that the Touch ID fingerprint sensor is so popular on the iPhone 5s is because of the convenience it offers when unlocking your device and purchasing apps in the iTunes App Store. It's a lot quicker and easier than entering in your passcode every time, as well as typing in your confusing Apple ID password whenever you want to buy an app.
That same convenience could easily be used on the iPad as well. It wouldn't necessarily be more useful on the iPad compared to the iPhone 5s, but Touch ID on the iPad would bring over the same great conveniences that we've known from the iPhone 5s for the last several months.