iPhone 3G slow with iOS4? Take it to the Apple Store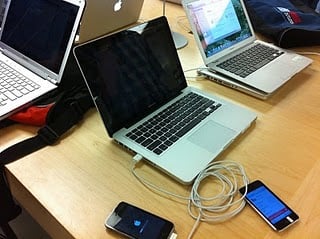 Reports of the iPhone 3G turning into a hot slug when updated to iOS4 are gaining momentum. TUAW has a good rundown with potential solutions. The Mobile Gadgeteer says it just shouldn't be done. And the problem has hit the mainstream via The Wall Street Journal. But while others are having trouble, my 3G is running better than before.
Prior to the announcement of the iPhone 4, my plan was to upgrade this year and let my wife use my 3G. Yeah, seems cheap to give her my hand-me-downs, but she doesn't really care about gadgets and only wants to check email, surf the web, and listen to Pandora. (Of course, now she's getting into other apps too.)
I'd noticed the battery life on my 3G had taken a hit recently, so after my upgrade, I took the old one to the Apple Store for a battery replacement. Turns out they don't do replacements in-store, contrary to what a Genius had told me earlier, and don't replace unless the battery is actually drained or faulty. They did a diagnostic and found software problems that they claimed were affecting battery life and performance, so they did a complete repair and reinstall of the OS. I asked the Genius if this was the same as doing a full erase and reinstall on my own and he said no.
After that, I reinstalled a few apps and reloaded it with media via iTunes (for my wife, so I did not simply restore my old profile). I checked the battery drain for a couple of days before getting my wife set up with it, and it was actually improved, particularly when idle. She's been using it for a few weeks since with no battery or performance problems, except for one glitch playing Pandora via Wi-Fi (not sure if this is fixed or was just an anomaly; no problems with playing via 3G). She does keep it plugged in at work while playing music, but it has been going unplugged overnight without severe draining. In fact, she just called me after her dentist appointment this morning before getting to work. I don't know if an at-store repair and reinstall will fix every problem with iOS4 on the 3G, but it seemed to work for us.

As an Amazon Associate I earn from qualifying purchases.