iPhone 4 FaceTime with Warner and Sumocat
Well, well, Warner's already got his iPhone 4 up and running and the first thing he did was call his buddy Sumocat for a little FaceTime. And by little, I mean all of three minutes from the road. Wait, from the road? Doesn't FaceTime require Wi-Fi? Sure does, but you know details like that won't stop Warner.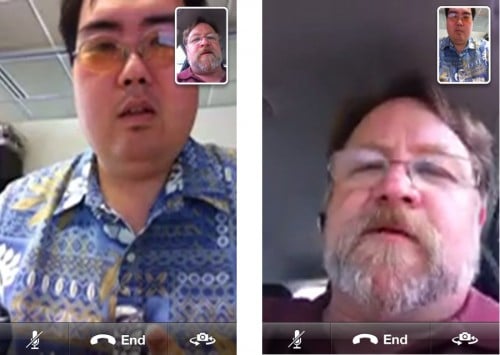 Here we are. Me in my office and Warner from his car speaking face-to-face via FaceTime. As I'm sure you've already guessed, Warner was using his MiFi for the required Wi-Fi connection, so we've confirmed that works. I was using the guest Wi-Fi in our office, which I normally avoid using on my iPhone. So I'm just going to say it since you're probably already thinking it: I don't think we will ever be the faces of FaceTime. I may have to rethink our positions as the "best-looking tableteers in Northern Virginia".
That aside, I think the video quality wasn't too bad considering Warner was en route and I'm using the rather slow connection here at work. A bit pixelated and choppy, but not so bad that it was distracting. Assuming the network doesn't crash under the weight of video calling, I think it would work acceptably well over 3G (and technically, Warner was using 3G). I'd be interested in seeing if it improves on my faster home Wi-Fi connection.
The audio quality, on the other hand, improved dramatically. Volume was a bit softer but the sound was much clearer. After sorting out our phone numbers (Warner's call to my Google Voice number only went to my work line, and I had to dig up his GV number to call him back), the connection was a snap. One tap on the FaceTime button on my end, followed by acceptance on his end, and we were face-to-face in a matter of seconds. Seems worthwhile to me just for the sound clarity.
BTW, if you'd like to simulate a FaceTime conversation with me, here's a short YouTube video to show you what that would be like.