iPhone 4, iPhone 4S Pages Now Live on Sprint, Pre-Orders Coming Soon
Up until now, Sprint has deferred any inquiries or questions about the iPhone announcement and the hardware to Apple where users will be greeted with general information for the iPhone 4S for Sprint, AT&T, and Verizon. Now, the nation's number three largest carrier and the third carrier in the U.S. to offer the iPhone on its network has made landing pages for both the iPhone 4 and the iPhone 4S live.
Visiting Sprint.com/iPhone will take you to a landing page for the iPhone 4S for Sprint, which details specifics about the device including new features like the Siri voice assistant, the dual-core A5 chip, iOS 5, new camera, and other features.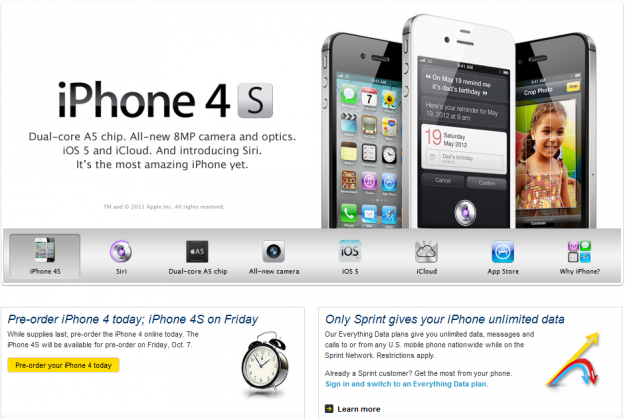 Additionally, Sprint subscribers can pre-order the iPhone 4–which comes with a reduced 8 GB memory–for $99 starting today and the carrier says that pre-orders for the iPhone 4S will occur on October 7. According to Sprint, "Order today, we'll charge your card for your phone today and we'll do our best to get a shiny new iPhone in your hands Friday, Oct. 14 or Saturday, Oct. 15."
Though Sprint did not offer the iPhone 4 like AT&T and Verizon when that device was new, it is now offering the iPhone 4 8 GB model as an entry-level option. As Apple had created a CDMA iPhone for Verizon, and Sprint operates a similar CDMA network as its larger rival, Apple could easily create an iPhone 4 for Sprint to offer alongside the newer, more expensive iPhone 4S.
Pricing for the iPhone 4S will be $199 for a 16 GB model, $299 for 32 GB, and $399 for 64 GB. The iPhone 4S will be available in both black and white.
The landing page for the new Apple smartphones–a first for Sprint–also highlights a Sprint unique feature when compared to rivals Verizon and AT&T, which is unlimited data. The site says, 'Only Sprint will give you unlimited data,' as rivals right now cap their data plans or throttle data as is the case of T-Mobile if users go over a certain pre-set limit.
Considering that the iPhone has been a significant announcement for Sprint, it's been very interesting that the carrier has been so far silent on the issue and has, up until the landing page went live, referred press and consumers on Twitter and Facebook to Apple's website.

As an Amazon Associate I earn from qualifying purchases.