iPhone 4S Headed to Nex-Tech Wireless on May 18th
In addition to heading to Bluegrass Cellular and Golden State Cellular, the iPhone 4S and the iPhone 4 will be heading to Nex-Tech Wireless on May 18th as well.
The iPhone 4S will be available starting at the same $149.99 price point as the seven other U.S. regional carriers that currently carry Apple's latest iPhone and Nex-Tech Wireless has also confirmed that it will be offering all three storage options on the device.
That $149.99 price tag is attached to the 16GB iPhone 4S. It also will be carrying a 32GB iPhone 4S and a 64GB iPhone 4S which will cost $249.99 and $349.99 respectively.
In addition, the carrier will host the iPhone 4 and it will cost $49.99 on-contract for the 8GB model.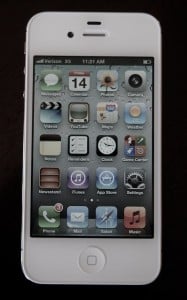 Read: iPhone 4S Review.
"Nex-Tech Wireless is thrilled to bring iPhone to our customers. We pride ourselves in having seamless nationwide coverage, unbeatable customer service and now, the most sought-after mobile device," said Johnie Johnson, president and CEO for Nex-Tech Wireless. "Our customers will love the multitude of new features of iPhone 4S and the value our plans and unlimited data offerings provide."
Both devices will be available on any of the the carrier's postpaid rate plans and it will also be available on the promotional Triple Play Plan.
Like the other regional U.S. carriers, Nex-Tech is only offered in certain areas of the United States. The carrier currently offers service in 40 counties incentral and western Kansas and coverage in four counties in Colorado as well.
The launch of the iPhone 4S on Nex-Tech means that the iPhone 4S is now available on a grand total of 12 U.S. service providers including AT&T, Sprint, Verizon, and C-Spire.
Apple's iPhone 4S has been out since October of 2011 and it is currently the best selling smartphone on both AT&T and Verizon and presumably Sprint as well.
It features a 3.5-inch Retina Display, a dual-core A5 processor, a fantastic rear 8MP camera, and Siri, iOS' well-known virtual assistant.
Thanks for the tip, Jeff!