iPhone 4S Jailbreak for iOS 5.1 & iOS 5.1.1 Release in Weeks
The iPhone 4S jailbreak is weeks away from release, but the new jailbreak tool will be able to jailbreak the iPhone 4S on iOS 5.1.1 untethered, and we can expect an iPhone 4S jailbreak release in a few weeks.
Update: iPhone 4S Jailbreak Release on May 25th?
Hackers, led by the vocal leader @Pod2g have been working on a new jailbreak for the iPhone 4S running iOS 5.1 and more recently iOS 5.1.1.
This morning on Twitter @pod2g confirmed that the new iPhone 4S jailbreak tool will allow users to jailbreak the iPhone 4S on iOS 5.1 and on iOS 5.1.1.
iPhone 4S iOS 5-1-1 confirmed to work perfect with the upcoming jailbreak

— pod2g (@pod2g) May 14, 2012
iPhone 4S Jailbreak iOS 5.1 Release Date

Pod2G also posted an update to the iOS 5.1 iPhone 4s jailbreak on his blog, sharing that the jailbreak will be compatible with any device running iOS 5.1.1 EXCEPT the iPod 3G and iPhone 3GS.
The team is testing the iOS 5.1 jailbreak tool on a number of devices, 16 to be exact. There is no way to join this very limited beta test, so please don't pester Pod2g and others on Twitter or via email.
Last week Pod2g showed off the iPad 3rd generation, known as the new iPad, running an untethered iOS 5.1 jailbreak. The brief demo doesn't include the best iPad Jailbreak apps and tweaks, but shows that a iOS 5.1 jailbreak is possible on the latest Apple hardware.
Based on the recent progress and video demonstrations, it is very likely that we will see an iPhone 4S Jailbreak untethered on iOS 5.1 and iOS 5.1.1 by the end of May.
Why to Jailbreak the iPhone 4S
The biggest reason users choose to jailbreak the iPhone 4S is to install apps and tweaks that Apple will not allow in the app store.
Check out a number of the best iPhone 4S jailbreak apps and 18 reasons to jailbreak the iPhone 4S on iOS 5.1 to learn why the jailbreak community can't wait for the iOS 5.1 jailbreak release.
IntelliscreenX is one of the most popular jailbreak hacks for the iPhone 4S, thanks to the integration of many features right on the homescreen and in the Notification Center, as shown in this video below.
Many of the features I want in iOS 6 are already available on a jailbroken iPhone 4S.
Why Not to Jailbreak the iPhone 4S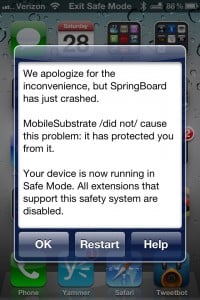 The iPhone 4S jailbreak is not without downsides. The standard Apple warranty does not cover jailbroken iPhones, but it is easy enough to un-jailbreak the iPhone 4S before taking it in for service.
The two main reasons not to jailbreak the iPhone 4S are, not knowing what you are doing and the potential to lose the iPhone's stability.
My Jailbroken iPhone 4S started crashing and burning through battery life with just a few jailbreak tweaks enabled. If you don't have the time to troubleshoot issues like this and want an iPhone that just works, jailbreaking may not be for you.
Every week I receive many emails from users who are stuck in the jailbreak process or need help with some aspect of jailbreaking the iPhone 4S.
There are many forums that help explain the jailbreak process, and GottaBeMobile will post an iPhone 4s iOS 5.1 Jailbreak guide, but unless you are able to research problems and ask questions in forums you may want to keep your iPhone 4S stock.

As an Amazon Associate I earn from qualifying purchases.