iPhone 4S Jailbreak Gone Bad: Bad Battery Life and Stability Issues
When the iPhone 4S jailbreak was released ast month I quickly jailbroke my iPhone.
I've been looking forward to the iPhone 4S jailbreak since I bought the phone, but I was cautious about which jailbreak apps I installed, holding myself to a few of the best iPhone 4S jailbreak apps. In all I had about 5 jailbreak apps installed on my iPhone this past week.
For a few days I enjoyed the extra features IntelliscreenX gave me and the occasionally working GVExtension, but yesterday things went bad.
We've talked about stability issues on jailbroken devices, but this is the first time I've experienced them myself. I know some of you are already jumping to the comments to tell me I'm making this up and that I'm doing something wrong, but this is exactly why I don't recommend jailbreaking to the average user who just wants a bug free iPhone experience.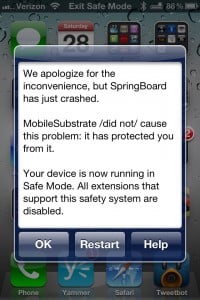 Here's how my jailbroken iPhone went bad.
As you can see, this isn't a simple restart, but real issues that impact my iPhone's usability.
No Alarms – My phone would vibrate, but no audible alarms would sound, which means I overslept yesterday.
Bad iPhone 4S Battery Life – While I could normally last a day, I blew through 57% by noon. Most of the time my phone was off on my desk.
iPhone Wouldn't Sleep – When I set the iPhone down the screen wouldn't turn off.
Sleeping on the Job – Oddly, when I was using the iPhone the screen would go to sleep, in the middle of tapping on apps.
Camera Crash – The Camera app froze and crashed multiple times, causing me to miss a few snapshots.
Crash Happy – My iPhone 4S crashed twice, into safe mode. I didn't lose data, but phone crashes are annoying and waste time.
I've un-installed most of my jailbreak apps, and i will be installing them one at a time over the next week to see which one was causing the issue. I'm not ready to give up on jailbreaking, but if battery life continues to be an issue I'll be back to stock by the end of the month.
How is your iPhone 4S jailbreak experience?