iPhone 4S Jailbreak iOS 5.1.1 Demoed with Easier Absinthe 2.0 Tool (Video)
The iPhone 4S Jailbreak is days away from release, and today we have a new video showing the iPhone 4S jailbreak process on Absinthe 2.0.
The new iPhone 4S jailbreak tool no longer requires users to put their iPhone in DFU mode, and it no longer requires a the troublesome last step to install Cydia on the iPhone.
Read: How to Prepare for iPhone 4S Jailbreak
In the video below, one of the testers shows how the iPhone 4S jailbreak for iOS 5.1.1 Untethered will work. In this demo video fly2iphone uses the iPhone 45, but this tool will jailbreak the iPhone 4S and a number of other Apple iDevices.
Check out the shaky, sideways iOS 5.1.1 untethered jailbreak video below.
iPhone 4S jailbreak iOS 5.1.1 Untethered Update

The new Absinthe 2.0 jailbreak tool will work on the iPhone 4S, new iPad 3 and all other iPhone, iPad and Apple devices except the Apple TV3,1.
iPhone hacker MuscleNerd posted a short FAQ about the iOS 5.1.1 untethered jailbreak, included below.
* All info below is tentative and subject to last minute refinements

* @pod2g's 5.1.1 jailbreak+untether is working out great. All devices are covered except for AppleTV3,1, which currently has no path for jailbreaking.

– the initial 5.1.1 plan used a kernel exploit from @westbaer which unfortunately precluded use in iPod3,1 and iPhone2,1

– @planetbeing stepped up and provided a kernel exploit that covers both of those. Those two JBers are the bomb!

* The 5.1.1 A5 JB is very similar to the A5 5.0.1 JB. @pimskeks has done a tremendous job supporting both 5.0.1 and 5.1.1 in absinthe

* Similar to 5.0.1, there will also be a 5.1.1 CLI "cinject" binary and redsn0w version of the 5.1.1 JB+untether. Absinthe, cinject, and redsn0w will all provide the same JB in different fashions.

– timing is indeterminate. Plans are for this week, but a number of factors can influence that.

* For those wishing to donate, we've set up a new 5.1.1 paypal URL: https://www.paypal.com/cgi-bin/webscr?cmd=_s-xclick&hosted_button_id=4U6DQGJ2NRVUN

* Please don't pirate AppStore apps (seriously, please do not).
This is the second confirmation of an iPhone 4S jailbreak iOS 5.1.1 release date within days. The new iPhone 4S jailbreak will allow users to run a multitude of apps and customizations.
Why Jailbreak the iPhone 4S?
The most common reason to jailbreak the iPhone 4S is the ability to run apps that Apple will not allow on the iPhone 4S or in the app store. These apps allow users to customize the iPhone in ways Apple has not thought of or at least perfected. Many of the best jailbreak apps and tweaks make it into versions of iOS and the iPhone, so its possible that you might experience some features that won't arrive to the masses until iOS 6 and the iPhone 5 launch.
Read: 18 Reasons to Jailbreak the iPhone 4S
My favorite reason to jailbreak the iPhone 4S is the ability to control which apps handle calls, texts and even the default web browser. Check out the demo for Appfront, an easier way to use Viber, Skype and WhatsApp on a jailbroken iPhone 4s.
That's just the beginning. I also love F.lux, an app that adjusts the color and temperature of the iPhone 4S display to ease the harsh bright light as evening and bedtime approaches.
Two more incredibly popular iPhone 4S jailbreak apps are IntelliscreenX and SBSettings. Both of these apps allow users to access settings like Bluetooth and others in the Notification Center instead f tapping and tapping into the Settings app. Check out SBSettings in action in the video below.
Of course there are also visual customizations and the ability to play games like Mario on the iPhone 4S using a WiiMote as a controller.
Why not to Jailbreak the iPhone 4S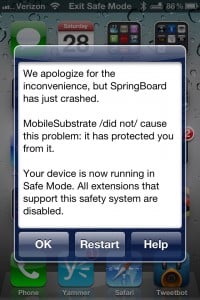 While jailbreaking the iPhone 4S is easy and it is relatively simple to un-jailbreak the iPhone 4S, there are a few reasons users may not want to jailbreak the iPhone 4S.
One of the most common reasons is that the Apple warranty is void while the iPhone is jailbroken. This isn't a big deal, as it is possible to remove the jailbreak before most visits to an Apple Store for help.
Read: Reasons Not to Jailbreak the iPhone 4s
The bigger issue is a loss of stability. Many times a jailbroken iPhone will run perfectly fine, but certain combinations of apps or unstable tweaks can cause the iPhone 4S to crash and cut battery life short. My iPhone 4S lost stability and battery life the last time I jailbroke.
Users who are comfortable troubleshooting issues like this and have the time to read how to guides should be fine, but those who need a stable iPhone and don't want to mess with fixing problems should consider avoiding the iPhone 4S jailbreak.
—
Are you ready to jailbreak the iPhone 4S? What's the first app you'll install?

As an Amazon Associate I earn from qualifying purchases.