iPhone 4S Jailbreak Progress Continues, iPhone 4S Unlock Promising
If you are waiting to jailbreak the iPhone 4S, you will have to wait a bit longer, but progress is being made on several fronts.
While Apple is busy patching iPhone 4S jailbreak exploits, the various iPhone Dev Teams are working on turning the tables and speeding up an untethered iOS 5 jailbreak for the iPhone 4S and older iPhone devices.
Even more exciting is the progress made towards an iPhone 4S unlock. This is after the iPhone Dev Team announced a successful iPhone 4S jailbreak that wasn't ready for the public.
The bad news is that Apple has been using the crash reports, that iOS5 devices automatically send to Apple, to patch exploits faster than jailbreakers can exploit them. Most notably, the five exploits which we had all hoped would enable faster untethered jailbreaking for iOS 5 and the iPhone 4S have been patched already.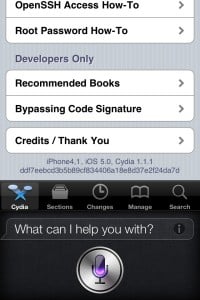 But, that's not stopping the vigilant iPhone Dev Teams. The Chronic Dev Team has turned the tables and is allowing anyone who wants to help speed up an untethered iOS 5 jailbreak and an iPhone 4S Jailbreak to plug in their iPhone and run a simple utility that sends the crash data to a Chronic Dev Team server and "neuters" your copy of iTunes so no further crash reports will be sent to Apple.
This tool is available for Mac and Windows. You can download it from the greenpois0n blog if you want to help aid the Dev Team out.
The iPhone Dev Team, which is a different group of iPhone hackers who want to unleash the potential of your devices, has also released some news.
The screenshot below might not mean much to you, but it points to an iPhone 4S unlock, and was posted on Twitter by MuscleNerd.
This would allow you to use your iPhone 4S on a different carrier, but you won't be able to use it until there is an iPhone 4S jailbreak.

For now, there is still no iPhone 4S jailbreak, but progress is being made on multiple fronts, so we remain hopeful.
Until the iPhone 4S Jailbreak is available, check out these related iPhone 4S Jailbreak articles.
Via AppAdvice