iPhone 4S Jailbreak Status: iOS 5.0.1 Untethered Jailbreak Wait Almost Over
The iPhone 4S jailbreak is getting closer thanks to the formation of a team of hackers including pod2g and both major dev teams.
This weekend we were treated to a video of an untethered iPhone 4S jailbreak, on an iPhone 4S with iOS 5.0.1. The video of a jailbroken iPhone 4S comes via Dustin Howett, who is a part fo the Chronic Dev Team.
Watch below as Howett confirms that he is using an iPhone 4S, complete with a Siri demonstration and a reboot without being plugged into a computer. This is important, as an iPhone 4 looks very similar. In this two-minute video, Howett shows off Cydia launching and confirms that Siri works on a jailbroken iPhone 4S. We also get to look at iFile working on the iPhone 4S.
iPhone 4S 5.0.1 Untethered Jailbreak Video
In this video, you see a Verizon iPhone 4S jailbreak, but once the jailbreak is public you will be able to use it on any iPhone 4S version.
iPhone 4S Jailbreak Release Date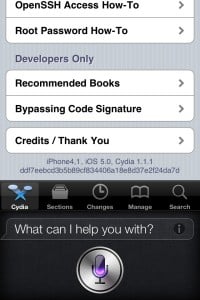 This isn't the first time we have seen an iPhone 4S jailbreak demonstrated on video, but it is an important step. We have heard from the well-known pod2g, who helped organize this team of iPhone hackers. Pod2g states on his iOS security blog that there are. "Only a few to wait now."
Hopefully he's talking about days, not weeks.
While you wait, make sure you update your iPhone 4S and iPad 2 to the latest iOS 5.0.1 version of iOS. Once Apple releases iOS 5.1 you won't be able to upgrade to this small version increase and will have trouble jailbreaking.
For more, read:
Follow our iPhone 4S Jailbreak news.

As an Amazon Associate I earn from qualifying purchases.