iPhone 4S Jailbreak Status: Upgrade to iOS 5.0.1 Today
There's still no iPhone 4S jailbreak release date, but according to iPhone hackers it is getting closer and anyone who wants to jailbreak their iPhone 4S should update their iPhone today.
Update: Untethered iPhone 4S Jailbreak Release As Early As Next Week
Over the weekend p0sixninja, a well known iPhone hacker, told us all to update our iPhone 4S and iPad 2 devices if we want to jailbreak them. This likely means that the dev teams are close to a functioning iPhone 4S jailbreak, one that should also work on the iPad 2 which uses the same Apple A5 processor.
We have already seen an iOS 5.0.1 untethered jailbreak for the iPhone 4, and proof of an iPhone 4S jailbreak from @MuscleNerd, so this new news is a sign of additional progress.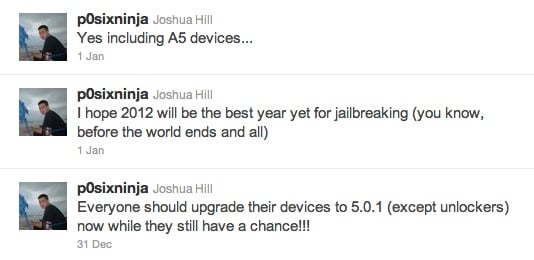 What to Do Now for an iPhone 4S Jailbreak?
The message from @p0sixninja is the first official confirmation that you can update your iPhone 4S or iPad 2 to iOS 5.0.1 without losing the ability to jailbreak.
If you need to unlock your iPhone 4S, to use it on a different carrier, don't update top iOS 5.0.1. But, if like most people you want to jailbreak your iPhone 4S or iPad 2 to get additional features, go ahead and upgrade today.
The reason that you should upgrade to iOS 5.0.1 today is that iOS 5.1 is on the way. This next major upgrade to iOS 5 will bring a collection of new features, but will likely also patch holes used to unlock the iPhone 4S or iPad 2.
After Apple releases iOS 5.1 it will not be easy to upgrade to iOS 5.0.1, which is why you should upgrade today.
Upgrading to iOS 5.0.1 is easy to do. First backup your iPhone to your computer or iCloud.
Next, go to Settings -> General -> Software Update -> Download and Install
When asked, agree to the terms.
You may want to download this file over WiFi to avoid using limited data plans.
iPhone 4S Jailbreak Status
There is still no iPhone 4S release date, but given the "all clear to update" message, it is safe to assume that progress has been made and we will soon see an untethered iOS 5.0.1 jailbreak for the iPhone 4S and iPad 2.
Via iTechNow