Apple's new iPhone 4S looks a lot like the iPhone 4 it's replacing, but you shouldn't judge a book by it's cover. Looking beyond the first glance there are several changes that put it miles ahead of older iPhones and will tempt iPhone 4 owners to upgrade.
Apple is counting on a fusion of hardware and software to carry the year-old design through another year. Instead of a new outside, the company packed the iPhone 4S with a faster dual core processor, new antennas, world phone support, and a better camera. But that's not all. This new iPhone comes with iOS 5, Apple's latest mobile operating system. Boasting 200+ improvements over iOS 4, users will get a new Notification Center, access to the new iCloud service, plus the Siri digital assistant app (exclusive to the iPhone 4S).
This is also the first time you can purchase the iPhone on Sprint, and the first time a new iPhone has launched on Verizon on day one.
Do these improvements deliver enough to beat upcoming Android competition like the HTC Vigor and Galaxy Nexus, and are there enough upgrades to draw in iPhone 4 owners?
Read on to find out how the iPhone 4S handles in our full review.
iPhone 4S Hardware
When you pick up the iPhone 4S, you won't notice much different from the iPhone 4. We still have the same 9.3mm thick body with rounded corners and a small 3.5" Retina display.
If you found the iPhone 4 attractive, you will find the same beautiful, but breakable, glass back and eye-catching metal antenna circling the edge of the phone. Despite the extra ounce of weight, editor Tobias Buckell doesn't feel any difference between the two phones in an old-school hand to hand held comparison of the two, which is a relief.
Apple's attention to craftsmanship carries over, resulting in a premium look and feel. The iPhone 4S feels solid in your hands, and unlike many other smartphones we have reviewed, there is no creaking of plastic battery covers when you are using the iPhone 4S.
Coming from Android devices, Josh Smith appreciates the attention to detail, but still wishes for the contoured backs found on the Droid Bionic. While glass is pretty, if the iPhone 4S retains the same glass as the iPhone 4, there's more reason than ever to get a good case.
iPhone 4S Display
Apple chose to keep the same 3.5-inch Retina Display that it introduced over a year ago. While this display is tiny in comparison to some of the 4.3 and 4.5-inch displays that Android competitors are rolling out, it delivers an amazing reading and viewing experience and has a higher resolution than most larger Android phones.
The display delivers very crisp text and good looking images. Watching video on the small display is one area where we often wished for a larger 4.3-inch screen, but colors appeared good and blacks were OK. Overall the display looks a bit brighter than the iPhone 4.
While Android devices have larger screens, and this is a concern of many switchers, the iPhone 4S has a 960 x 640 resolution with a 326 ppi display. The Droid Bionic, a competing Android smartphone, has a larger 4.3-inch display with a 960 x 540 resolution and a 256 ppi rating.
Basically, this means that even on the smaller iPhone 4S display, you can see more at once than on the Droid Bionic. Coming from the HTC Thunderbolt, Josh Smith had concerns about the smaller screen size, but the ThunderBolt's 800 x 480 resolution is left in the dust by the Retina Display.
iPhone 4S Performance
The iPhone 4S has a new dual core A5 processor from Apple. This is the same processor that powers the iPad 2, and brings a lot of power to the table.
When coming from the iPhone 4, you will notice a general snappiness and a more fluid experience. When compared to Android devices, there is none of the lag associated with tapping on an icon and waiting for the app to open.
The browser is also an area where you will notice improvements. We already showed improvements coming from iOS 4 to iOS 5 on the iPhone 4, but when you jump to the new iPhone, it gets even better. Pages render very fast, though our Verizon iPhone 4S units have extremely slow 3G connections so far. With download speeds hovering around 1Mbps on Verizon's 3G network, 4G LTE is missed more than ever.
Part of the new processor is an improvement in graphical power. Apple claims a 7x performance boost over the iPhone 4, which is visible when you look at the details while playing a game like Infinity Blade.
Notice in the iPhone 4S sample of Infinity Blade shown below the higher level of detail and increased lighting effects.
As developers learn how to take advantage of this extra power, we will see even more amazing games and apps. RockStar games has announced that GTA III is coming to the iPhone 4S this fall, but it will not work on older iPhone devices.
iPhone 4S Camera
When it comes to smart phone cameras, Apple has raised the bar with the iPhone 4S. The camera on the iPhone 4 was no slouch, but this time around Apple bumped it up to 8MP, added a fifth lens element and a wider aperture, resulting in more light being captured by the sensor.
This combination delivers impressive photos that are on par with some dedicated cameras and noticeably better than the cameras in the iPhone 4 and most Android competition.
While the iPhone 4S camera is an improvement over the previous generation, there are still limitations that will keep some users from ditching their point-and-shoot cameras or DSLRs. The iPhone 4S camera takes photos with relatively slow shutter speeds in moderate lighting, such as indoors with natural light. The slow shutter can make it difficult to capture moving subjects or even take sharp photos without thinking twice about steadying the iPhone 4S.
Apple also beefed up the camera software with iOS 5, which means you can get to your camera app faster and take photos quicker.
To launch the camera app, double tap the home button and launch your camera right away. This time around, you can tap on the screen to focus, take advantage of face detection and then snap the photo with your volume button. The new camera app also includes a grid to help you compose better shots.
Above is a sample image taken with an iPhone 4S. Note the level of detail in the sidewalk and the stems and leaves of the plant behind the smaller pumpkin. The pumpkins are approximately the same orange as they are in real life and you can make out the lines and imperfections quite easily.
A similar photo taken with the iPhone 4 shows there's more saturation, especially in the lower half of the large pumpkin. It's more difficult to make out the individual stems and leaves in the shrub and there's less detail in the concrete.
With the iPhone 4S camera app's  HDR option turned on, it's easy to capture high-contrast scenes. The HDR option allows the iPhone 4S camera to to capture detail in parts of images that would otherwise be either overexposed or underexposed. In the above photo you can see there's a strong shadow on the top-right of the faucet, just like in real life. In the below sample (non-HDR), the iPhone 4S overexposed the image, washing out the shadow and much of the scene's details.
The iPhone 4S also has the ability to shoot nice-looking 1080P HD video, meaning you can leave your low-end video cameras at home. The average iPhone 4S user will get better results with the iPhone 4S video camera function than with DSLR and point-and-shoot cameras. The iPhone 4S video quality still isn't as good as a mid-range camcorder's, but the iPhone 4S is the better choice if you want to quickly share special moments with friends and family.
iPhone 4S Battery Life
Apple rates the call time longer on the iPhone 4S, but you lose an hour of browsing on WiFi browsing compared to the iPhone 4 according to the spec sheets. We are still in the process of running the batteries dead on several Verizon iPhone 4S and AT&T iPhone 4S models.
With that in mind, we are testing out our heavy use case scenarios right now to get a final number. At this point, the iPhone 4S looks like it will easily last through a full work day.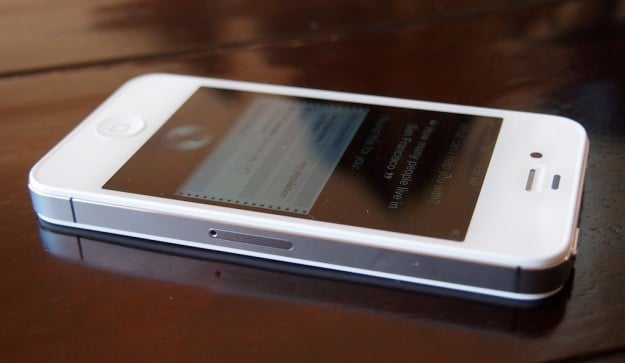 iPhone 4S Call Quality
Call quality on the iPhone  is on par with several other Android devices tested on Verizon. When compared to the HTC ThunderBolt and Droid Bionic, the iPhone delivered good call quality.
Speakerphone works well on both ends of the conversation, but you will be able to tell that you are on speakerphone.
The iPhone 4S call quality will vary based on your carrier and location, but the death grip issue that plagued the iPhone 4 appears to be gone.
Stay tuned for more call quality comparisons from Sprint and AT&T.
Need help picking a carrier for the iPhone 4S? Read: iPhone 4S: AT&T vs. Verizon vs. Sprint – Which Carrier is Best?
iOS 5
The new iOS 5 software melds with the the iPhone 4S hardware to deliver a collection of new features that Apple has needed for at least a year.
The new Notification Center is undoubtedly one of the most needed improvements. Instead of pop ups that interrupt you all the time, notifications appear on on a pull down shade that can be accessed form any app by swiping down from the top of the screen.
AirPlay
AirPlay turns your iPhone 4S, or any other iOS device, into a powerful tool for making presentations, playing games and viewing video and pictures. With wireless mirroring, for the first time you can display the actual iPhone interface on an external screen connected to an Apple TV. Previously you needed one of the VGA or HDMI video out dongles that Apple sells. The Digital AV Adapter (HDMI) costs $39 and the VGA adapter costs $29. Just cobble together another $31 and buy an Apple TV instead and you won't need either one.
We have a How To on setting up wireless mirroring to work with the Apple TV. That article mentions Real Racing 2 HD, a great racing sim that lets you not only use your iPhone 4S as a controller, but also lets you race against up to three other people using each using an iOS device with a split screen interface on the external display.
Here's an example of AirPlay on the iPad 2, which is similar to the experience on the iPhone 4S. Stay tuned for an iPhone 4S AirPlay demo. AirPlay is not available on the iPhone 4.
Using an iPhone 4S to play vidoes, music and view slide shows on your Apple TV works great. You will notice a slight lag as it begins to stream. Once you get going no one else will realize you're watching a video streamed from your phone. You get DVD or CD quality or higher depending on the source video, pictures or music.
Wireless mirroring makes the phone the perfect companion for teachers. Kevin's wife teaches 3rd grade and uses her iPhone to play games with her students. She used to lay her old iPhone 3GS on a document camera platform to display the games to the class. It worked, but not great. Now with an Apple TV hooked up to her classroom projector she can display all of those great educational games using her iPhone 4S as the source.
Siri
Siri is undoubtedly the star of the show, or the belle of the ball, when it comes to new iPhone 4S features.
Siri is a virtual personal assistant that will respond to a number of requests. Unlike many other voice control services, Siri can infer your meaning and place your natural language requests in context. More: What is Siri?
This means you don't need to memorize a list of commands that need to be spoken exactly as shown on paper. In practice, Siri performs pretty well, but not perfectly. Siri is in beta right now, which is something you will need to keep in mind.
To activate Siri, hold the home button for 2 seconds, and then ask Siri to perform a task for you. You can have Siri text your wife, place a call, schedule a meeting and much more.
While testing Siri out in a car moving at highway speeds Siri did a pretty good job of recognizing our commands and text. That said, there were several occasions where Siri missed a word, picking "hide" over "hi". Siri does have limitations, and you will get frustrated at times, but this app is still ahead of many other voice recognition programs.
Because Siri has to connect to Apple's servers to process your request, there will be times when it is faster to type out your request. The delay is not enough to ruin the experience of using Siri, but we hope that Apple streamlines the communication. This is also an example of why we want a 4G iPhone.
iCloud
Cloud Backups – iCloud is a central part of the iPhone 4S experience. Instead of backing up your iPhone to your computer once every month, iCloud performs a backup when you plug in to power. This means you will almost always have an iPhone backup that is less than a day old. If you need to switch to a new iPhone, you can download your backup right from the cloud. More: What is iCloud?
Photo Stream – Another part of iCloud is Photo Stream. This cool service keeps your photos in sync across all of your devices. This includes your iPhone, iPad, iPod Touch, Mac or Windows PC.
Setup is simple, and photos begin rolling out immediately. Here's How to Setup Photos Stream on a Mac and How to Set Up Photo Stream on a Windows PC.
Photo Stream isn't without limitations though. There is no way to individually remove one photo from Photo Stream, and if you enable this, photos get uploaded in a snap. Hopefully we will have more granular control as time goes on.
Another issue is that Photo Stream only holds 1,000 photos, and only holds photos for 30 days.
Find My iPhone – If you follow our iPhone 4S setup guide, you will know that this time around iCloud includes the ability to find your lost iPhone 4S. You can locate it, lock it and even remotely wipe it if you need to. No extra charge.
iPhone 4S vs. iPhone 4
While the iPhone 4 is only a year old, there are a number of you considering the upgrade from an iPhone 4 to an iPhone 4S.
We cover a number of iPhone 4S features that might make it worth upgrading to the new iPhone in our Should I upgrade to the iPhone 4S guide.
Topping the list of features are the better processor, which will allow you to play newer games, an upgraded camera, the Siri assistant app, the new antenna design, and the fact that this is a world phone. You might also be upgrading to switch carriers.
You can see how the iPhone 4 and iPhone 4S compare in the specifications table below, and look throughout this iPhone 4S review for impressions from our staff who have upgraded from the iPhone 4.
 Features
iPhone 4S
iPhone 4
Weight and Dimensions

Height: 4.5 inches (115.2 mm)
Width: 2.31 inches (58.6 mm)
Depth: 0.37 inch (9.3 mm)
Weight: 4.9 ounces (140 grams)

Height: 4.5 inches (115.2 mm)
Width: 2.31 inches (58.6 mm)
Depth: 0.37 inch (9.3 mm)
Weight: 4.8 ounces (137 grams)

Camera
 8 megapixels

Autofocus
Tap to focus
LED flash
Backside illumination sensor
Five-element lens
Face detection
Front camera with VGA resolution

5 megapixels

Autofocus
Tap to focus
LED flash
Backside illumination sensor
Four-element lens
Front camera with VGA resolution

Video Recording
 Improved HD video recording

1080p 30 fps
Tap to focus while recording
LED light
Video stabilization

 HD video recording

720p 30 fps
Tap to focus while recording
LED light

Display
 High-resolution Retina display

960-by-640 resolution
326 ppi
Multi-Touch

 High-resolution Retina display

960-by-640 resolution
326 ppi
Multi-Touch

Cellular and Wireless

UMTS/HSDPA/HSUPA
GSM/EDGE
CDMA EV-DO Rev. A2
Wi-Fi 802.11b/g/n
Bluetooth 4.0

GSM model: UMTS/HSDPA/HSUPA
GSM/EDGE
CDMA model: CDMA EV-DO Rev. A
Wi-Fi 802.11b/g/n
Bluetooth 2.1 + EDR

Battery Life
 Talk time:

Up to 8 hours on 3G
Up to 14 hours on 2G (GSM)

Standby time:

Talk time:

Up to 7 hours on 3G
Up to 14 hours on 2G (GSM)

Standby time:
Activation
With iOS new iPhone buyers will no longer have to activate their iPhone 4S by connecting it to a computer with iTunes. The process works quickly, so long as your carrier's activation server isn't overloaded with hundreds of thousands of new users on one day, as was the case with so many.
Below you can see how simple the new activation process really is. When the dust settles of from all the new buyers activating at once, this will be a welcome improvement over the previous method.
Conclusion
If you want a huge screen and a new contoured design, the iPhone 4S isn't going to meet all of your needs. But, if you want a solid smartphone that combines beautiful hardware with snappy and visually appealing software that is also intuitive, then the iPhone 4S delivers.
There is still room for improvement. The lack of 4G LTE is a serious shortcoming on the most music and video friendly phone on the market. 4G LTE would also speed up Siri's ability to respond to requests, which at times take too long. Siri is still in Beta, so hopefully the bugs will be worked out soon.
The question of whether you should buy the iPhone 4S is a tough one. If you are a new iPhone customer or iPhone 3GS owner, the iPhone 4S is worth the upgrade for most users. You can get more in our Should I Buy the iPhone 4S guide.
If you are upgrading from the iPhone 4, the answer is tougher, so we suggest you read our Should I Upgrade from the iPhone 4 to the iPhone 4S guide.
For Android users, you may want to keep your options open until you see what the Nexus Prime and Ice Cream Sandwich looks like on October 19th before you buy the iPhone 4S.
Pros:
Snappy performance
Camera delivers top notch images
Siri saves time and is fun to use
iOS 5 and iCloud bring much needed improvements
Cons:
Lack of 4G Leaves us needing speed
Blacks are not as deep on Retina display
Glass back still begs to be covered with a protective case
iPhone 4S Gallery
Additional reporting by Kevin Purcell, Tobias Buckell, Xavier Lanier and Warner Crocker.

As an Amazon Associate I earn from qualifying purchases.