iPhone 4S Sales Remain Strong With Promise of iOS 7 Update
Almost two years after its release the iPhone 4S still comprises 30 percent of all iPhone sales thanks to a good feature set and the promise of a fresh iOS 7 update this fall.
The sales data the Consumer Intelligence Research Partners released to Apple Insider shows that while the majority of iPhones sold are the iPhone 5, many iPhone buyers opt for the smaller, cheaper iPhone 4S instead. In the month of June 2013, almost two years after the release of the iPhone 4S the smartphone accounted for 30 percent of all iPhone sales.
The iPhone 4S sales are actually down from March 2013, when the older iPhone accounted for 33 percent of all sales. In June 2013 the iPhone 5 accounted for 52 percent of all iPhone sales, and in March 2013 53 percent of all iPhones sold were iPhone 5 units. Since it's release the iPhone 5 never broke 70 percent of all iPhone sales according to the data.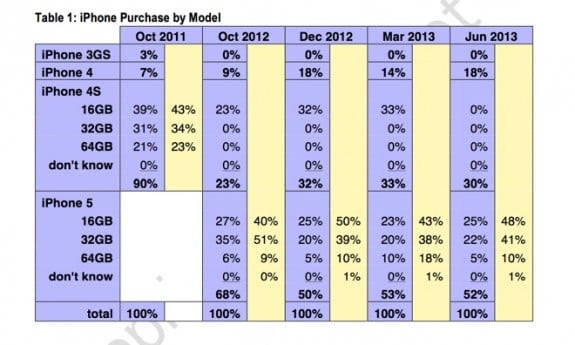 The easiest explanation for the iPhone 4S' continued success is the price of the smartphone. The iPhone 4S currently sells for $99 on a two-year contract on Verizon, AT&T and Sprint and $69.99 on a T-Mobile Uncarrier plan. The iPhone 5, by comparison starts at $199 on a two-year contract or $99.99 on a T-Mobile plan.
For half the price iPhone 4S buyers get many of the same features as the iPhone 5 on a smaller screen. Both run the latest version of iOS, and will run iOS 7 when it comes out later this year. Both phones also have access to Siri which the free-on-contract iPhone 4 lacks.
Apple continues to sell a tremendous number of iPhones, and there's a chance that its increased sales come from the cheaper mid-range instead of the high-end iPhone 5. Not everyone wants or needs the latest and greatest smartphone available.
The 4-inch iPhone 5 continues to sell more than the 3.5-inch iPhone 4S and iPhone 4, but it seems the smaller screens will stick around for at least a few more years. There are rumors of Apple working on a larger iPhone, but these sales number indicate there's likely still a market for smaller phones.