iPhone 4S Shipped? How to Make Sure You Don't Miss the Delivery
For the million of you that placed an iPhone 4S preorder, you should be getting your iPhone 4S ship notification from Apple, Verizon, AT&T or Sprint very soon.
The first batch of iPhone 4S shipments are already on the move across the U.S. and across the world. If you have received an email saying that your iPhone 4S has shipped, but you won't be home for the delivery, don't worry.
There are several steps you can take to avoid waiting for Monday to roll around, and no, you don't have to stalk the UPS or FedEx driver. Not that anyone here has ever done that.
If you ordered from Apple, you can check your shipping status with these directions. If you ordered from Verizon, you should have a FedEx Express tracking number. AT&T and Sprint orders should also be coming via FedEx or UPS.
Here's how to make sure you don't miss your iPhone 4S deliver on October 14th.
iPhone 4S Fedex Delivery
If you are getting your iPhone 4S delivered by FedEx Express, from Verizon, you should have an indirect signature option. This means that anyone can sign for your package, or best of all, you can leave a note for FedEx so that you don't miss the delivery.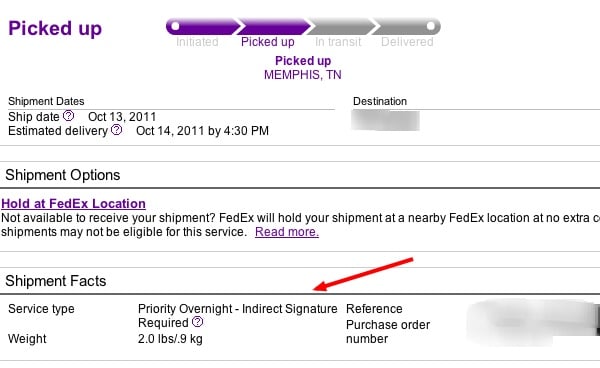 Once you know that your iPhone 4S has shipped, you can leave the following note on your door in plain sight. This tip comes from @FedExRobin, a FedEx rep on Twitter.
"FedEx, ok to leave package".

Be sure to sign and date the note.
If you want it left between the doors or with a neighbor, you can add that at the bottom, but from experience that is hit or miss depending on your driver and their timing.
iPhone 4S UPS Delivery
If you ordered from the Apple Store, you will be receiving your delivery by UPS. UPS has a new My Choice service that lets you get text notifications for your package as well as get the approximate delivery time.
The free portion of UPS My Choice also allows you to authorize delivery without a signature and hold for Will Call at a UPS Facility.
You can pay $5 to have the package delivered to the UPS store or have delivery sent to a new address.
If you want a 2 hour delivery window, you will need to pay a $40 annual fee to become a premium member and then $5 for the package. This probably isn't worth it for one delivery, but if you get a lot of UPS deliveries, this might be the right time to start.
On Twitter, UPS told our writer Kevin Purcell that, "If you are not available on the first delivery attempt, then you can have the package held for pick up. Unfortunately, we can not make arrangements before the first attempt." So this appears to be the only option. Many UPS will call locations are only open for a few hours after 5 PM local time, so be sure to get there fast if you do have the package held.