iPhone 4S: Verizon vs AT&T Speed Test
The iPhone 4S lives in a world of compromise, with Apple customers being forced to choose between clear calls and fast wireless Internet speeds. While competitors run on the latest 4G networks, the iPhone 4S is relegated to aging 3G networks that run at a fraction of the speed.
AT&T claims to have the fastest experience and is trying to work with Apple to gain a 4G designation on the latest iPhone's home screen. AT&T is the only network that allows users to simultaneously place calls and connect to the Internet at the same time via 3G. Unfortunately, AT&T's been unable to shake its reputation for poor call reliability in some cities, including the San Francisco Bay Area, the iPhone's birthplace.
Verizon is known for rock-solid voice quality and having a super fast 4G LTE network. The only problem is that the iPhone 4S doesn't run on Verizon's 4G LTE network, but on its aging 3G network. Verizon's 3G network is fantastic for voice and low-bandwidth tasks, but it runs at a fraction of the speed. The other downside with Verizon's service is that iPhone 4S users can't simultaneously make calls and get online at the same time.
We immediately saw the difference first hand yesterday between the AT&T and Verizon iPhone 4S units. While the AT&T iPhone 4S units could stream video with the Slingbox Player app, the Verizon iPhone 4S stuttered repeatedly, making it impossible to watch live television with it. Downloading apps took significantly longer on the Verizon iPhone 4S when on 3G.
We ran the Speedtest.net benchmark on both the AT&T and Verizon versions of the iPhone 4S. Above is the best results we could muster with the AT&T iPhone 4S.  The AT&T iPhone 4S  scored a 5.17 Mbps download speed and a 1.11 Mbps upload speed. That isn't anywhere close to what we see with Verizon's 4G LTE network, but it's respectable. Those numbers are what a lot of people experience from  their home DSL connections and even faster in some cases.
The above score is faster than what we saw on the iPhone 4, even when directly beneath an AT&T cell site. Keep in mind that your mileage will vary.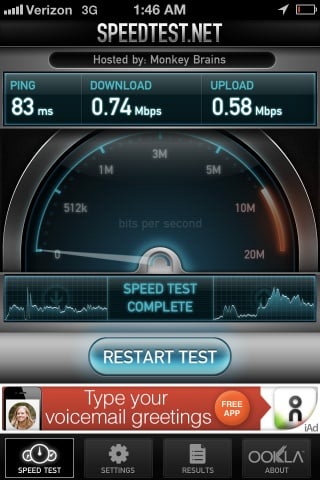 Above is the best score on the Verizon iPhone 4GS . That's right, just .74 Mbps on the download side and .58 Mbps for the upload score. Te AT&T iPhone 4S is nearly seven times faster than the Verizon version, at least in my home in San Francisco.
It's important to note that we are well-covered by both Verizon and AT&T, hence the five signal bars in the top-left of each test result. I'd hate to see what Verizon's 3G speeds are like when we're further away from a cell site.
This test is not scientific in any way, but it is an illustration of just how different the iPhone 4S can be, depending on which network you choose. Choosing a wireless carrier can have a serious impact on your iPhone 4S experience. AT&T is the way to go if you plan on streaming a lot of content or transferring a lot of data when out of reach of a WiFi network. Verizon's network is the way to go if you talk more than you browse the Internet.
You can read our full iPhone 4S review here. 

As an Amazon Associate I earn from qualifying purchases.