iPhone 4S Video Is No Hands On, But Shows Off iPhone 4S Features
Today Apple announced the iPhone 4S, a new iPhone that wants to replace your digital camera, be your next phone and your personal assistant.
You can read all about the iPhone 4S here, and you can pre-order the iPhone 4S starting on October 7th. The iPhone 4S will be available for purchase on October 14th at Apple Stores and other retailers.
Until the iPhone 4S is in your hands, you can watch the iPhone 4S video below to see all of the features put into the iPhone 4S.
(Update: You can see one of the first iPhone 4S hands-on here.)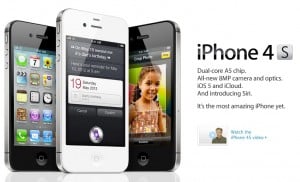 The biggest feature shown off here is the Siri App. Siri uses voice to allow you to ask your iPhone 4S to do things for you. Watch the video for more details, but you can get the weather, set an alarm, send text messages — and Siri can even read back your texts and responses to you.
Apple did not allow an iPhone 4S hands on videos to be filmed after the event, so this is the video you will need to watch to see what is in store for you on October 14th.
Many of these new features will be available in iOS 5. iOS 5 is coming on October 12th along with the new Apple Cards App that lets you print greeting cards from your iPhone. The cards are actually printed by Apple, but you create them on your iPhone. There is also a Friend Finder app that will allow you to locate your friends to connect when they are nearby.
Apple is excited about the iPhone 4S, are you?

As an Amazon Associate I earn from qualifying purchases.