iPhone 5 Costs $207 to Build
In a new teardown report, Apple's flagship iPhone 5 costs $207 to build for the base 16 GB model, or roughly $8 more than what consumers pay for the smartphone after signing a two-year contract with carriers. The price of the unsubsidized iPhone 5? $650, or roughly three times the cost of the materials and manufacturing of the smartphone.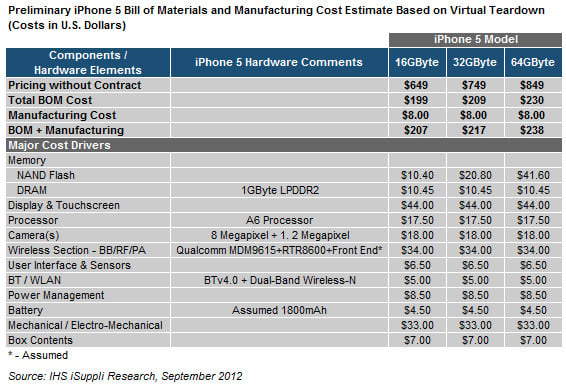 According to IHS iSuppli, the cost of the materials itself is $199 and the manufacturing cost for each iPhone is roughly $8. That said, what you're paying for the iPhone–if you're looking at the 16 GB model–is the materials cost alone, which includes the touchscreen, A6 processor, storage and memory, wireless radios and sensors, battery, chargers and cables, packaging, and other components. That's the price with a two-year contract on either AT&T Mobility, Sprint Nextel, or Verizon Wireless.
In terms of the 32 GB and 64 GB models, those models fetch Apple an even higher profit margin. The 64 GB, for example, retails for $850 and costs Apple only $230 in parts and an additional $8 in manufacturing or labor.
With the A6 CPU and new 4G LTE radio, the material price without manufacturing added to it of the iPhone has increased since the iPhone 4S last year. It was estimated that the cost of materials alone for the iPhone 4S was $188. This year, that cost is $11 more.
There are also marketing, shipping, and other costs that are not relectedin IHS iSuppli's calculations, but the numbers give us an idea on Apple's profit margins for this flagship smartphone. Essentially, when you're signing a contract, your carrier of choice is subsidizing $450 for your purchase. This explains why carriers try to hold you to a contract and why early termination fees are so high.