What You Need to Know Before Buying an iPhone 5 on Craigslist (Video)
With iPhone 5 pre-orders pushed to October, and lines expected on release day, some users may be tempted to buy an iPhone 5 on Craigslist.
There are already individuals on Craigslist listing their iPhone 5 pre-orders at an incredible markup, sometimes almost double the full off contract price.
If you absolutely cannot wait to buy an iPhone 5, you should be very careful. We aren't here to judge your use of $1,200, but we do want to make sure you leave the meeting with a working iPhone 5 and your safety.
There are two big iPhone 5 scams to watch out for when buying any high ticket item on Craigslist.
The Switch Out iPhone 5 Scam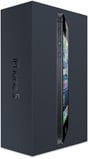 Normally the switch out involves prices that are too good to be true, but when it comes to the iPhone 5 it can also include high ticket items.
This scam unfolds all too often with iPads and iPhones sold out of the back of a truck in a sealed package, but inside is a tile or brick.
The video below shows off how this scam takes place, switching a working iPad for a piece of tile and switching an envelope of cash for an envelope of paper.
Here's advice from Paul, a professional con man;
"Don't let it out of your sight.
Don't allow it to be swapped for something else.
Don't grab a box that's sealed if you've just opened one.
If you've take the time to look at it, make sure that's the one you take away.
Be extra careful when you're doing business with someone you don't know."
It's easy to say you won't fall for this, but if you watch the video it's clear how easy it is to make a switch and move on.
The Beat You Up and Take Your Money Scam
This scam is more straightforward, and more dangerous. Last year a man was beaten when he met someone from Craigslist to buy an iPad.
The assailants took his money, and beat him with a pistol.
To avoid this problem, only meet in public in daylight and bring a friend.
If you're very cautious, meet in front of a police station or similar area where there is help available.

As an Amazon Associate I earn from qualifying purchases.