iPhone 5 Features 4G LTE on AT&T, Sprint and Verizon
Today, Apple announced the new iPhone 5 which features a new design, a 4-inch display and yes, 4G LTE data speeds, something that has been rumored for quite some time.
More than a year after the first 4G LTE smartphone, the HTC ThunderBolt, launched on Verizon, Apple has finally come out with its own 4G LTE enabled smartphone. The company's new iPhone will come with 4G LTE global support and will work on 4G LTE networks in the U.S., Canada, Europe and 4G LTE networks in Asia.
Apple confirmed several carriers that will support the iPhone 5 on their 4G LTE networks.
Read: iPhone 5 Announced: 4-inch Display, 4G LTE.
In the United States, Apple says that the usual suspects will host the iPhone 5, suspects that include AT&T, Sprint and Verizon Wireless. In Canada, Rogers, Telus and Bell will support the iPhone 5 on their 4G LTE networks.
In Asia, Apple listed KT, SoftBank, KDDI, SingTel, SmarTone and more. In Europe, Apple confirmed the iPhone 5 for use with T-Mobile/Deutche Telekom.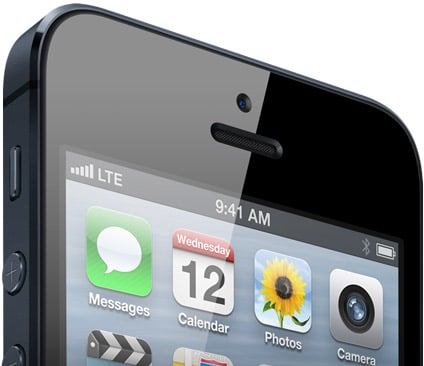 In addition to adding to 4G LTE, Apple has also added support for HSPA+ and DC-HSDPA. Out of the three major U.S. carriers that will host the iPhone 5, AT&T is the only one that has a HSPA+ 4G network in place.
4G LTE will allow the iPhone 5 to pull down data speeds that can reach up to 10 times faster than those found on a typical 3G network. This means that users will see crisper streaming content and faster web browsing while on the go.
Of course, here in the United States, all 4G LTE is not created equal.
Verizon is currently the king of 4G LTE, boasting more than 300 4G LTE markets across the country. The carrier's network currently covers over 75% of Americans.
AT&T and Sprint's 4G LTE networks are playing catch up to Verizon. AT&T still has less than 100 4G LTE markets and Sprint still has less than 50. Both carriers have promised expansions over the course of 2012 and we should see more rapid expansion in 2013.
Owners of the iPhone 5 in markets without 4G LTE will obviously not have access to 4G LTE. Instead, the iPhone 5 will likely run on what's available. So that means 3G, HSPA+ or something else.

As an Amazon Associate I earn from qualifying purchases.