iPhone 5 Glass Panel Appears on Video in Japan
A new video shows what looks like the front panel of the iPhone 5 featuring a taller screen and a FaceTime camera over the earpiece.
The video comes from Japanese blog Macotakara, and shows just the glass piece that could be on the front of the iPhone 5. The piece is the same width as the iPhone 4S, but extends about 10mm above the iPhone 4S. That extra height is to accommodate the larger screen which measures 10.33 cm or 4.07 inches which would hold the 4-inch display we've heard rumored.
The glass front piece seems to line up with the schematics we saw yesterday, down to the FaceTime camera above the earpiece. Paired with the aluminum and glass back covers we saw earlier, it is possible that the two pieces together form the shell of the iPhone 5. The parts at least seem to show the iPhone 5 that Apple is testing, as the final design can always change.
Read: iPhone 5 Release Date & Rumor Roundup
Between this glass front piece, the back covers, the leaked schematic, and the few details we have of the CPU and RAM, there's very little we haven't seen of the iPhone 5 yet. The only things we haven't heard much of so far are the camera and battery in the next iPhone.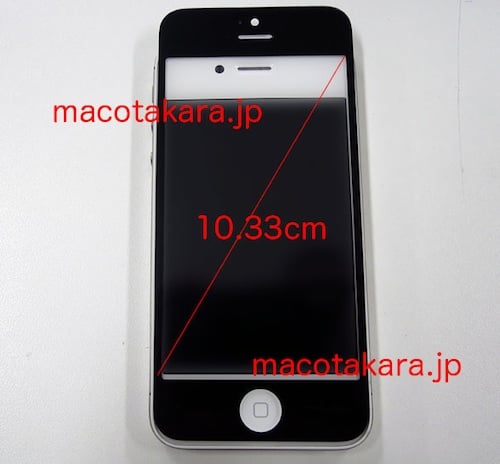 Other rumors include the possibility of 4G LTE connectivity, a new Maps app in iOS 6, and an October or earlier release date.
And while information about the iPhone 5 has been leaking out quite a bit, we doubt Tim Cook will unveil the iPhone 5 at WWDC in two weeks, however, as Apple still has to put out the beta for iOS 6 and it has Mountain Lion and possible Retina Display Macs on schedule for summer.