iPhone 5 Internal Parts Leak Again
Claimed parts for the iPhone 5 continue to leak online, and this time we see a number of internal pieces of the device on display.
According to French site Nowhere Else some parts for the new iPhone leaked on Chinese forum iColorOS. The parts show the glass front piece, nano-SIM tray, home button, volume buttons, sensors, and the protection piece for the back of the screen. The glass front panel definitely looks like all the previous leaks we've seen, as does the tray for the new nano-SIM and the home button.
This is the first time we've seen the rest of these pieces. They look like they will fit neatly into the assembled parts we've seen already.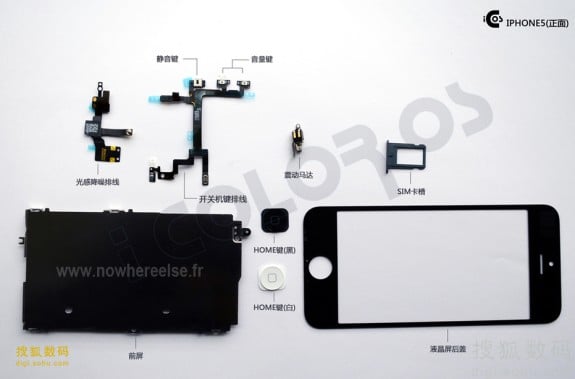 While it is interesting to see more parts of the new iPhone, none of these other internal parts are particularly groundbreaking. Their presence does seem to confirm the smaller home button and nano-SIM tray, but otherwise these parts aren't particularly exciting.
The biggest change to the internal parts we've heard about is the new smaller dock connector which has fewer than 30 pins, but the exact amount of pins is open to debate. That new dock connector makes more room for the larger speaker grilles and the headphone jack on the bottom of the iPhone 5. It will also break compatibility with most iPhone accessories unless users invest in an adapter Apple will likely sell.
We already know the next iPhone should support five rows of icons, and will likely have 4G LTE. Apple will likely announced the phone at an event on September 12 in San Francisco, potentially along with the iPad Mini. Apple will then release the new iPhone on September 21.
For the latest news and rumors check out our iPhone 5 page.

As an Amazon Associate I earn from qualifying purchases.