iPhone 5 Jailbreak: Wait to Update to iOS 6.0.1
Today, Apple released iOS 6.0.1, it first update for its latest mobile operating system iOS 6 and in doing so, the company apparently patched up security holes used by hackers developing jailbreaks for the devices like the iPhone 5. That being said, until otherwise stated, it's best that iPhone 5 owners, and those with devices already jailbroken on iOS 6, to wait before updating to iOS 6.0.1
iPhone 5 owners who are waiting to jailbreak their device should hold off on updating to the latest iOS 6.0.1 software as hacker PlanetBeing reports (a tweet that has since been deleted for unknown reasons) that some of the exploits that were discussed at the HITB conference have been patched up by Apple in the latest update which could translate to a lengthy wait if that's indeed the case.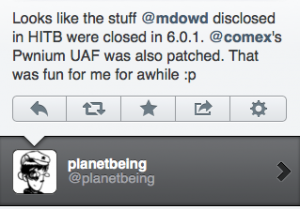 A jailbreak for iOS 6 will likely come faster than one for iOS 6.0.1 if the reports of security exploits being patched up are true. So, those who own an iPhone 5 would be wise to hold off on updating until it's deemed to be safe by one of the leaders of the jailbreak community. At this point, the status is unclear.
In the past, leaders of the jailbreak community have cautioned users to hold off on updating to the latest iOS update and while there still isn't any word, it's smart to assume the same for the iOS 6.0.1 update.
Read: How to Jailbreak iOS 6 for iPhone 4 & iPod Touch With Cydia.
Something else to keep in mind is that there is no harm in waiting, especially if the bugs fixed by iOS 6.0.1 aren't a big deal. iPhone 5 owners can always upgrade at a later date but once the new update is installed, there is no way to downgrade which would mean that an iOS 6 jailbreak for the iPhone 5, should it arrive, would be unobtainable.
Thus far, progress on a jailbreak for an iPhone 4S and iPhone 5 iOS 6  jailbreak has been looking up, but there is still no way to jailbreak either device if it's running Apple's latest operating system.
It could be that a future iOS 6 jailbreak tool released by the Dev-Team could feature jailbreak access for both the iPhone 4S and iPhone 5 though that remains unconfirmed. The development community often releases tools that can jailbreak a number of devices at once. For example, the current iOS 6 jailbreak which can jailbreak the iPhone 4, iPod Touch and iPhone 3GS.
Almost needless to say, owners of those devices will not want to update to iOS 6.0.1 right now either if they wish to jailbreak.
So, for the time being, iPhone 4S and iPhone 5 owners looking to jailbreak should stay away from iOS 6.0.1 until told otherwise. We'll let you know when we hear something new in regards to iOS 6.0.1 and the iPhone 5 and iPhone 4 jailbreak.

As an Amazon Associate I earn from qualifying purchases.