iPhone 5 Killer Feature May Be MIA for Many Users at Launch
With the iPhone 5 release date seemingly set for sometime this fall, speculation about what features are on board the upcoming smartphone are running rampant with rumors surfacing on almost a daily basis.
And while the device's features aren't yet confirmed, there are a few specifications that look more likely to happen then the rest.
One of those features is 4G LTE connectivity. With 4G LTE, the iPhone would be able to pull down data speeds that can reach up to 10 times faster than those found on a typical 3G network.
It's a feature that consumers and current iPhone owners alike have been clamoring for, for quite some time and it's a feature that Apple will likely be including on the device given the fact that the new iPad had 4G LTE connectivity and the device's three biggest U.S. carriers – AT&T, Sprint and Verizon – will all have 4G LTE in place this fall.
However, while 4G LTE will probably be one of the key components of the iPhone 5, it's a feature that many Americans won't be able to take advantage of this fall.
Read: iPhone 5 Release Date: What to Expect This Fall.
The current state of the 4G LTE market is pretty clear cut. Verizon is currently king. AT&T is doing it's best to roll out 4G LTE to major areas and Sprint has a 4G LTE network in place but it won't go live in its initial five 4G LTE markets until July 15th.
If the iPhone 5 launched today, and it had 4G LTE on board, many owners would be missing one of the iPhone 5's most important features.
We don't expect much to change this fall when the iPhone 5 launches either.
Verizon
Currently, Verizon has over 300 4G LTE markets in the United States and it plans to expand its network to 400 markets by the end of the year.
That being said, Verizon will likely have a distinct advantage this fall if and when Apple launches the iPhone 5. Verizon's 4G LTE network is available in just about every major metropolitan city and its available in many rural areas.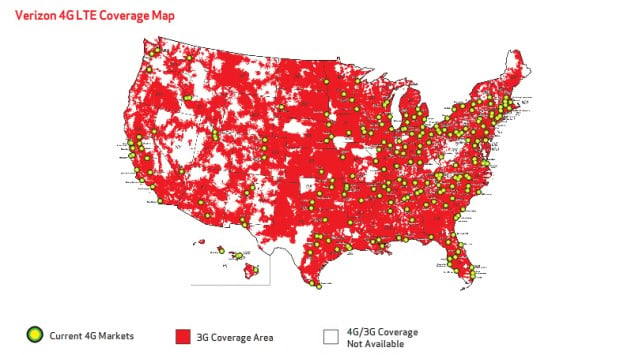 Still, it's not everywhere in the United States yet. Verizon also plans to complete its 4G LTE roll out by the end of 2013.
Those who buy the iPhone 5 in markets where 4G LTE isn't available will have to take advantage of Verizon's 3G network until 4G LTE arrives.
AT&T
As of this writing, AT&T has a grand total of 47 markets across the United States, including Puerto Rico. This means that it is way behind Verizon right now in terms of 4G LTE marketshare and it's unclear if the carrier will be able to make up a ton of ground once the fall arrives.
Thus far, AT&T has been slow to roll out its 4G LTE network and if it continues this trend, it may only have 4G LTE available in 100 or so markets by the time the iPhone 5 launches.
AT&T, like Verizon, doesn't plan on completing its 4G LTE roll out until the end of 2013 and iPhone 5 owners that don't have 4G LTE will have to make due either with HSPA+ 4G or 3G.
Sprint
Sprint plans to launch its 4G LTE network in five launch cities on July 15th. It has not made it clear when or where it will be expanding after that although there are some rumors swirling.
Because of the timing, Sprint will likely be at the biggest disadvantage in terms of 4G LTE coverage when the iPhone 5 launches.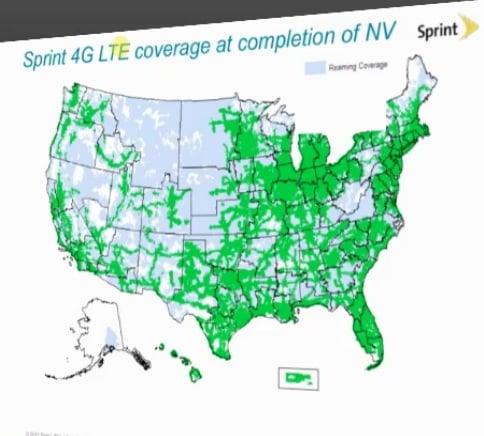 This means that many Sprint owners will be left using 3G data speeds and many might have to make due with them all the way until 2014 when Sprint plans to complete its 4G LTE roll out.
What This All Means
What this means is that many owners of the iPhone 5 will not be able to take advantage of a feature that Apple will surely be touting at its iPhone 5 launch event.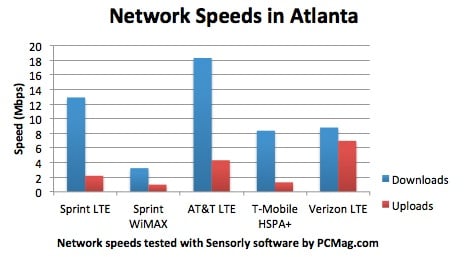 Some customers won't be able to access 4G LTE on their iPhone 5 until 2013 and some customers on Sprint may not see it until 2014.
While this might not be a deal breaker for some, let this be a reminder so that there is no disappointment when and if an iPhone 5 with 4G LTE arrives and there is no 4G LTE network in place to cover it.
iPhone 5 Release Date
AT&T and Sprint have some major work to do between now and the fall. Currently, we're in July and Apple is currently expected to announce and release the iPhone 5 in either August, September or October.
Read: iPhone 5 Release Date, Specs, News and Rumors.
October, at this point, seems like the month to watch considering it's the same month that Apple launched the iPhone 4S last year.
iPhone 5 Rumors
Besides 4G LTE, the iPhone 5 is rumored to feature a number of new features including a faster processor – possibly quad-core in nature, a 4-inch display, a new front-facing camera, and a thin design.
There is even talk that Apple might introduce a brand new design complete with a metal back that will replace the glass found on the iPhone 4 and iPhone 5.

As an Amazon Associate I earn from qualifying purchases.