iPhone 5 Nano SIM Tray Leaked
There should be little doubt now that Apple will be moving to an even smaller SIM card standard once the iPhone 5 debuts this Fall. Rumors of the smaller nano SIM standard had been swirling for months now, and Apple had even proposed its own design to the standards body for the smaller sized SIM card. Now, it looks like we're beginning to see what that smaller size is and French blog Nowhere Else had obtained a leaked nano SIM card tray that will hold the card in what is believed to be the iPhone 5.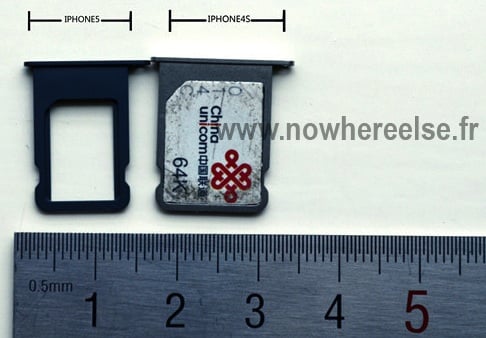 The card tray is not unlike that found on today's iPhone 4 and iPhone 4S. Those devices do support a larger SIM card format known as micro SIM. Like the trays found on the iPhone 4 and iPhone 5S, the nano SIM card tray will similarly require a thin, pointed SIM ejector tool or paperclip to eject the tray. Apple had been relying on its partnership with Liquidmetal for the tool, which despite its small size is virtually indestructible and won't bend or break.
Images reposted on MacRumors show that the tray appears slightly smaller than the micro SIM trays today, but any space saving on the iPhone 5 will likely help Apple cram more technologies into the device like a more capacious battery or help to make room for the LTE modem.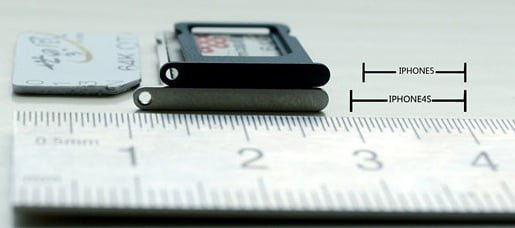 The iPhone 5 has recently been rumored with a September 12 release date. The device has been rumored with a larger 4-inch display, a unibody metal construction, smaller dock connector, and with support for the latest 4G LTE mobile broadband networks.
As has been in the past, Apple has not comment on the matter as the iPhone 5 is still an unannounced product.

As an Amazon Associate I earn from qualifying purchases.