iPhone 5: New Design, Gesture-Based Home Button?
This Is My Next, the home of several former Engadget editors, is reporting that the iPhone 5 might actually be a completely redesigned iPhone instead of an upgraded iPhone 4 like many recent reports have indicated.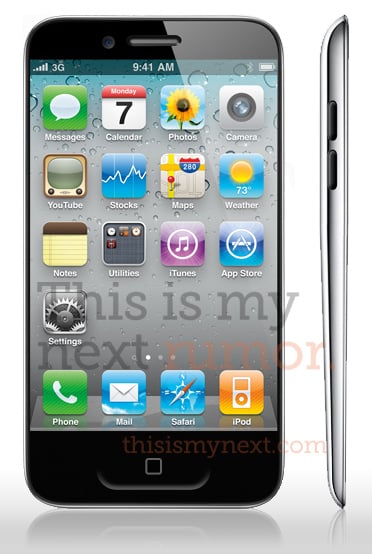 The report states that the iPhone 5 could in fact be a device much different than the current iPhone 4 model with a display measuring 3.7 inches with a larger home button that is sensitive to gestures. That's not all either.
Apparently, it features a body similar to the fourth-gen iPod touch and is thicker on top and gets immensely thinner towards the bottom. The 3.7 inch screen will drop the pixel density but it will still remain a Retina Display and the change will be almost unnoticeable.
The screen will also apparently cover almost the entire front of the device, something that we had heard about before.
It might also come with NFC support as well and some sort of wireless/inductive charging as well. Now that's all good news but unfortunately, there is some bad news that goes along with this. Apple is also apparently toying with hiding the sensors and earpiece behind the display.
The device the report is speaking of is a prototype and it may never actually get released to the public. Yet, there is a chance that Apple may have a surprise in store come September when the Cupertino based company is expected to put their next iPhone on shelves.

As an Amazon Associate I earn from qualifying purchases.